Virtual SANs are all very well but physical SANs aren't going away – what with Cisco building out its 16Gbit/s Fibre Channel (FC) switching gear.
Cisco has improved its storage area networking product set, plunging deeper into the 16Gbit/s FC switch space, thinking that physical SANs and networked block-access storage arrays will remain a bedrock storage resource. Access to them will grow, meaning better networking gear is needed. So Cisco aims to provide it, and keep its customers happy (and not let competitor Brocade walk away with the 16Gbit/s FC product market in its pocket).
We have three new pieces of Cisco hardware plus some cloud-scale uplifting:
MDS 9148S, a 16Gbit/s Fibre Channel switch for SMEs.

Base configuration of 12-ports with on-demand "pay as you grow" 12-port activation licence to scale to 48 ports.
Based on Cisco "switch on a chip" storage networking ASIC, delivers 16 Gbit/s dedicated Fibre Channel bandwidth per port.
Capabilities such as non-disruptive upgrades, Virtual SANs (VSANs), Inter-VSAN Routing (IVR), QoS, Port Channels, and N-Port ID Virtualisation (NPIV) are available.
Hot-swappable redundant power supplies and fans for high availability.

MDS 9706 director features 9510 capabilities in smaller box.

Nine rack-unit form factor.
Up to 192 16Gbit/s Fibre Channel ports, or 10Gbit/s Fibre Channel over Ethernet (FCoE) ports, or in the future mainframe connect FICON.
Claimed industry's highest performance with 1.5 Tbit/s per slot switching capability and up to 12Tbit/s front-panel switching capacity.
Claimed industry's highest reliability with N+1 fabric redundancy, hot-swappable redundant supervisors, power supplies, and fans. Front-to-back air flow enables hot-cold aisle deployments.

Industry's highest-density FCoE module; the MDS 9700 FCoE line-card converges Fibre Channel over Ethernet (FCoE) and Fibre Channel for MDS 9700 Series Multilayer Director platform

Provides seamless interoperability between Cisco MDS 9700 and Nexus or UCS Fabric Interconnect switches
Bridges converged multi-hop FCoE SANs to FC SANs

Cloud-scale attributes

Number of ports and physical/virtual devices supported in the network more than doubled on Cisco MDS 9700 and Nexus 7700 product portfolios with an increase in the number of zones and fabric logins supported.

To 16,000 zones per fabric
To 20,000 logons per fabric
To 4,000 fabric logons per switch
To 1,000 fabric logons per module

Dynamic FCoE over FabricPath capability enables network convergence of LAN and SAN traffic over FabricPath Spine-Leaf Ethernet fabric. Dynamic FCoE establishes the link between leaf FCF switches dynamically, creates a logical SAN A/B separation within the Fabric through VSANs and creates a highly resilient SAN fabric.
MDS Data Mobility Manager on MDS 9250i, supports heterogeneous array migration with data migration throughput of 3.7TB/hour, plus increased scale. WAN link failure is recoverable.
Brocade is firmly in Cisco's sights with the 9148S: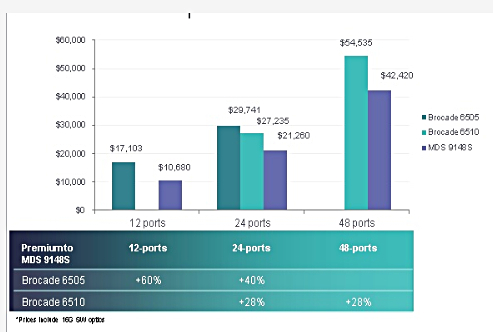 MDS 9148S is lower cost (list price comparison) than Brocade 6506 and 6510 products
Cisco is also adding hardwate-based congestion detection and avoidance on the MDS 9700. There is automated provisioning of Cisco MDS 9148S and 9148 configuration on switch power up, and Cisco is opening up MDS management by supporting automated zoning integration with its UCS Cloud Director, EMC's ViPR, Microsoft System Center VMM, and IBM PowerVC to enable pooling of heterogeneous storage assets and centralisation of storage management.
There are additional monitoring features:
Switch Health Score combines all of the important alerts on a switch to provide a single health score.
End-to-end visibility into compute, network and storage domains allows far better resource planning and problem analysis.
Automated path redundancy analysis every 24 hours and on demand, checking whether redundant paths in SAN Fabric A and in Fabric B are maintaining best practices, thereby signalling any issues proactively.
Read a Cisco blog here about the new MDS products, if you so wish.
We reckon the Cisco/EMC/VMware-based VCE Vblock configurations will be expanded to include these new NDS products and capabilities; ditto the Cisco/NetApp Flexpods.
Pricing and availability for the new MDS products will be set by Cisco OEMs, known as Original Storage Manufacturers (OSMs). A fully configured 48-port configuration MDS 9148S is available to them for ease of ordering and there is a Quick Configuration Wizard for out-of-the-box configuration. ®