This article is more than 1 year old
Defending your digital rights? Then you're a Nazi, says the Open Rights Group
Or, how not to win friends and influence people
Updated Are you a dad whose photo of his children is being distributed by paedophiles? Or just a photographer or musician whose work is being shared by scammers for profit without your permission? Well, you'd better think twice about using your statutory rights – you might be called a Nazi.
This week Britain's Open Rights Group celebrated new UK copyright laws by posting a "hilarious" video of Adolf Hitler firing off DMCA takedowns. The tasteful comparison drew condemnation from creative industry groups and even the ORG's own Advisory Board.
DMCA takedowns are one of the few tools individuals have to try to prevent abuse of their work, and even then, it's often a futile task.
Safe harbour rules mean the material pops back up the next day, with no comeback on the distributor. So in the internet age, power lies with huge internet corporations who aggregate other people's material for advertising profit.
Lobby group UK Music's chief executive Jo Dipple told us:
The ORG can argue all it wants with me or UK Music or the publishers about policy on copyright. But joking about copyright reform and Hitler is gross. It cheapens the argument ORG have about rights management and using Hitler shows a basic lack of respect for those involved in the debate. It demeans Hitler's victims and cheapens all of us. They should apologies to their members and their funders, and remove that Tweet from their account.
Meanwhile, ORG Advisory Board member Paul Sanders told us via email:
"Propaganda and censorship are the tools of dictators. Copyright is rightly part of the Universal Declaration of Human Rights, and protects all of us from being abused or ripped off when we express ourselves online and offline. I am looking forward to seeing much more original and powerful parody flourishing with its new protection from copyright overreach; strong and free culture is our best safeguard against new Hitlers and also tired and tasteless Hitler memes."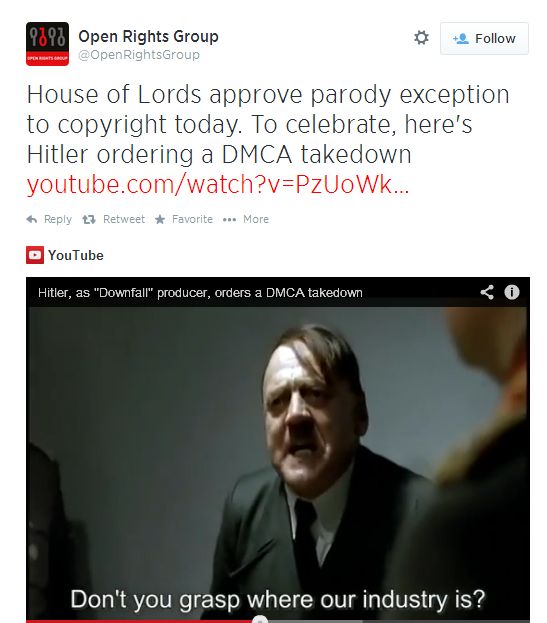 That Hitler tweet preserved for posterity. You can view the original here.
Although protecting your creations is, as Sanders says, a human right, huge internet companies devote a lot of lobbying muscle to undermining those rights. Google funds over 140 "citizen groups", institutions and associations, a Washington Post study recently revealed.
One of the tactics employed is to warn individuals of terrible consequences if they exercise their rights. The Google-funded Chilling Effects site reproduces the DMCA takedown notices that Google receives, reposting links to the infringing material and providing trolls with the complainants' contact details. It is another form of bullying, designed to intimidate people.
We were particularly curious what the ORG's sponsors made of this. The Open Rights Group received £72,800 in funding from the Joseph Rowntree Reform Trust, a charity whose aims (it says on its website) include:
"correct imbalances of power, supporting the voice of the individual, the small and weak where that voice is stifled by the group, the big and strong; strengthen the hand of individuals, groups and organisations who are striving for reform, speaking truth to power and challenging the systems that hinder justice"
[our emphasis]
So, er, how exactly does bullying individuals square with these goals? Paul Ellis of photo rights group Stop 43 told us:
"The ORG has turned morality upside down. Huge American corporations profit from our our work, lobby politicians and destroy our livelihoods. Yet they're the Good Guys, and when we defend ourselves, we're supposed to be Nazis? The Rowntree Trust should review its relationship with the ORG."
A Rowntree Trust spokesperson told us it rarely commented on individual grant recipients but monitored their projects.
Stay classy, ORG. ®
Update
Since the publication of this story, the ORG has contacted The Register with this comment: "Earlier this week, the Open Rights Group tweeted a Downfall parody about copyright on the day that parody exceptions for copyright were approved by the House of Lords. Downfall parodies are widely recognised and have been used to great satirical effect about a wide range of subjects. It is wilful ignorance to portray a Downfall parody as a direct comparison with Hitler and Nazism."