Facebook's servers fell over today – with users on the US east coast, and in Europe, the Middle East and Africa, complaining of outages.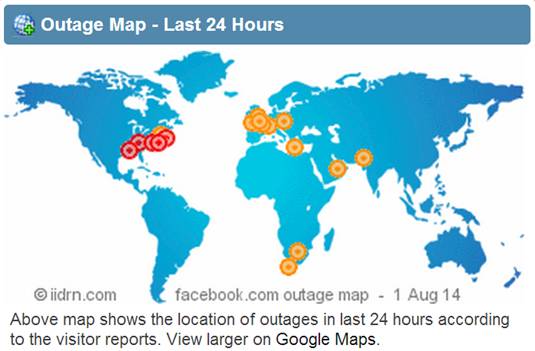 Oh noes! Circles mark areas of connectivity problems ... Click for bigger map. Source: IsItDownRightNow.com
According to IsItDownRightNow.com, the downtime appears to have kicked off at 7am Pacific time (3pm UTC) and many peeps are still having problems. Facebook has acknowledged the outage, but has given no reasons for it as yet.
"Earlier this morning, some people had trouble accessing Facebook for a short time. We quickly investigated and are currently restoring service for everyone. We're sorry for the inconvenience," a spokeswoman told El Reg in an email.
While Facebook going down is a good thing as far as office productivity goes, it's clear that some addicts aren't happy: police in California got so tired of getting calls about the outage that the Los Angeles County Sheriff's Department's public information office was forced to take to Twitter to tell off people for wasting police time.
#Facebook is not a Law Enforcement issue, please don't call us about it being down, we don't know when FB will be back up!

— Sgt. Brink (@LASDBrink) August 1, 2014
This is the second outage in the last few months for Zuckerberg and Co. In June the firm's servers took a dive, reported as the longest in its history, although service was resumed reasonably quickly.
This latest outage now appears to be coming to an end, so everyone can now stop panicking and get back to looking at pictures of cats, other people's food, and astonishingly ugly newborn babies. ®
Similar topics