Microsoft: IE11 for Windows Phone 8.1 is TOO GOOD. So we'll cripple it like Safari
Grudgingly supports quirky features so sites look right
---
The forthcoming Windows Phone 8.1 Update will include plenty of tweaks and fixes for Internet Explorer 11, and while many of them are designed to improve the browser's web standards compliance, Redmond says others are designed to do exactly the opposite.
The problem, to hear Microsoft tell it, is that IE11 on Windows Phone is just too good. Its compliance with web standards is so total, so perfect, that mobile web sites don't render the same on IE11 as they do on other mobile browsers, such as Chrome, Firefox, and Safari.
In fact, they often look downright awful. We're told.
Redmond understands that may be off-putting to some of its customers, so the IE team has held its collective nose and come up with a solution: it's going to bring IE11 down to the other browsers' level.
"Based on your feedback, we pursued a web experience for IE users consistent with what is available on iOS and Android devices – even where this meant we would be adding non-standard web platform features," the IE team's Adrian Bateman and Frank Olivier wrote in a blog post on Thursday.
The first step is to dress down a bit. Since some mobile websites can't deal with IE11's full splendor, it's decided to cover up – by changing its User Agent string to make web servers think it's Firefox. Microsoft added the token "like Gecko" to IE11 on the desktop to improve compatibility, and now it's done the same for IE11 in the Windows Phone 8.1 Update.
The IE team has also added support for some legacy web features that first appeared in rival browsers. For example, before the linear gradient property was standardized as -linear-gradient in CSS 3, developers had to use preliminary, browser-specific versions, such as -webkit-linear-gradient (for Chrome and Safari) and -moz-linear-gradient (for Firefox).
To be fair, web developers shouldn't use those older versions anymore, but they do – particularly on sites where Safari on iOS is the only mobile platform developers test against. So in the name of compatibility, the updated mobile IE11 now grudgingly maps outdated, browser-specific features to their modern equivalents.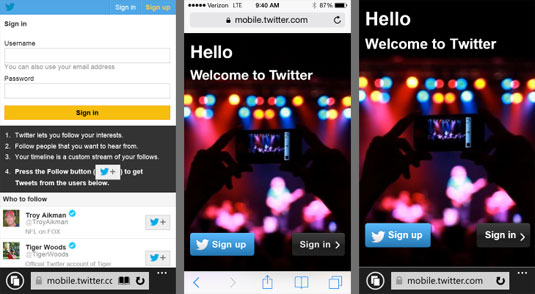 Twitter's mobile site, viewed with (left to right): IE11 now, Safari on iOS7, IE11 after WinPhone 8.1 Update
The Windows Phone 8.1 Update also adds new features that were supported by other browsers but that IE11 has ignored until now. For example, Microsoft would like everybody to use the up-and-coming Pointer Events spec, but most sites are coded to use the older Touch Events model. Bowing to peer pressure, IE11 will now support Touch Events.
Finally, Microsoft has fixed a few rendering bugs that were interfering with some websites. But let's not talk about those right now – let's talk about what you can do so that IE no longer has to disgrace itself in these humiliating ways.
"You can help here too if you see sites using non-standard code: we are collaborating with Mozilla at webcompat.com to record broken sites," the IE team wrote. "These sites often cause issues across multiple browsers including Firefox and IE and it is easy for you to report problematic sites."
Redmond also recommends using its suite of tools at modern.IE – which, conveniently, can also spot broken web code that was originally written for IE9 and earlier.
The Windows Phone 8.1 Update will begin rolling out as an over-the-air update to anyone with a phone that's running the Windows Phone 8.1 Preview for Developers beginning next week. Consumers with devices running Windows Phone 8.1 should expect to get it "in the coming months." ®