Hey, what's inside those Imation Nexsan arrays? Whoa, bundles of cash?
Same old, same old, though – revenues down and a loss
The pace of revenue decline at storage biz Imation is lessening – but the loss-making continues: its second quarter results show storage media revenue falls outweighing storage array and security product revenue rises.
Net revenue for the quarter, ending June 30, was $178.6m, down 15.6 per cent from a year ago but flat compared to the first 2014 quarter. The net net income number was a loss of $21.4m; it was negative $5.1m a year ago and negative $17.5m in the first quarter of 2014.
Imation CEO Mark Lucas said: "We are encouraged by the progress we saw in the second quarter of 2014. Overall, our total revenue decline rate moderated, and we again showed continued improvement in Imation's expense levels. We still have a lot of work in front of us, but our growth businesses are gaining momentum, and market share in our legacy businesses remains stable."
Same old, same old; the growth businesses, like Nexsan storage arrays, are not growing fast enough to offset the continuing overall decline in legacy media products, like optical disks.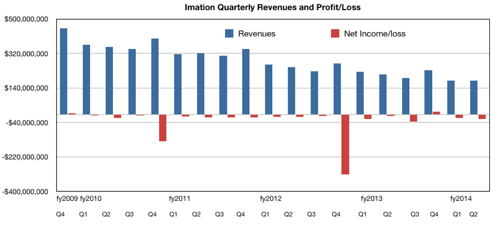 Click to show a larger quarterly revenues and net income chart
TSS (Tiered Storage and Security Solutions) is the growth business and CSA (Consumer Storage and Accessories) is the, presumably, non-growth business.
TSS revenue decreased 11.9 per cent compared to a year ago. However the Nexsan arrays and IronKey security product portfolios saw sequential revenue increases over the first quarter, which is encouraging, with revenue for Imation's Storage Solutions and Mobile Security totaling $29.5m, up from $27.5m in the first quarter.
In the Nexsan array product line Imation expanded the number of channel partners by 25 per cent, "and focused product development on the hybrid storage market, which is a high-growth sector within data storage." We cam't see any dramatic gains here; more a continuation of steady progress.
In the audio and accessories area, second quarter revenue grew 10.4 per cent from a year ago and also grew sequentially. But its consumer storage media revenue dropped 21.2 per cent year on year.
Overall in the CSA segment, revenue decreased 18.6 per cent compared to a year ago, due primarily to the expected declines in optical media products, partially offset by growth in audio and accessories.
Lucas said CSA is focused on introducing higher-margin products, like TDK TREK wireless speakers: "Revenue in our Audio and Accessories category grew 10 per cent over last year, with the TREK product line making strong contributions."
In the second half of 2014 Lucas expects to see sequential revenue gains in the Nexsan and IronKey product lines as well as in audio and accessories: "Although we anticipate decreases in Imation's legacy tape and optical businesses, we are managing them well and they are solid cash generators." ®