This article is more than 1 year old
Ad biz now has one less excuse to sponsor freetards and filth
All about Project Sunblock
Project Sunblock is a technology that might help make the internet less of a cesspit. It tells advertisers where their ads are appearing on the web, which would be unremarkable in any other medium: shouldn't the ad spenders know exactly where their ads are appearing?
But it's not that simple. Web advertising can entail a fiendishly complex chain of transactions that hides click fraud and finances the darker corners of illegal activity. Advertisers have often been surprised where their ad inventory ends up, with household names inadvertently sponsoring piracy and filth.
A study last year found that from the worst 596 infringers, 89 carried advertisements from the top US brands. Naturally, none was returned to the creators.
The complexity has provided advertisers - their agencies and ad networks - with "plausible deniability". But ignorance is no longer a handy excuse. Last year, US Congressmen finally stirred into action.
Developed by former ad network execs, Project Sunblock scours the web and provides the advertisers with a wealth of information on where their ads are going. They can then choose what to do with that information.
But with politicians reluctant to slap individual infringers, copyright enforcers going after the money trail have picked up the tools. This week the City of London's anti-piracy unit PIPCU said it was using Sunblock to zap ads on pirate sites and replace them with an image from the Old Bill.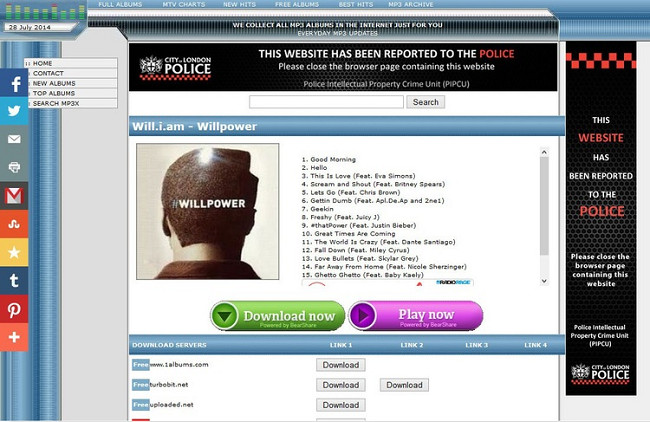 Sunblock can help identify a ropey site. City of London police did the rest
Andrew Goode, chief operating officer of Project Sunblock, told us the ad biz was keen to clean up advertising the reputation of the people who pay its wages – the big brands.
"The IAB [the UK's Internet Advertising Bureau] are part of this. They're very keen to see industry does clean up its act," he told us.
Sunblock works with IBM's database of 16 billion URLs, and returns 96 data points every time an ad is served, including info such as its relative visibility. It's as much a fraud tool as a simple accountability audit.
But what about the sites that don't seem to care where they advertise? Not just notorious operations, but UK online gambling businesses, which advertise prominently on porn and piracy sites?
"Gambling sites tend to be less choosy about where their ads appear," Goode agreed. "Part of this initiative with the police has an element to educate users."
"No solution is ever going to be 100 per cent effective. But we're starting to create a scenario where the acceptable side of advertising is at one end of the market the market - and it becomes clear what's at the other end."
Musician and academic David Lowery has investigated and publicised the sketchy role of the ad networks in supporting piracy for over two years.
Speaking in London last year, Lowery described how "complexity hides fraud", but shouldn't be an excuse for lack of accountability. At the same event, Google's Theo Bertram welcomed attempts to "drain the swamp of dodgy networks, dodgy agencies and dodgy sites". Now there's less excuse not to act.
But if nothing changes, would regulation become inevitable?
"Speaking personally, the problem is that regulation in my view is never going to be as effective or as surgical as what the industry can do for itself. There's a danger that it creates a lowest common denominator, and that won't be effective as through self-regulation."
The police's Sunblock experiment could help starve the sites of funds from respectable brands – and what would keep them alive then? ®