HGST refreshes $685m flash tech: Go-faster FlashMAX PCIe card
Lick of paint for ex-Virident product line
---
HGST claims it has doubled the price/performance of its FlashMAX PCIe flash card, lowering the maximum capacity and moving to gen-3 PCIe from gen-2.
These cards came to HGST when its parent, Western Digital, bought Virident and its FlashMAX II PCIe flash product line in 2013 for $685m. Now we have the updated FlashMAX III line and there have been several product packaging and feature changes.
Prior to the acquisition, Virident shipped FlashMAX II in three lines: standard (550GB, 1.1TB), performance (1.1TB, 2.2TB), and capacity (4.8TB). Each card had a half-height, half-length PCIe gen 2 8-lane form factor.
HGST kept things the same at first, but now we have a single FlashMAX III product line with 1.1TB, 1.65TB and 2.2TB capacity points – the 4.8TB and 550GB FlashMAX II capacity points have gone away.
We've included basic FlashMAX II and III random and sequential performance numbers below:

Click table for larger version
While random read performance has shot up, random and sequential writing and sequential reading number changes are somewhat mixed. Many have risen, some are the same and some have fallen.
FlashMAX II had a three full drive writes a day for its three- or five-year warranty. That's dropped to two drive writes/day over a five-year warranty period. We suspect HGST has moved to a smaller NAND cell-size geometry, but it's not saying.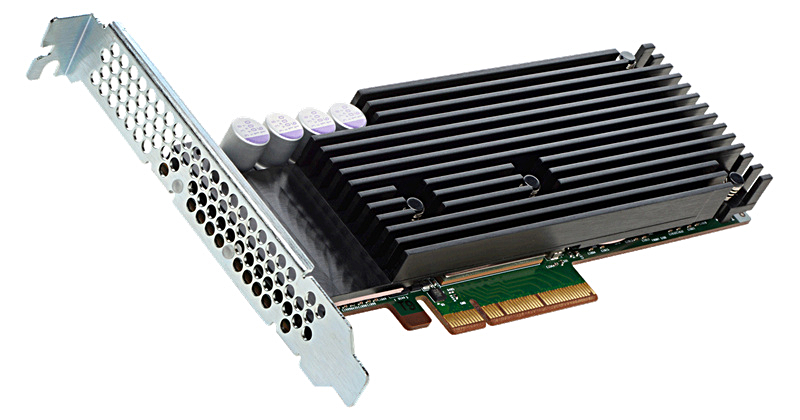 FlashMAX III
HGST is also releasing ServerCache software, which caches high access rate data on the FlashMAX and other cards. This will be an updated version of the 2013 acquisition of Velobit and its HyperCache flash caching software.
Supported host OSes are Windows Server 2012 R2 (Full Server and Server Core), Windows Server 2008 R2 (Full Server and Server Core), and Hyper-V Server 2012, Hyper-V Service/Role. No VMware ESXi yet. We expect support is coming.
FlashMAX III will be available in Q3 2014, and is being qualified by certain OEMs. ServerCache is available now at $995 per physical server or for a free 30-day live trial download. ®