All fingers and thumbnails
The really brilliant thing about webOS is its ability to seamlessly switch between IPTV content and linear broadcasts. For the first time, you can watch iPlayer or YouTube, pause and flick over to live TV, and then return and carry on with your stream. A thumbnail image of whatever you were last watching sits at the front of the launcher bar; the viewing history is held in memory.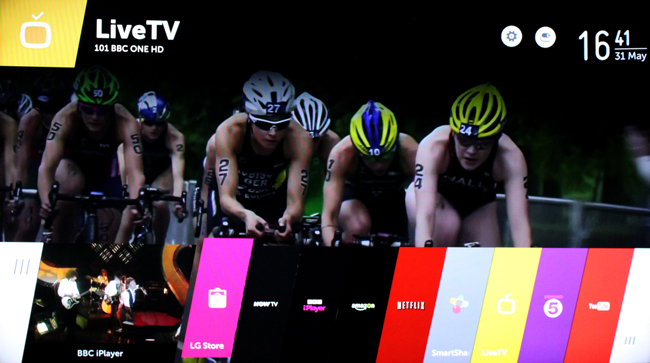 Live TV on the big screen with the BBC iPlayer present in the app launcher
Adds Zhao: "WebOS has enabled us to bring real multitasking to a TV for the first time. Switching between Netflix 4K and YouTube is now faster than switching between channels on an STB."
The reality of when you're using the set as a viewer is revelatory.
Product manager Danielle Zimmerman confirms around four apps can typically stay active in memory, but it depends on the apps in use and how memory-intensive the resource is. "The more recently you've used the app, the greater priority is given to keeping it alive, as it's likely to be the one you want to switch back and forth between," we're told.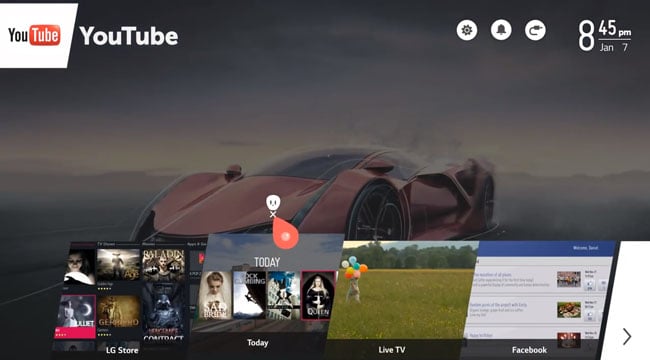 Apps can be removed from the launcher bar too
"But even if the app isn't running anymore, it will still show you what you were last watching on it." While the speed and functionality of webOS is similar across the LG TV range, higher-end sets are able to hold more in memory.
Clever it may well be, but the Launcher itself can only hold a limited number of services. There's currently no way to group multiple catch-up and SVoD. Zimmerman doesn't see that as a problem. "Platform design is about making trade-offs, based on what we know about how people actually use the TV. In the past, companies have played a numbers game when it came to TV apps. But webOS doesn't work that way. That's not how people actually use a Smart TV. Even on smartphones, you typically only use six to 15 apps really regularly. That's not a lot. TV is not a management device, it's a consumption device."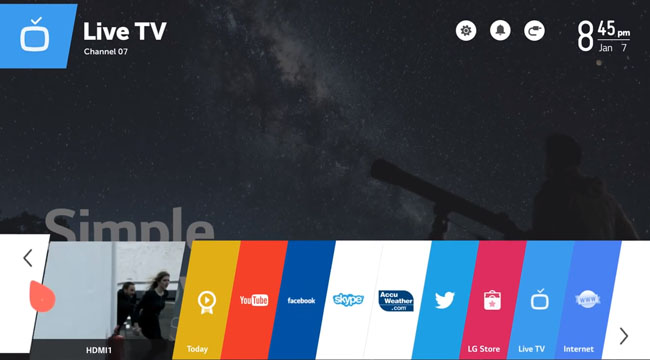 Apps aplenty: the LG Silicon Valley team's open source Connect SDK plays nice with other platforms
LG's solution is to encourage the development of compatible apps for mobile devices, rather than the screen itself. The Silicon Valley Lab team have developed a one-size-fits all open source Connect SDK kit that brings cross platform compatibility between webOS, Roku, Chromecast and Amazon Fire TV.
Until now, app developers have to develop different apps to work with disparate APIs. Consequently, developers tend to favour one platform over another. The Connect SDK works with all four solutions.
Henry LeVak, senior product manager on the LG SDK project told us: "Let's say we want to create an app that sends a photo from Instagram to your TV. This is actually really hard unless you're Miracast mirroring. But it should be easy. Using Connect SDK a developer doesn't need to know how to do it for each platform; it's the same command for all of them.
"So if Instagram took our SDK and put it inside its app, Instagram photos could be sent to the TVs of tens of millions of users."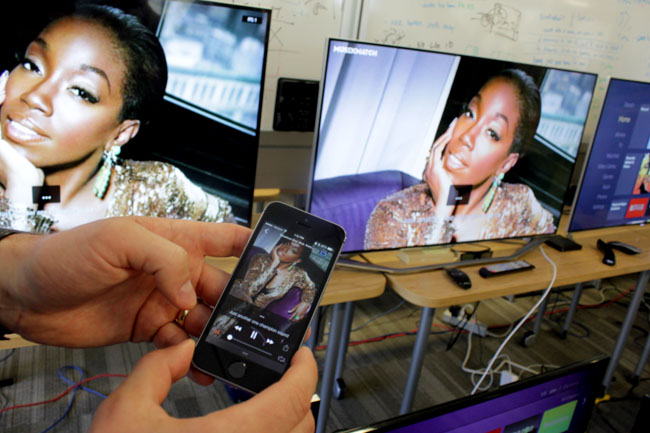 The MusicXmatch app developer is among the early adopters of LG webOS
One of the first developers to work with the LG Connect SDK is MusicXmatch. "This is a music player that plays all the music on your smartphone with lyrics, pictures and metadata," explains LeVak. "By dropping our Connect SDK into it, it launches a cloud based web TV app that takes the song being played on your smartphone and presents it on the webOS TV or any of the other compatible devices."
Another developer which has taken the webOS SDK solution is media server favourite Plex, which has added the Connect SDK to its Chromecast app.
Verdict
Thanks to seamless input switching and ground up integration, webOS represents a major evolution in Smart TV functionality. It's also arguably the best reason to now buy an LG LED screen.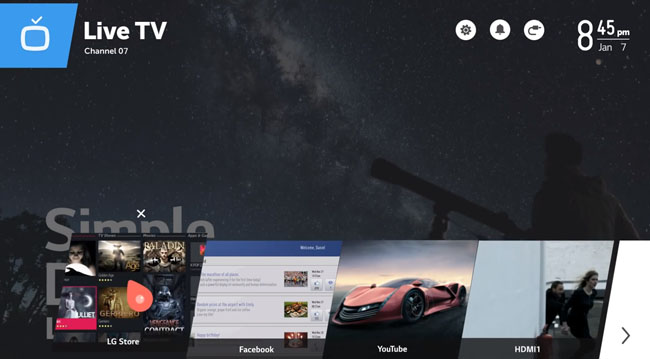 Pretty smart: the launcher bar greatly simplifies navigation with viewing history showing up as thumbnails
The truly enticing prospect though is the platform turning up on LG's next generation OLED screens. At that point the brand will be able to offer class-leading usability with next-generation display technology. The combination should be formidable. ®