Comment The hottest enterprise flash products company these days is SanDisk, and it has a great chance of becoming the most important non-volatile memory supplier of all – the EMC of enterprise flash.
There are four basic reasons:
It has a thriving and growing enterprise flash business
It has bought Fusion-io in May giving it a growing PCIe flash card hardware and software business
It partners Toshiba in the flash foundry business, giving flash chip supply surety
It has more vertical integration up into the flash product stack than any other flash foundry operator, for example, buying the Plaint controller business in 2011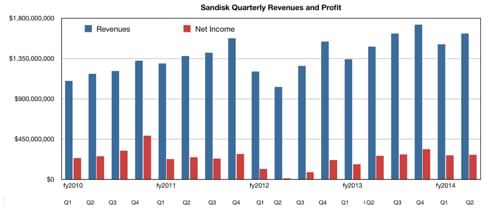 After a dip in 2012 SanDisk revenues and profits have risen. Click chart to see bigger picture.
SanDisk boss Sanjay Mehrotra said in July that SanDisk's second quarter revenues were a record "in both enterprise and client SSDs, as well as retail products … Our results position us well to deliver another record year in 2014."
SanDisk SanDisk bought SMART Storage and its FlashDIMM technology in June last year, which is looking like a very smart (sorry) buy. Flash DIMMS put flash even closer to a server's CPU than PCIe flash, lowering data access latency.
A fifth reason is that none of its competitors are currently equipped to catch it. A tremendous amount of consolidation has taken place in the flash hardware (SSDs and PCIe) and software space in the past 24 months. Even so, SanDisk's competitors are not well enough equipped in terms of technology, focus, channels and market footprint to match SanDisk in its capabilities and prospects.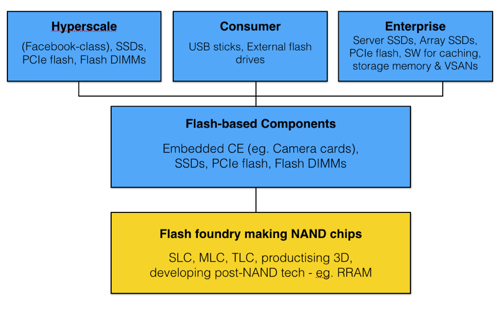 Flash vertical integration stack - click for larger version
They consist of:
Intel
Micron
Samsung
Seagate
SK Hynix
Toshiba
WD's HGST
Why, in my view, are these competitors in a worse position than SanDisk?
Intel
Intel is a massive CPU-dominated business, which also has a line of SSD and PCIe flash products. It is capitalised at $167bn and has a partnership with Micron in Intel Micron Flash Technologies (IMFT). This is currently producing 20nm NAND chips.
After a rocky start Intel now has a solid range of SSDs, including data centre and notebook products - like the Pro 2500, and has HGST as an OEM for some of its enterprise SSD technology.
The company also has a line of P3000 PCIe flash cards using the NVMe interface standard, with up to 2TB of capacity.
Our impression is that Intel has little desire to progress any further up the flash stack. being content to be a chip, PCIe and SSD flash component supplier. We think it should get stuck into flash DIMMs, engineering its own technology if licensing Diablo's is not to its taste.
Compared to its x86 and other CPU business, flash is pretty much a small proportion of Intel's revenues and we haven't heard of any 3D NAND initiatives from the company, nor of anything like SanDisk's 15nm NAND. This suggests that Intel is, to some extent, coasting along rather than driving the technology.
Micron
Micron, capitalised at $33.6bn, makes DRAM and NAND chips, being second to Samsung we understand as a NAND chip supplier. It builds a solid line of SSDs and PCIe flash products using these NAND chips. but has, we understand, little real interest in expanding out from these two component areas.
The acquisition and integration of Elpida in its DRAM business will have obviously taken a huge amount of effort.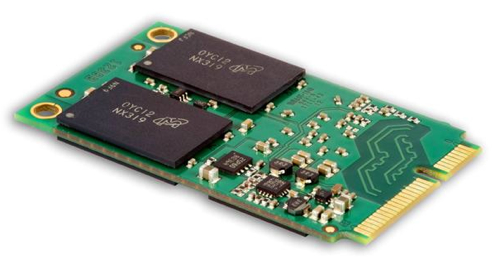 Micron C400 mSATA SSDE
Although Micron is a huge and determined flash player, at the foundry, PCIe and SSD levels there appears to be little appetite for getting PCIe flash software or storage memory capabilities. Hardware components rule and software and cramming components into finished systems are both someone else's business.
Can this strategy safeguard Micron if, as we suspect, vertical integration is going to become a stronger and stronger trend? We think not and see partnerships or relationships of some kinds coming in the future to ensure Micron has a presence higher up the flash stack.