SK hynix
This Korean DRAM and flash foundry supplier produces NAND chips and bought Violin's unwanted Velocity PCIe flash card business, signalling something of a vertical integration strategy.
It also has a line of SSDs (datebook PDF).
The company says it is on course to mass produce 3D NAND by the end of the year. Previously it had a relationship with HP to being that company's memristor technology to product status for 2013 – an effort that seems to have failed.
SK hynix is the second-largest memory chip manufacturer after Samsung, and is capitalised at around $32.4bn. It would be a tough acquisition should anyone be so-minded.
From the point of view of having a vertically-integrated flash stack SK hynix is, in our view, making halting steps towards the idea and could go further but needs acquisitions or strategic relationships to do so. In our view it lags behind SanDisk in the vertically integrated flash stack stakes.
Toshiba
Japan-based electronics conglomerate Toshiba, capitalised at about $18.7bn (1.93tn yen), operates a flash foundry business in partnership with SanDisk. It builds a range of SSD products using its 24nm and 19nm NAND chips.
Toshiba ships a range of SSDs and was having Violin Memory develop a PCIe flash card product for it. That got cancelled when Violin Memory restructured itself with a new CEO.
The company bought the assets of crashed SSD startup OCZ and got itself a range of SSD intellectual property, including "Barefoot" controller technology and also a PCIe product line.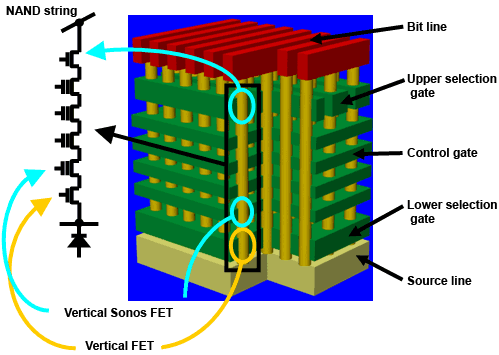 Toshiba stacked flash idea
Toshiba is not a glamorous supplier in a marketing sense, producing solid and well-specc'd products. We're expecting its PCIe product line to strengthen substantially. The company us not known for splashing out on acquisitions, the purchase of OCZ assets is pretty much a firesale, and so we can't expect it to build itself a vertically integrated flash stack through acquisitions.
We can generally view Toshiba as a focussed NAND foundry and component supplier, SSDs and PCIe flash, with no apparent interest in getting itself flash software capability. It has been the most flash-aware of the disk drive suppliers for some time, with both Seagate and WD taking their time, so to speak, before getting on board the flash train.
WD's HGST
HDD-manufacturer HGST was quite early in to SSDs, manufacturing an enterprise Ultrastar SSD line co-developed with Intel since 2008, and using Intel NAND. It has just refreshed these products with capacities rising to 1.6TB.
WD, then Western Digital, bought HGST in a prolonged process starting in March 2011. It has still not completed that deal thanks to MOFCOM, a Chinese regulator, preventing Western Digital and HGST's disk operations being integrated.
WD inherited HGST's SSD business and has energetically bulked it out with a series of acquisitions in 2013 – one of those taking place in 2009 when WD first dipped its toes into the flash technology stream:
Military spec SSDs with the March 2009 $65m SiliconSystems acquisition
Ultrastar enterprise SSDs with the HGST acquisition announced in 2011
More enterprise SSDs with sTec acquisition in 2013, which also provide Kronos PCIe flash cards
Server SSD caching software from Velobit, bought in 2013
Server PCIe flash cards and storage memory-like software from Virident, along with its cross-server flash store data sharing software in 2013
WD also has an investment in all-flash array startup Skyera.
However, it appears that HGST SSD sales are overly concentrated in a few customers and one if them, moving from single to multi-sourcing its SSDs has depressed HGST's enterprise SSD sales, the effect being seen in the last two quarters: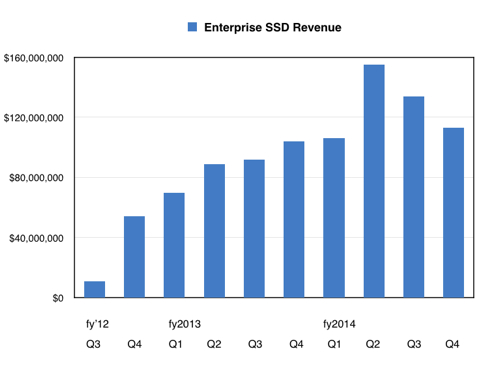 This leaves us thinking that HGST is currently not as strong as out might be in enterprise SSD sales but has a lot of technology pieces it can integrate to build out a great SSD and PCIe product roadmap.
The major concern here is NAND chip supply, with their being no known agreement between WD and a flash foundry operator.
WD is a relative minnow compared to Intel, only having a $23.4 billion market capitalisation.
Buying SanDisk
Buying SanDisk would be an immediate way for any existing or wannabee flash stack supplier to get instant market leadership. With a market capitalisation of $20.7bn the company would cost upwards of $25bn or more to buy.
That means a buyer would need to stump up around $25-30bn and there are three companies in the list we've looked that are big enough to do that: Intel with its $167bn capitalisation, Micron and Samsung.
If buying SanDisk is ruled out then another option would be for WD and SK hynix to do a deal. With WD needing a foundry and SK hynix needing a stronger presence in the flash stack components area, where WD/HGST has a nice set of pieces, there us a basic fit between them.
An off-the-wall idea would be for WD/HGST and Micron to get together, or WD/HGST and Intel – us US folks have got to stick together, right?
These ideas might also have been looked at around Seagate's executive tables. However, another seemingly natural pairing is between Seagate and Samsung with Seagate OEM'ing Samsung's NAND chips. Seagate is used to being top dog in any relationship. So too is Samsung, making for an interesting cultural clash if the two do come together.
Our view is that flash technology is going to dramatically and significantly redraw the lines of the storage component industry. We think SanDisk is in a prime condition and that foundry linkups will define whether Seagate and WD/HGST progress into becoming tier 1 vertically-integrated flash players along with SanDisk.
If neither WD nor Seagate get flash foundry linkups then their long term flash product market presence could, and probably will, be jeopardised
How Intel, Micron, Samsung and Toshiba will fare as vertical integration becomes more and more necessary is open to question. Could, for example, Toshiba build on its partnership with SanDisk by buying a stake in it? Could Intel sell its flash business to Micron? Could Samsung buy into Seagate?
Big, big questions, but the flash times they are a-changing and a hard rain's likely to fall on some players. ®