AMD has upped the ante in its battle with Nvidia for the data center and high-performance computing (HPC) markets, with the launch of two new GPU cards for servers.
The company's new big gun is the FirePro S9150 card, which maxes out at a blistering 5.07 TFLOPS peak single-precision floating-point performance and 2.53 TFLOPS peak double-precision performance.
AMD is quick to compare those stats to Nvidia's top-of-the-line Tesla K40 server card, which "only" manages 4.29 TFLOPS of peak single-precision performance and 1.43 TFLOPS of peak double-precision performance – making the S9150, to hear AMD tell it, the most powerful GPU ever built for HPC.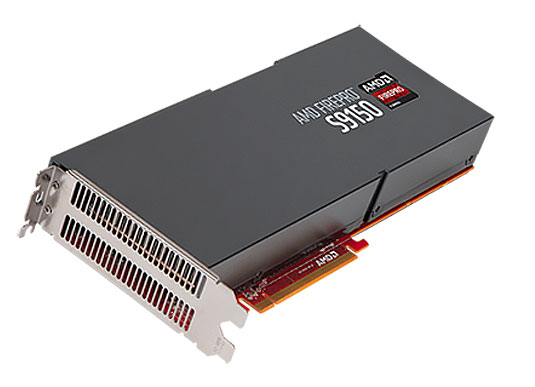 AMD's new FirePro S9150 peaks at a whopping 2.53 TFLOPS of double-precision performance
"Its memory configuration, compute capabilities and performance per watt are unmatched in its class, and can help take supercomputers to the next level of performance and energy efficiency," David Cummings, senior director and general manager of AMD's professional graphics group, said in a statement.
Like the FirePro W9100 workstation card, which AMD launched in April, the S9150 features 16GB GDDR5 memory with a 512-bit memory interface, yielding maximum memory bandwidth of 320GB per second.
Also like that earlier card, the S9150 arrives packing 44 of AMD's Graphics Core Next (GCN) compute units. At 64 stream processors per compute unit, that brings the total to 2,816 stream processors on board the new card.
While the S9150 doesn't wring quite as much number-crunching hotness out of its hardware as the W9100, however, it also consumes less power, topping out at a maximum of 235W as compared to the W9100's 275W.
The S9150 supports AMD Stream technology and OpenCL 1.2 out of the box, and AMD expects to ship OpenCL 2.0 drivers for it in the fourth quarter of 2014, making it the first of the company's server GPU line to support the new standard.
Meanwhile, AMD simultaneously announced a second new server card, the FirePro S9050, with somewhat less, shall we say, aspirational specs, aimed at more budget-conscious customers.
This card is built using 28 GCN compute units for a total of 1,792 stream processors, and it comes with just 12GB of GDDR5 memory as compared to the S9150's 16GB. Its 384-bit memory interface is slower, too, delivering maximum memory bandwidth of 264GB per second.
The S9050 is certainly no slouch, though. It can deliver peak single-prevision floating point performance of 3.23 TFLOPS and peak double-precision performance of 806 GFLOPS, all at a maximum power consumption of 225W.
On the downside, the S9050 only supports OpenCL 1.2 so far and it doesn't sound like AMD plans to release OpenCL 2.0 drivers for this card when it ships them for its beefier big brother.
Both the S9150 and the S9050 are expected to go on sale in the third quarter of 2014. AMD has yet to disclose pricing, but expect to shell out a healthy four-digit sum for each. ®
Similar topics