A patent newly granted to Apple points to a future in which Cupertinian kit will charge over the air, without the need for cables.
The company's US Patent 8,796,885 describes a near-field magnetic resonance (NFMR) system that would be able to wirelessly charge multiple nearby devices from a single base station (such as a desktop computer).
According to Apple's filing, the power supply for the devices would be roughly the size of a AAA battery and could easily be stored in peripheral devices or handsets (Apple uses a portable media player as one example).
The main unit would be small enough to fit inside a desktop computer case and could be used to charge more than one device, although the company noted that charging multiple devices at once could reduce the range and power supplied by the source.
Such a system could make it possible for Apple to offer all-in-one computers that only require one cable to be plugged in – namely, a power cable for the main unit itself. None of the other peripherals, such as keyboards and mice, would require cable connections, replaceable batteries, or separate chargers.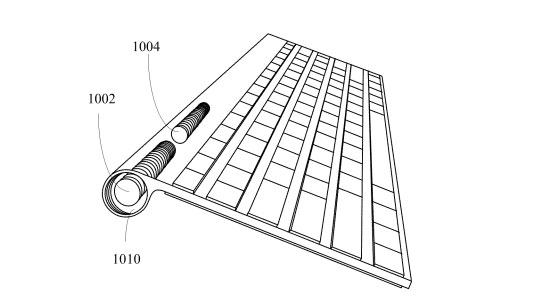 Apple's scheme sees peripherals powered by small pods that can recharge using magnetic resonance
While it is always good to take patent filings with a grain of salt, as not all become products, this one seems more likely than others to result in a finished product from Cupertino. It was filed in April of 2012, giving Apple plenty of time to develop and test the technology ahead of a potential release.
And in fact, Apple has previously been rumored to be working on wireless power systems. One 2013 report even claimed that Apple's rumored (but as-yet unseen) iWatch wristslab will be charged using magnetic resonance from up to a meter away from the source.
Efficient wireless power systems have long been sought after in the consumer tech industry, and Apple is far from alone in developing the tech. That one-meter range is still a bit of a pipe dream, though. The very latest Qi charging standard from the Wireless Power Consortium has only been successfully demonstrated at distances of up to 45mm. ®
Similar topics