This article is more than 1 year old
Top Ten 802.11ac routers: Time for a Wi-Fi makeover?
Pricier than 802.11n kit, but worth it
Product round-up The once-sage advice that wired networking was the only way to guarantee suitable speeds for streaming HD video, large file transfers, or buffer-free HD video playback no longer holds true – or does it?
The latest wireless standard, 802.11ac, delivers significantly improved speeds over 802.11n thanks to greater bandwidth and higher amplitude.
The performance of good 802.11ac router should be roughly three times faster than 802.11n.
Devices are slowly but surely migrating to the standard. While 802.11ac routers are generally more expensive than 802.11n models, you do get more for your money. The faster processors used in the devices mean the interfaces are generally a lot more responsive, updating quickly after you make any changes. Also, the integrated USB ports are now fast enough to be useful, unlike in prior-generation models, when transfer speeds were often well below what you'd get from a desktop computer.
Testing procedure
Overall, 802.11ac performance is greatly affected by the number of MIMO streams supported by the client and router. Each stream can handle a theoretical maximum of 433Mb/s, so for the fastest speeds, you need at least a client with 3x3 802.11ac support. Nearly all modern laptops with 802.11ac only have 2x2 Wi-Fi, but one notable exception is Apple's 2013 MacBook Pro with Retina Display.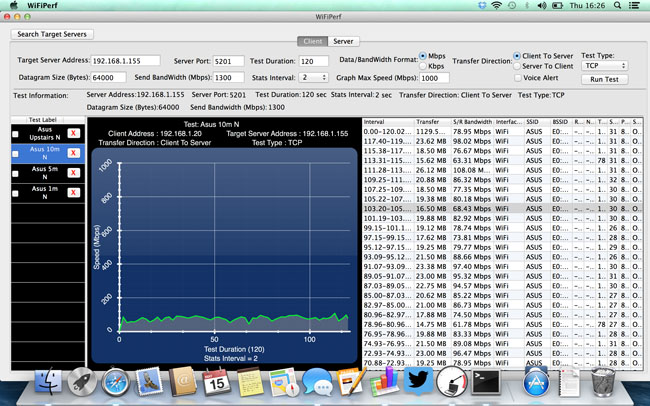 WiFiPerf benchmarking app from AccessAgility – click for a larger image
For testing, I used WiFi Perf – a nifty wireless testing application for the Mac that's based on the cross-platform iPerf software. The software blasts bits directly between a client and server, eliminating some bottlenecks you might see from a simple file transfer.
Each router was tested over 802.11n and 802.11ac. The software was configured with 64000 byte datagrams, client-to-server transmission, and run for two minutes per test. I ran the test at a one metre, five-metre and ten-metre distance (into a garden) to ensure 100 per cent clear line of sight. I also ran the test with the MacBook placed upstairs, approximately eight metres away, but with a thick wall and a floor in between, to better reflect a real-world scenario.
Apple Airport Extreme

Although shaped exactly like Apple's Time Capsule – which can perform wireless Mac backups in addition to the usual router functions – you won't find a hard disk inside the the Airport Extreme and you won't get far by putting the Airport's IP address into your browser either. Unlike other routers, the Airport Extreme is configured using Apple's Airport Utility, which is installed on Macs by default and available for Windows too. It has all the usual options plus a few extras and does a great job of automatically detecting network settings, and changes can be applied very quickly without needing a full reboot.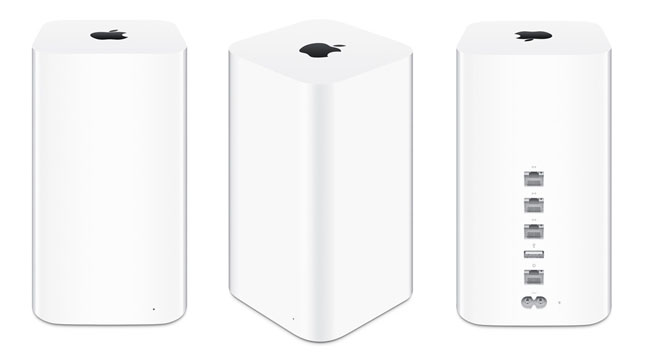 In terms of performance, the Airport Extreme is a heavy hitter – the 802.11n transfer speeds were particularly strong. Certainly, 147Mb/s is a great close-range speed with minimal drop-off at the 5m range, although it wobbles slightly when obstacles are in the way. Likewise, 802.11ac performance around 550Mb/s at close range is superb, but not top of the list, and the same is true for other distances. Still, it fares very well, but is just pipped to the post by the Asus RTAC68U and the more up-to-date Netgear R7000. Overall, the Airport Extreme is a solid product, priced no more than other high-end routers, and is a perfect recommendation for a Mac-only home.
Thanks to Currys for the loan of the review sample.