Trendnet TEW-818DRU

The TEW-818 is one of the lowest price 802.11ac routers I tested, but unlike the (slightly more affordable) Belkin AC1200, it supports 3x3 wireless speeds. It also has a USB 2 and USB 3 port and supports 600Mb/s over 802.11n, making it superb value.
It has a fairly bland shape and a design that looks perfectly suited to placing on a bookshelf, with angled corners and edges. But the software is top notch, looks good, is well-executed and snappy to respond to changes. Performance-wise it doesn't top the charts, but it performs adequately over 802.11ac. It's not quite so good over 802.11n, and struggles with obstacles on both, but that is the only downside to an excellent value 802.11ac router.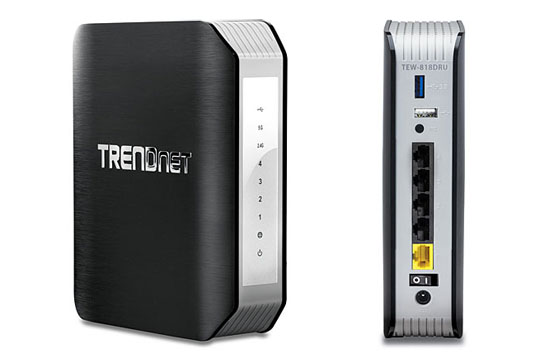 The Reg Verdict
The wireless transfer speeds I recorded in tests show that 802.11ac transfer rates are phenomenal at close range, and in most cases, more than good enough at long range too. Whether it's a serious challenger to Powerline networking really depends on how forgiving the environment is for Wi-Fi signals.
Moreover, the amount you spend seems to have little bearing on a router's performance. The most expensive routers tested weren't even close to being the fastest, while one of the cheaper models performed excellently.
The Apple AirPort Extreme and Netgear Nighthawk R7000 deserve honourable mentions, as does the low cost Trendnet TEW-818DRU. However, the Asus RT-AC68U proved to be the best all rounder. At £179 it's not the cheapest router, but not the most expensive either. It outperforms everything else, and the software interface is brilliant. Good job, Asus. ®
Benchmark Tests
802.11n performance comparison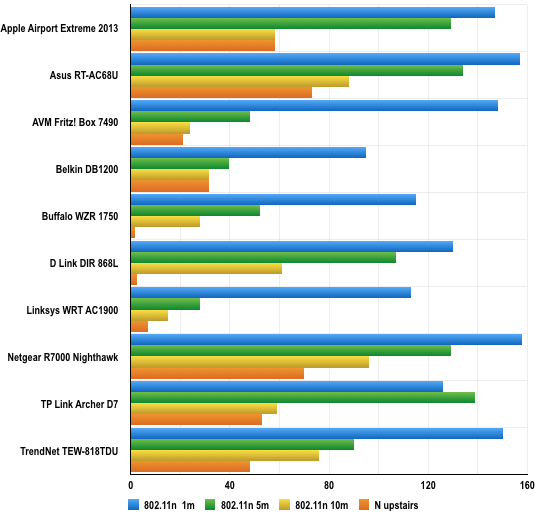 Throughput in Mb/s – longer bars are better
802.11ac performance comparison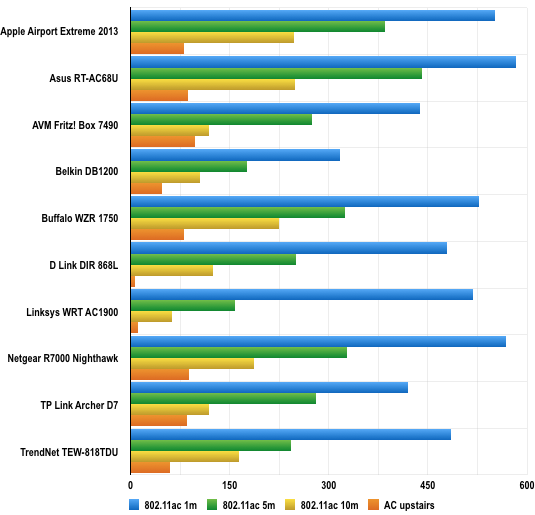 Throughput in Mb/s – longer bars are better
Similar topics