+Comment Software security, data management and protection behemoth Symantec has cashed in on hacking fears with an upswing in product sales, giving itself a revenue and profits lift.
Revenues for its first fiscal 2015 quarter, which finished on 4 July, were $1.74bn, up a mere 1.5 per cent on a year ago, and a more flattering 6.4 per cent on the immediately preceding quarter, which saw a CEO replacement. It beat market estimates.
Net income was $236m – it was $157m a year ago. It seems Symantec's internal cost reductions are still contributing to the profits figure, judging by the way net income has gown much faster than revenues.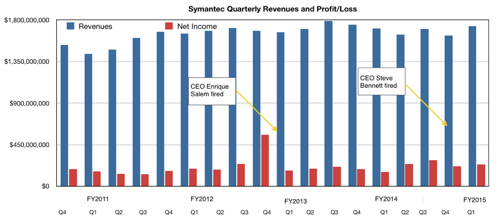 Click chart for larger version easier on the eye.
The sales performance was improved by splitting the sales force into new business and renewals teams. They did well with NetBackup, which grew revenues 35 per cent y-o-y.
But CFO Thomas Seifert said in the earnings call: "The Information Management segment was flat year-over-year at $650m. Continued growth in NetBackup and Backup Appliances was offset by weakness in Backup Exec."
The June-released Backup Exec 2014 should – it is hoped – reverse that weakness, it being up to 100 per cent faster in backup and dedupe.
Interim CEO and president Michael Brown said: "We are making steady progress against the five priorities outlined last quarter including: optimising certain businesses for margin, improving efficiencies, attracting top talent, returning significant cash to shareholders and focusing our investments for growth in our enterprise business."
The focus areas include backup appliances, mobile, advanced threat protection, managed security services and data loss prevention.
Brown discussed the security product side of things in prepared remarks: "We've already begun operating some of our businesses for margin, which is our first priority. As we discussed on our last earnings call, we formed a new consumer group for our Norton-branded products, which is allowing us to drive even higher margin in this business, and we will begin reporting our consumer business as a separate segment next quarter. We're simplifying our offerings with the beta release of Norton Security and Norton Security with Backup, and we're streamlining our channel strategy by exiting certain high-cost and unprofitable retail markets and OEM deals."
Symantec's picture of its backup and coming DR-as-a-Service offerings
"In addition to these cost reduction efforts, in early June, we introduced Norton Small Business, our first Norton offering for small businesses, and we're selectively paring headcount to match a more simplified business."
Symantec is moving to a more direct-to-consumer channel for the Norton business. Paring headcount means layoffs.
+Comment
It's all product portfolio management – with little new product area innovation in El Reg storage desk's view, despite Brown saying: "In the last two quarters, we've introduced nearly two dozen new or improved products and we're on track to release almost two dozen more by fiscal year end."
Symantec thinks Disaster Recovery as a Service (DRaaS) will be a multi-billion dollar market and it's in investing in that area. All suppliers of cloud-based backup and business continuity will be doing the same and it surely means Symantec has to have a public cloud presence.
An investor presentation slide said "Disaster Recovery Orchestrator automates and manages disaster recovery of Windows-based applications residing on either physical or virtual machines to Microsoft Azure Cloud."
Seifert sang off the cost-reduction hymn sheet: "We have eight revenue and efficiency initiatives in place that we expect will help us continue to build momentum into next year. We've identified three efficiency initiatives that we believe will ramp during the second half of the fiscal year: optimising our Norton business, streamlining product support, and reducing our global footprint."
Reducing the global footprint could mean office closures and/or layoffs. Streamlining product support could mean layoffs as well. Symantec says it has 20,000 employees in 50 countries. Seifert answered a question about this, saying: "I could not exclude that some paring is going to be needed once we move further along the progress of our efficiency initiatives."
Symantec may also get rid of products with no growth prospects and no good profit margin. Brown said: "We've identified what those are. And if the businesses didn't contribute to either of those (growth or margin goals), then they were a candidate for divestiture."
In the earnings call, Matthew Hedberg of RBC Capital Markets, LLC, Research Division, asked a pertinent question: "I'm curious. A lot of the best-of-breed security and storage vendors have been doing very well recently. I'm curious if you can give us your perspective on customer buying behaviour between best-of-breed vendors and vendors like yourself that can consolidate spending."
Brown answered this by saying that Symantec has a combination of best-of-breed and a broad footprint. For example: "Our DLP (Data Loss Prevention) product ... has more market share than the next three competitors combined."
He admitted customers are "buying some best-of-breeds for particular technologies. We're playing a bit of catch-up right now in ATP (Advanced Threat Protection)."
Symantec expects next quarter's revenues to be between $1.6m and $1.64m. At the mid-point that's a $200m fall on the year-ago second quarter – disappointing to say the least, but cost reductions and better sales of existing products can only take you so far.
Everything hangs on the new CEO. Brown said: "Our CEO search is proceeding on schedule. The search committee has received strong inbound interest, and has already met with a number of highly qualified candidates."
He expects a new CEO to be announced next month.
Brown said one of the qualities being looked for is "a collaborative leadership style, which addresses the concern that we've talked about before with our previous CEO." ®