Vulture 2 strapped to speeding van before delicate brain surgery
Spaceplane awaits autopilot tuning atop shed-built test platform
On Sunday, Pixhawk autopilot brain surgeon Linus Penzlien touches down in Spain ahead of some serious Vulture 2 spaceplane wrangling.
Working with APM:Plane lead developer Andrew Tridgell, Linus will be hewing custom Low Orbit Helium Assisted Navigator (LOHAN) mission parameters from the living code.
These include an "ascend wait" mode, wherein the Pixhawk twiddles its thumbs while the fantastical flying truss soars majestically to motor ignition altitude, "launch detect" and subsequent autopilot activation into flight mode parameters and, sensationally, a magnetic tree detection and emergency avoidance algorithm.
As anyone who's ever launched a High Altitude Ballooning (HAB) mission knows, anything falling from the heavens will be magically drawn to an arboreal presence, even if it's the only tree in 10,000 square kilometres, so we're absolutely determined to make sure our spaceplane is prepared to defeat the mischievous forces of Mother Nature.
Andrew and Linus have already done some remote-control preparatory work for the task ahead, including getting our onboard Raspberry Pi / Pi in the Sky rig to talk to the Pixhawk, so we're in good shape to get stuck in.
This programming groundwork has proved highly entertaining, at least for hapless bystanders like me, who can only sit and watch while Andrew in Canberra and Linus in Hamburg tinker with the Vulture 2's brain.
There has been, however, some old school shed-based work to be done ahead of Linus's arrival. As part of the systems testing regime we'll be strapping the aircraft to the roof of a van and taking it for a spin.
My son Rui - he of Paper Aircraft Released Into Space (PARIS) "bloke in a dress" fame - suggested we strap the Vulture 2 to a custom frame which could be easily mounted onto a roof rack. That way, we could simply mount the entire frame with the plane already attached, and just as easily whip it off the van roof without loads of faffing about.
A cunning plan, so cue some bits of wood...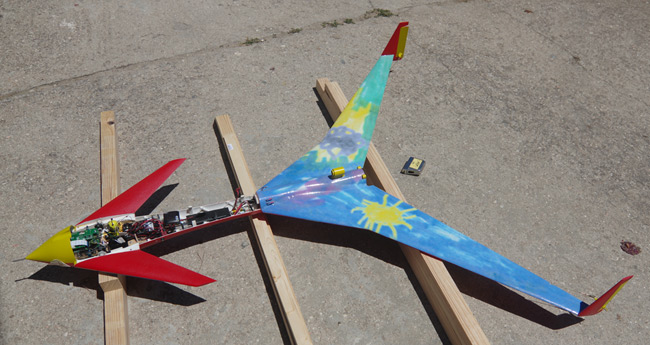 ...and in a couple of hours we had a provisional set-up: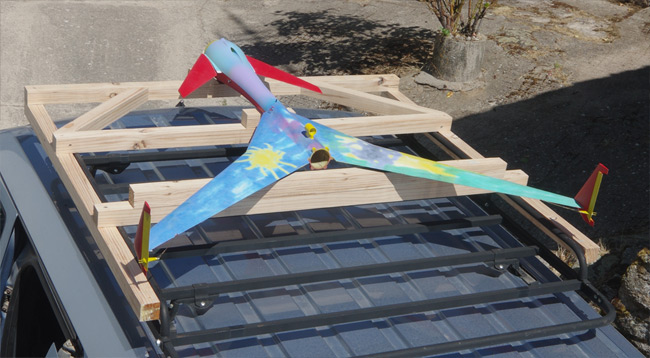 To protect the aircraft's underside, we were able to acquire some professional-grade anti-slip matting, with a fetching butterfly motif as an added aesthetic bonus...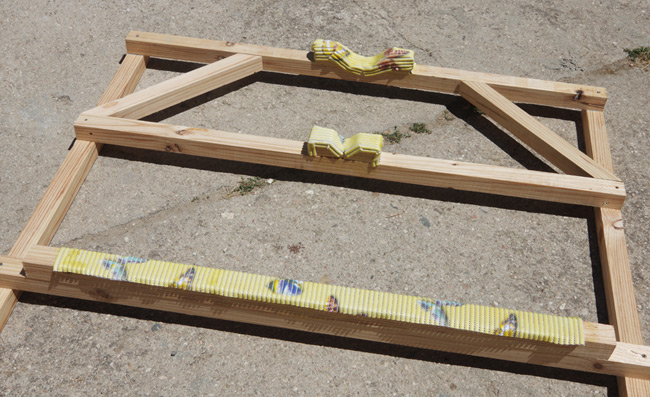 ...and with the aircraft secured and a couple of GoPros thrown into the mix...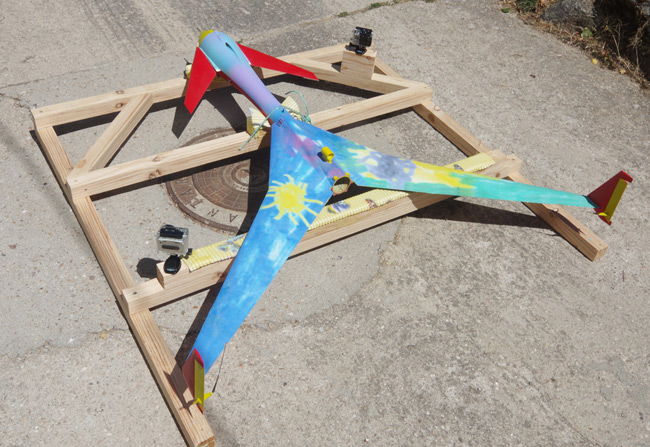 ...the whole thing could be lashed down ready to roll: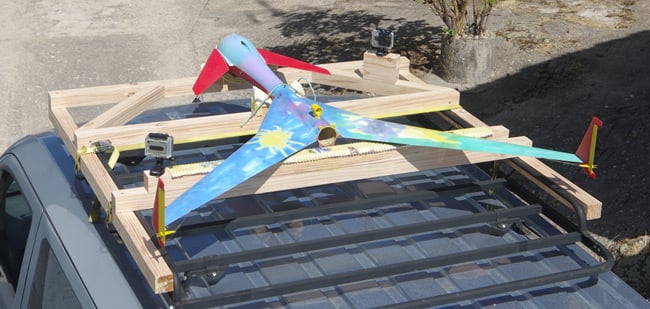 Lovely. For your viewing pleasure, try a couple of stills from the vid cameras as the van hit 100km/h on a swift test run: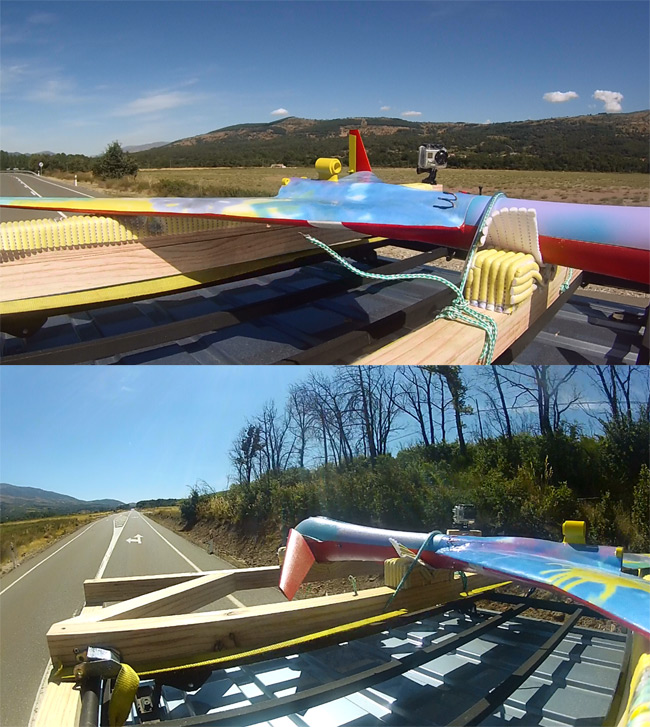 It's a pretty rough ride up there, so we've already proved that everything that needs to be glued/bolted/lashed down is up to the job.
For the full-fat test, we'll be running the Pixhawk to check its GPS, airspeed indicator, radio, etc, plus ensuring the Picam and Pi in the Sky are working properly. That'll be next Thursday or Friday, depending on brain surgery progress, so watch this space. ®.
---
More from the lovely LOHAN:
---