Recovering Quantum buys Dropbox-alike cloudy biz Symform
Twisted sync'n'share: USERS form the service's cloud
Quantum has bought cloudy firm Symform, a file sync 'n' share company where the users themselves are the cloud.
Instead of being stored in a data centre in the public of Symform's own cloud, users' data is stored as redundant and protected blocks distributed across the Symform customers' own storage devices. The users' own systems are the Symform cloud's storage repository.
Why has Quantum, whose latest results indicate recovery from the general tape automation market decline is speeding up, bought it?
It thinks it can expand its market and improve its own products using Symform services and technology.
Here's a basic Symform data file:
Founded in 2007 by two ex-Microsoft engineers; Bassam Tabara and Praerit Garg
April 2009 - $1.5m A-round funding (says Crunchbase)
July 2010 - $4m funding (B-round)
September 2011 - $1m venture funding (C-round)
Jan 2012 - $2m funding
April 2012 - $11m (D-round in two parts)
June 2014 - $200,000 debt financing
Matthew Schiltz was CEO 2011 - Jan 2013
CEO now is Mark Ashida. Tabara is CTO
Total known funding is $19.7 million and a 5x payout would equal $100 million more or less.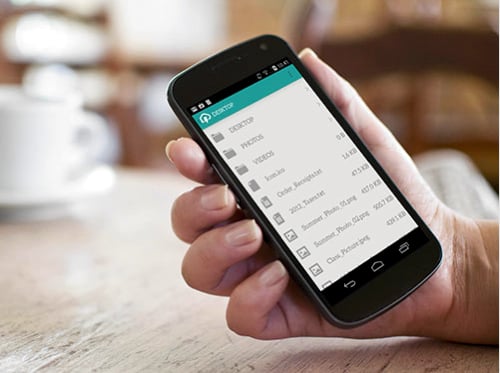 Symform Android App
Symform software backs up a users files by making a mirrored copy and keeping it up to date with any changes made. The software also can sync a user's folders across devices. Users also get free cloud storage when they allocate space on their device to the Symform account, getting 1TB of free cloud storage for every 2TB contributed. The 2 to 1 ratio covers the redundancy Symform needs to protect users'data.
New users get 10GB of free cloud storage. There are payment plans if you need more than this and cannot contribute enough local storage to Symform on the 2 for 1 deal.
What's the point of the twofer deal? Acccording to its FAQ Symform doesn't have its own data centres or ones in the cloud to store user's data. Instead it distributes users' (encrypted) data across its network of contributed devices, which it prefers to be always-on and connected with a business-class Internet account, for obvious reasons.
Symform adds 50 per cent redundancy to all blocks before they are distributed globally throughout the network.
Its functionality includes replication and it has "the ability to move data to and from smartphones, tablets, laptops, workstations and servers (Windows, Linux and Apple platforms)." This nifty technology scheme is working, with Symform claiming more than 45,000 individual customers and small businesses in 170 countries.
Quantum says it will keep this service going and "plans to leverage the technology to expand Quantum's cloud software capabilities and service offerings in data protection and scale-out storage. In addition, the company has hired Symform's development team, including CTO and co-founder Bassam Tabbara, to help build out these offerings."
Quantum will use Symform tech to augment its StorNext and Lattus products, which have cloud aspects to them, for example, for content production, packaging and distribution workflows. Quantum also has its Q-Cloud service.
Quantum CEO Jon Gacek said: "We will be integrating Symform software and our platforms to create simple, very cost-effective cloud service options for long-term archive data and cold storage. This would complement our current StorNext-Lattus solutions which provide high performance nearline storage in a private cloud."
The transaction is complete and its terms have not been disclosed. Our estimate is that Quantum paid up to $100m for Symform. ®