Another step forward for diamond-based quantum computers
Square cut or pear-shaped, these qubits don't lose their shape
---
Building simple quantum gates is common, but creating something that could be built on transistor-like scale is a huge challenge. Now, boffins from the Technical University of Vienna, Japan's National Institute of Informatics, and NTT's Basic Research Labs are offering an architecture they reckon can be scaled up.
What the researchers are offering, they believe, is a basic architecture they think would support a scalable quantum computer based on spins of nitrogen atoms in diamonds.
The architecture uses nitrogen atoms that can occupy two spin states, injected into a diamond, with each nitrogen defect trapped in a two-mirror optical resonator. Optical fibres let the engineers couple photons to this quantum system, allowing them to work with it without destroying the nitrogen atom spins.
As the researchers write in their paper at Physical Review X, "Modules are connected by photons propagating in a fiber-optical network. The cavities mediate interactions between the photons and the electron spins, enabling entanglement distribution and readout. The electron spins are coupled to nuclear spins, which constitute long-lived quantum memories where quantum information is stored and processed".
Individual systems can then be connected together in an error-resistant two-dimensional array, the researchers say. Around 4.5 billion individual qubits would be required to run Shor's prime-factoring quantum computing algorithm on a 2048-bit prime, they add, but this architecture offers the potential for its individual elements to be miniaturised.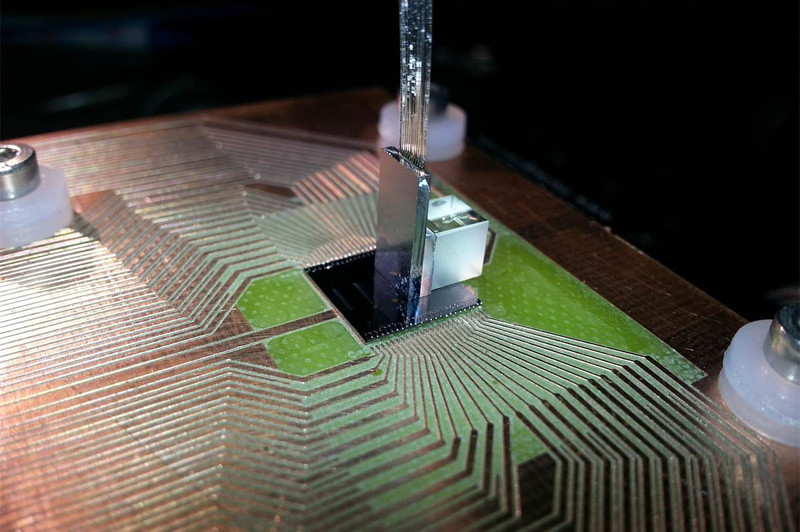 TU Vienna is already experimenting with nitrogen-in-diamond quantum chips. Image: TU Vienna
TU Vienna's announcement is here.
Last year, UC Santa Barbara researchers demonstrated controlling a nitrogen vacancy centre in diamond using photons. ®
Similar topics
Broader topics