This article is more than 1 year old
Intel admits: Broadwell Core M chip looking a bit thin, no fans found at all
Chipzilla's 'cool' 14nm part to hit market this year
Intel disclosed on Monday technical details of its new microarchitecture for chips baked using its latest 14-nanometer process, known by the codename "Broadwell."
"This new microarchitecture is more than a remarkable technical achievement," Intel VP and general manager of product development Rani Borkar said in a canned statement. "It is a demonstration of the importance of our outside-in design philosophy that matches our design to customer requirements."
The first Broadwell chip to hit the market will be the cool-running Core M, which Chipzilla first demoed at the Computex event in Taipei in June.
Initially, Intel expected to roll out the first Broadwell chips in 2013, but quality-control problems with the 14nm process forced delays. Now the first Core M devices aren't expected to reach retail shelves until this year's holiday season, with broad availability beginning in the first quarter of 2015.
Intel said in a presentation [PDF] on Monday that it has achieved a four-times reduction in thermal design power (TDP) with Broadwell as compared to 2010's "Nehalem" chips. This means the Core M will be the first processor on Intel's Core road map that can run without a fan, which in turn means PC makers will be able to design Core M devices that are just 7.2mm thick.
That's pretty impressive, given that devices built using previous generations of Core chips had to be 26mm thick or more – and to prove that the numbers don't lie, Intel president Renee James showed off a 7.5mm-thick two-in-one typoslab at Computex that weighed just 670 grams.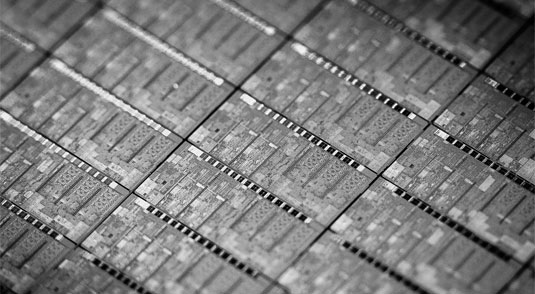 Squint and you still won't see it: Intel's tiny 14nm transistors mean devices can get smaller, run longer
Don't expect those skinny slabs to be speed demons, though. Running cool enough to go without a fan means dialing down the clock speeds, and one of the reference tablets Intel demoed at Computex actually included a "fan dock" that could blow air onto the device to let it run faster while docked.
On the plus side, Intel said the Core M's CPU cores deliver double the performance of the 2010 models, and the performance of its integrated graphics is seven times better.
But the real advantage of the Core M for the mobile market is how little power it draws. Chipzilla said Broadwell will allow manufacturers to build devices with batteries that are half the size but deliver double the run times as compared to kit built just four years ago.
Intel credits these improvements to its 14nm process, which is based on the second generation of its Tri-Gate transistor technology. The improved fins on these new transistors has allowed Intel to reduce the interconnect pitch of its 14nm silicon to 52nm, as compared to the 80nm pitch of its 22nm process. SRAM cells have also been reduced in size to just 0.0588µm2.
The 14nm wafers are costlier to produce, but their dramatically increased density means Broadwell still delivers lower overall cost-per-transistor, as has each new process Intel has introduced.
What's more, the Core M comes in a package that takes up half the board area that Intel's 22nm "Haswell" chips do and is 30 per cent thinner.
Chipzilla said the Core M is only the first of many products that will be released based on its 14nm process and the Broadwell microarchitecture, with new chip designs for servers, mobile devices, and embedded systems all to come. Expect the next such announcement to drop within the next few months. ®