Tim Cook on pale, male Apple: 'As CEO, I'm NOT satisfied'
Diversity no better than at other tech firms
---
Apple has published its own employee diversity report – and the numbers aren't particularly different from those of other big tech firms.

The House That Jobs Built said it had some work to do in terms of diversifying a workforce that is largely white and male – particularly in its tech and leadership positions.
"As CEO, I'm not satisfied with the numbers on this page. They're not new to us, and we've been working hard for quite some time to improve them," said Apple CEO Tim Cook.
"We are making progress, and we're committed to being as innovative in advancing diversity as we are in developing our products."
The Cupertino giant said that overall its staff is 55 per cent white and 15 per cent Asian in the US. Hispanic employees account for 11 per cent, while 7 per cent of employees identify as black, again in the US. According to the United States' 2010 census, 77.7 per cent of the population is white; 5.3 per cent is Asian; 17.1 per cent is Hispanic or Latino; and 13.2 per cent is black or African American.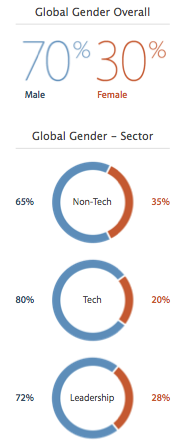 Overall, Apple's global workforce of 98,000 is 70 per cent male and 30 per cent female. Most of the women work in non-tech positions and outside the leadership tier. The company is 35 per cent female in non-tech roles, compared to 20 per cent in tech positions and 28 per cent in leadership jobs.
The figures put Apple in line with many of the other big names in tech, in terms of diversity. Google, Yahoo! and Twitter have published reports with similar numbers that indicate a dearth of women in technology and key leadership roles.
Cook claimed that his company has ramped up its diversity and inclusion efforts – and some 5,000 employees marched with their chief exec in San Francisco's Pride parade in June.
"Our definition of diversity goes far beyond the traditional categories of race, gender, and ethnicity. It includes personal qualities that usually go unmeasured, like sexual orientation, veteran status, and disabilities," the Apple chief said.
"Who we are, where we come from, and what we've experienced influence the way we perceive issues and solve problems. We believe in celebrating that diversity and investing in it." ®