A beheading in EMC's ViPR lair? Software's big cheese to advise CEO
Changes amid rivalry in the storage snake pit
---
Analysis The head of EMC's Advanced Software Division – the man behind the storage giant's ViPR technology – has become an advisor to EMC CEO David Goulden. We'll explain why this is a big deal.
Amitabh Srivastava headed EMC's Advanced Software Division (ASD) after coming over from Microsoft in 2011; we wrote about his arrival to run the Bourne Project, which became ViPR, here. At Redmond, he was senior veep of the server and cloud division, looking after Azure and Windows Server.
ViPR is storage management software, interposing its own control plane and data services as an abstraction layer above the storage hardware – such as EMC's VMAX, VNX, VPLEX, XtremIO, Isilon and Atmos arrays – as well as selected third-party arrays and commodity disk-drive arrays.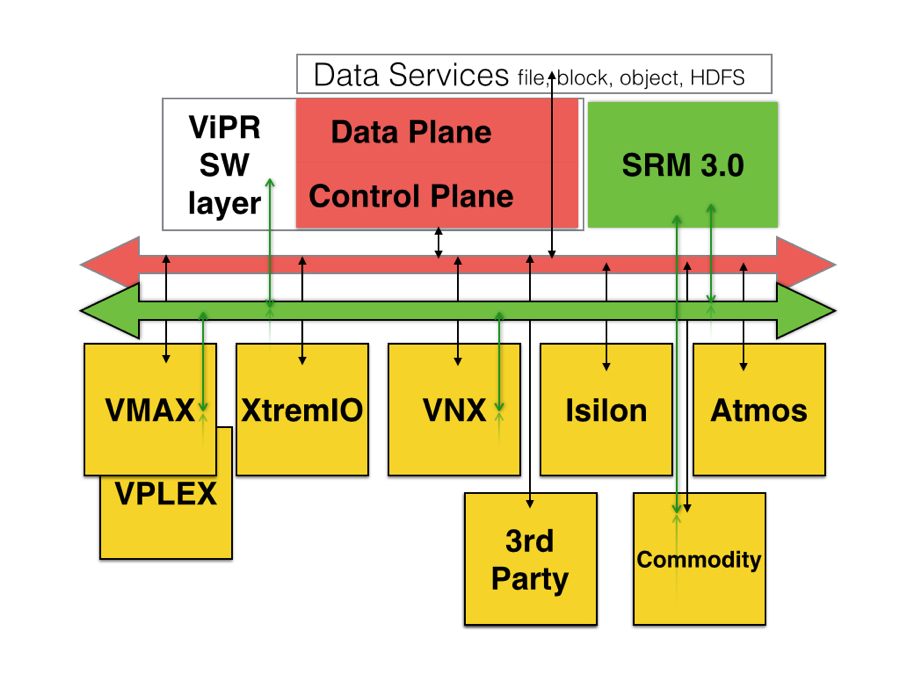 ViPR schematic
The data services include file and block access protocols, object storage and HDFS, and these could be implemented on any underlying storage array. Thus scale-out Isilon filers could be used for object storage instead of the object storage-designed Atmos arrays and Atmos could, conceivably, be used for block storage instead of VMAX and VNX.
ViPR is EMC's flagship software-defined storage product. The Advanced Software Division looks after more products than ViPR, but ViPR is its showpiece.
There have been rumours coming out of EMC that various storage array product teams have problems with ViPR, as it facilitates the replacement of their arrays with cheaper alternatives.
For example, a VNX array could be replaced with commodity hardware running ViPR block and file services. In this case, the ViPR software provides the controller functions that the VNX operating software would have provided – and thus denies Brian Gallagher's Enterprise and Mid-range Systems Division its VNX revenue.
EMC's Elastic Cloud Storage on ViPR will compete against Amazon S3-enabled Isilon as a storage repository. ViPR has caused confusion and ramped up internal competition and resentment; ViPR kills the hardware bods' golden revenue geese while laying piffling small revenue eggs of its own.
The overall feeling is, we understand, that, yes, EMC has to get into software-defined storage but not at the expense, the unnecessary expense, of the hardware array product groups. Yes, EMC should lead the market, and internal competition is good in certain amounts. But you shouldn't have inter-divisional war with one division destroying revenues at other ones without bringing in growing revenues to make it all worthwhile.
We have heard that the Advanced Software Division (ASD) has been a turmoil of sorts, with sales heads and reps leaving, few case studies on the books, low sales, and various restructuring activities. Internal perceptions of ViPR are negative, it's claimed; the project's traction is apparently abysmal, and it is seen as a second-class citizen among EMC's products.
Christopher Ratcliffe, head ASD marketeer, responded to many of these points by saying:
I can't talk to specifics about individuals in sales but I can tell you that over the last year we have added significantly to the ASD sales and pre-sales organisations. We've brought in new staff from both inside and outside EMC and we continue to grow.

As we stated publicly in our earnings, we've seen significant growth in ViPR customers over the last quarter and we have multiple customer references. More specifically at EMCWorld we had customers from the Vatican, SAP, CSC, Swisscom and a number of other companies.

In short, it looks like a bunch of conjecture based on normal organisational hiring patterns.
But now Amitabh Srivastava has left ASD and become an advisor to the CEO. Chirantan "CJ" Desai, the president of EMC's Emerging Technologies unit, now has ASD in his group. The Advisor to the CEO title sounds pretty high-level but it's also rather non-specific, leaving the door open for Srivastava to eventually find work elsewhere, away from EMC.
Why does Goulden need an advisor? He has executives reporting to him and a CTO already. Adding an advisor looks superfluous.
EMC's Director of Corporate PR Katryn McGaughey said: "Amitabh is indeed moving into a new role as Executive Vice President, Advisor to the CEO. A great move for Amitabh from his former role of President, Advanced Software Division.
"The Advanced Software Division will now become part of the Emerging Technologies Products Division, which reports to CJ Desai within Jeremy Burton's Information Infrastructure Products organization. It's a natural fit. ASD is focused on emerging technologies and its products are at the right point in their development for transition."
It is going to be interesting and indicative of EMC's thinking to see how the ViPR product and strategy now develops within the Emerging Technologies unit. ®