This article is more than 1 year old
Three floats Jolla in Hong Kong: Says Sailfish is '3rd option'
Network throws hat into ring with Linux-powered handsets
Dented Linux mobile OS Sailfish has taken a new route to market as Three in Hong Kong prepares to start selling the smartphone-that-could-have-been from Jolla.
The Linux-based OS has had a tortuous history. The open source OS, based on the MeeGo operating system, was first developed, and then dropped, by Nokia. Since then it has been picked up by a crew of ex-Nokians and seen limited distribution.
Three Hong Kong is the first Asian network to launch the Finnish smartphone and is touting Jolla's button-less, gesture-based user interface – and its smart cover, which it calls "The Other Half" – to entice customers to buy it too.
In the usual press release quote, Hutchison Telecommunications Hong Kong Holdings' chief operating officer Jennifer Tan said: "We are thrilled to be the first in Asia to bring the Jolla smartphone that runs on the Sailfish OS to 3 Hong Kong customers... Fast and unique user experience can be achieved via Three Hong Kong's high-speed and extensive 4G LTE network and Jolla's Android application compatibility."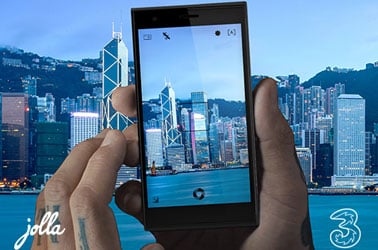 Antti Saarnio, chairman of the board of Jolla said: "Hong Kong is a trendsetter in mobile, and we are very happy to bring Jolla to Hong Kong together with Three Hong Kong. Together with Three Hong Kong, we will introduce our new mobile operating system, Sailfish OS, a true third alternative to today's two dominating operating systems to the Hong Kong market."
Which, in Saarnio's view, kind of places Sailfish above BlackBerry and Windows Phone.
The Jolla smartphone supports Android applications as well as intuitive Sailfish OS apps. The phone has a dual core processor, 16GB memory (expandable with microSD), an 8 megapixel camera, 4.5-inch display, and 4G LTE capability, to name a few.
Three Hong Kong is selling the phone for HK$2,888 on its website, a price no doubt chosen to reflect the Chinese love of the number 8 which is regarded as "lucky". That translates into a similarly symmetrical £222. The Sailfish mobe is free on various contract tariffs. The first few customers get three free covers thrown in as well. ®