This article is more than 1 year old
Pi palaver perplexes LOHAN Pixhawk pair
Vulture 2 brain surgery off to a fruitily shaky start
The planned brain surgery on our Vulture 2 spaceplane's Pixhawk autopilot got off to a shaky start yesterday as the aircraft's onboard Raspberry Pi decided it didn't much fancy booting up.
Autopilot wrangler Linus Penzlien touched down in Spain on Sunday ahead of an intensive week of graft during which he'll be working with APM:Plane lead developer Andrew Tridgell to implement some custom Low Orbit Helium Assisted Navigator (LOHAN) mission parameters.
While the Pi had been running perfectly during some preparatory fiddling over the last few weeks, as soon as we relocated the Vulture 2 to our temporary workshop, it naturally threw a strop, locked itself in its trailer and refused to come out until Linus had spent seven hours gently persuading it to come back to the set.
We could provide technical details of that conversation, but suffice it to say, all is now well and the fruity minicomputer is talking directly to the Pixhawk and we're ready to roll.
And here's where the rolling will be happening, seen at 8am this morning as Linus enjoyed a quick coffee before entering the fray: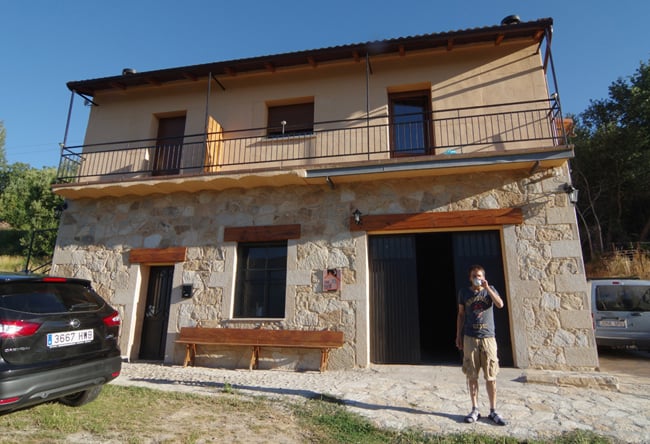 Thanks once again to my old mucker Juanjo for letting us establish a temporary HQ in Navalperal de Tormes, Sierra de Gredos, and make use of the his capacious garage: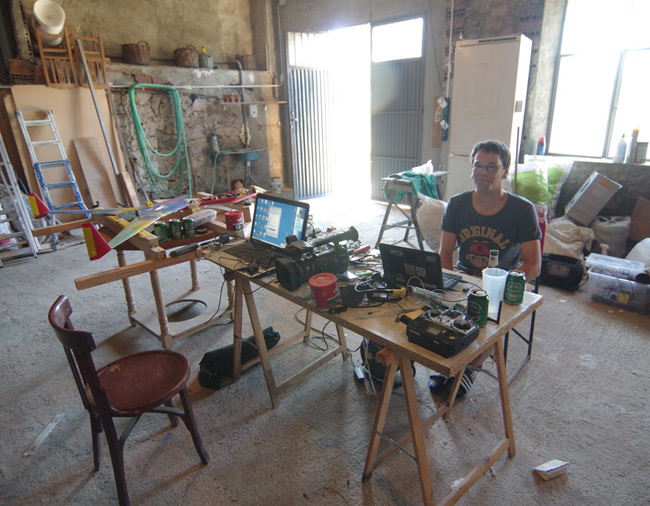 Despite the Pi palaver, we did manage yesterday to tweak the spaceplane's canard calibration, fiddle a bit with the magnetic compass and run a check on the servos. All that took a mere half an hour, so we're in good shape and back on schedule. We hope to be in a position to hook up with Andrew later today to start the custom parameter work. Onwards and upwards...®
Bootnote
Thanks for all your suggestions for an aircraft arboreal avoidance algorithm acronym. We'll do round-up as soon as we're done with the brain surgery.