NVIDIA claims first 64-bit ARMv8 SoC for Androids
Mile-High 'Denver' Tegra K1 successor said to rival PC performance
---
NVIDIA has taken the wraps off "Denver", its long-rumoured 64-bit ARMv8 architecture compatible, system-on-a-chip (SoC), and claims it delivers performance equivalent to some CPUs found in PCs.
The company has blogged about the silicon, the successor to its current 32-bit Tegra K1 models.
Denver will come in two versions, both of which will be pin-compatible and offer a new technology NVIDIA calls "Dynamic Code Optimization". Here's the spiel for how that works:
"Dynamic Code Optimization optimizes frequently used software routines at runtime into dense, highly tuned microcode-equivalent routines. These are stored in a dedicated, 128MB main-memory-based optimization cache. After being read into the instruction cache, the optimized micro-ops are executed, re-fetched and executed from the instruction cache as long as needed and capacity allows."
NVIDIA admits there's some overhead in this approach, but feels the overall performance improvement that comes with having optimised code ready to execute more than makes up for things. That the technology can work on existing applications coded for ARM platforms and requires no extra effort by developers, is also touted as useful.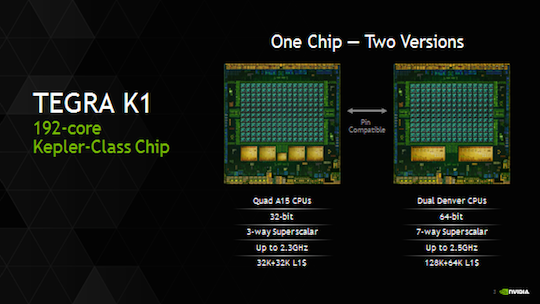 It's not how many cores you have, it's what you do with them that counts
NVIDIA is talking up Denver as not just a mighty piece of silicon for Android phones 'n' slabs, but also a contender for PCs, asserting it will "rival some mainstream PC-class CPUs at significantly reduced power consumption" and therefore represents a fine way to deliver "gaming, content creation and enterprise apps."
Apple and IBM have already gone in the latter direction with their iPad alliance. NVIDIA promises its partners will soon show off what it is possible to build on Denver. Those efforts should prove rather interesting, especially if they produce some high-powered Chromebooks. And with Windows RT now a lame duck, Google might be about to have itself a rather interesting ecosystem. ®