This article is more than 1 year old
No more turning over a USB thing, then turning it over again to plug it in: Reversible socket ready for lift off
Type-C cleared for deployment
Computer users have moved one step closer to saving a few seconds twiddling with their USB cables now that the port's reversible Type C connector specification has been cleared for volume production.
The Type C connector, first unveiled in April, is fully reversible and considerably slimmer than the USB plug we've been used to since the spec was introduced 18 years ago. The 8.3mm-by-2.5mm connector is similar in size to the current breed of micro-USB plugs, but delivers faster data rates of 10Gbps and up to 100W of power – from 5V at 2A for handhelds, to 20V at 5A for workstations and hubs.
"Interest in the USB Type-C connector has not only been global, but cross-industry as well," declared [PDF] Brad Saunders, USB 3.0 Promoter Group Chairman.
"Representatives from the PC, mobile, automotive and [Internet of Things] industries have been knocking down our door anticipating this new standard. This specification is the culmination of an extensive, cooperative effort among industry leaders to standardize the next generation USB connector as a long-lasting, robust solution."
That said, it's going to be a while before Type C connectors make it into the mainstream. The new specification will now be passed on to the USB Implementers Forum (USB-IF), which will put together a compliance and certification program for manufacturers to start building sockets into new systems.
"USB has the luxury of consumer familiarity and trust, and as we adapt the technology for the future we are committed to ensuring the USB brand promise continues with this new USB Type-C connector and cable," said Jeff Ravencraft, president of the USB-IF.
"The USB-IF is working to establish certification and compliance testing so that consumers can have the same confidence in the next generation of certified USB technology."
It does look as though the new connector may appear in things faster than it took the last revision of USB to emerge. While a very few manufacturers rolled out USB 3.0 on some high-end systems relatively quickly, it has taken some time to spread into cheaper kit. Some companies are promising a speedier rollout this time.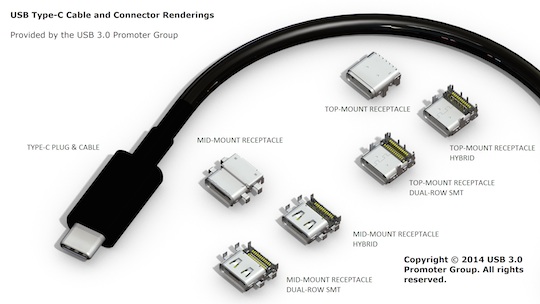 All the new USB 3.0 connectors, all reversing, all the time
"HP is committed to the new USB Type-C connector as a way to deliver on all of these needs while supporting the full breadth of USB devices and providing a pathway for future innovations to create and deliver superior customer value and experience," said Tom Bonola, chief technologist for business personal systems at HP. ®