Samsung Galaxy Tab S 8.4: 4G Android tablet is easy to swallow
The best tablet in the world? Possibly
A lighter TouchWiz
As for TouchWiz (here sitting atop Android 4.4.2), it's a mix of familiarity lessening the outrage but also of Samsung easing off on some the claptrap and making it less of a mess.
Some of the UI features – like the facility to create folders in the app tray – make for a much tidier user experience. With a screen this size, additions like the multi-window mode, pop-out video player (which usefully supports 1080p MKV files) and a five-app dropdown toolbox are all worth having.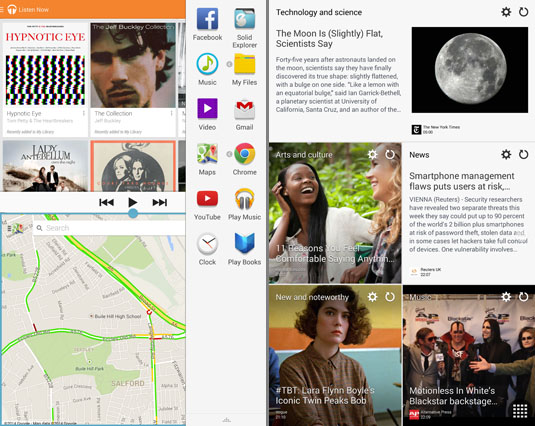 Multi-screens and Flipboard powered magazine
There's still a little too much bloat though. I don't want or need the Evernote and Hancom Office apps, neither of which can be removed. Moreover, Samsung's S Voice and S Planner are simply less appealing (and less often updated) versions of Google Now and Google Calendar.
I'd be happier too if the Flipboard-powered Magazine part of the UI could be fully disabled, but to ditch that you need to use a different launcher. I found Google's recently released Google Now Launcher worked a treat, leaving all the underlying parts of TouchWiz that I wanted still functioning while at the same time giving much easier access to Google Now.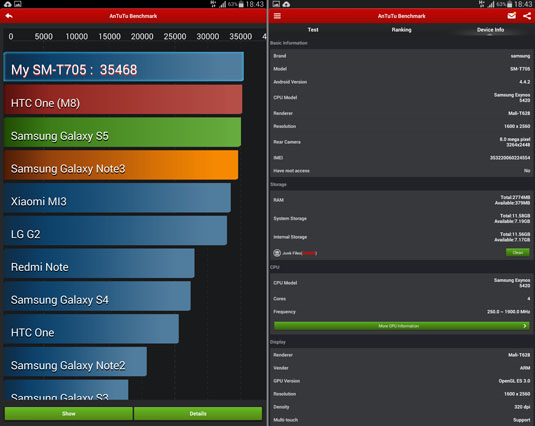 AnTuTu score is impressive plus hardware details – click for a larger image
Like the Galaxy S5, the Tab S range has a fingerprint scanner. It's the sort you have to swipe along rather than press and surprisingly it works well. Personally, I have no interest in biometric security, it's just something else to go wrong but the S Tab's scanner was faultless. Once I made the required eight swipes to set it up, it recognised my fingerprint – and only my fingerprint – first time, every time.
I expected the 4G version of the Tab S 8.4 to be based on a Qualcomm Snapdragon chipset, so was rather surprised to find the Exynos Octa 5420 component in my sample. That's a SoC with eight cores – four Cortex A-15 and four Cortex A-7, the former with a maximum clock speed of 1.9GHz. It's based on ARM's big.LITTLE architecture and there's a Mali-T628 GPU and 3GB of RAM. It's a rig that has been knocking around for over a year now but age has not withered it.
AnTuTu score comparison: Galaxy Tab S 8.4 4G tablet vs Galaxy S5 smartphone
Even assuming the benchtest figures are massaged, the AnTuTu score of over 35,000 suggests this is a device with performance to spare. The CPU-intensive GeekBench 3 test rather backed this up with the Tab S scoring over 2,700.
For comparison, the Snapdragon 801-powered Galaxy S5 scores just over 3,000. Only the GPU lets the side down a bit, it's just not up with the latest Adreno components in terms of outright performance, though this isn't a failing you'll ever notice in use. In short, this another of the new breed of Android devices that are far, far more powerful than you will ever have any realistic need for. But processing power is like air support for a battlefield or a credit card: better to have it and not need it than the other way around.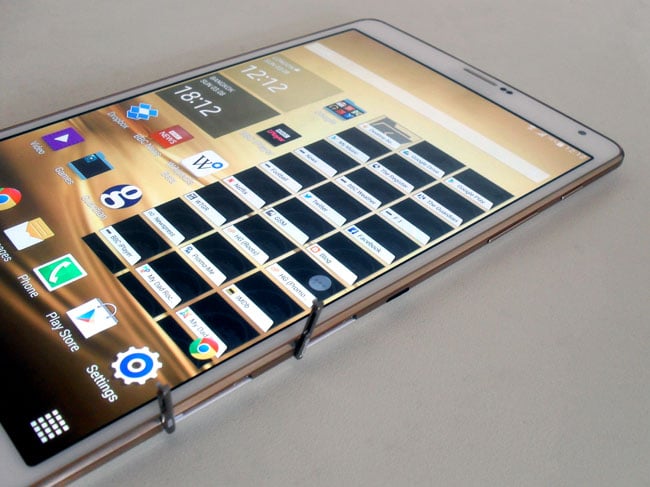 Sim and micro SD Card covers and controls all on right
Perhaps more significant than its absolute performance is that you'll find this chipset is clearly rather careful with the old juice. Endurance from the 4,900mAh battery was excellent. Looping a 1080p MP4 video drained the battery in 12 hours, which in my book is pretty impressive. In everyday use even with the 4G radio on you'll not be needing to charge more than once every two or three days.