This article is more than 1 year old
Hollywood star Robin Williams dies of 'suspected suicide' at 63
Nanoo nanoo, Mork
Obituary Hollywood actor Robin Williams has died of a suspected suicide at the age of 63.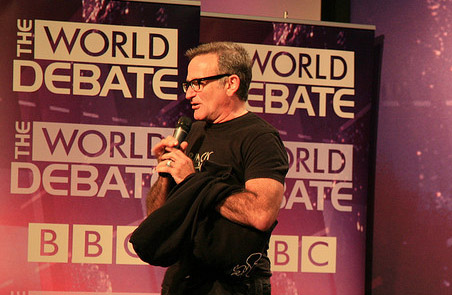 Robin Williams jumps up on stage for an impromptu riff during technical difficulties in the BBC filming.
Photo by Steve Jurvetson, licensed under CC 2.0
The star, whose distinctive comedy voice captured audiences across the world in 1978 with the Happy Days alien-meets-girl-next-door spin-off Mork & Mindy, was pronounced dead at his home in Northern California on Monday.
A statement (PDF) from Marin County police said that the cause of Williams' death was being investigated.
At this time, the Sheriff's Office Coroner Division suspects the death to be a suicide due to asphyxia, but a comprehensive investigation must be completed before a final determination is made.

A forensic examination is currently scheduled for August 12, 2014 with subsequent toxicology testing to be conducted.
"Robin Williams was an airman, a doctor, a genie, a nanny ... and everything in between. But he was one of a kind." —President Obama

— Barack Obama (@BarackObama) August 12, 2014
Williams' publicist Mara Buxbaum said the actor had battled severe depression in recent months, according to the Hollywood Reporter.
The madcap actor - whose career stretched over nearly four decades - will be fondly remembered for his alien salutation "Nanoo nanoo" from Mork & Mindy, as well as his sweat-drenched, energetic riffs on talk shows.
But the comic star, who is perhaps best known for movies such as Mrs Doubtfire and Good Morning, Vietnam, surprised many with the straight, emotive and sometimes outright creepy roles he played from the late '80s onward.
The Fisher King, Good Will Hunting, One Hour Photo and Insomnia revealed Williams' dramatic range beyond his lively comedy performances and family-friendly Box Office hits.
Apple even spotted a commercial opportunity by plugging into one of Williams' more serious performances when the company recently ran a pompous series of iPad Air ads that featured a voiceover from a speech in the film Dead Poets Society, which the Hollywood actor starred in as English teacher John Keating in 1989.
He is survived by his wife Susan Schneider and three children from various marriages. ®