This article is more than 1 year old
Dolby Atmos is coming home and it sounds amazing
Don't bin your multichannel home cinema system just yet
Breaking Fad Can Dolby Atmos save the beleaguered home cinema business? With sales of AV receivers tanking, makers of multichannel home theatre receivers are banking on the latest in surround sound technology to rekindle interest.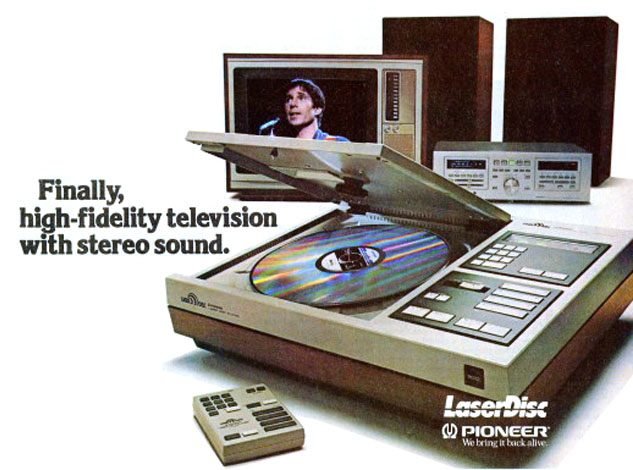 Remember the days when two speakers would keep movie buffs happy in the home?
Have you space for 10 or 12 speakers? Dolby hopes so
Dolby Atmos has been called 3D for your ears. It's a cute label to describe a tangible leap forward for movie audio. Unlike traditional surround sound, Atmos is object rather than channel based, using metadata to position audio within a hemispherical three-dimension soundstage, adding height to the usual encircling speaker array. It's gaining traction in Hollywood, with over 120 movies rendered in Atmos so far.
From a sound design point of view, Atmos offers unparalleled creative control, which no doubt explains its acceptance. Up to 128 objects in a frame can have their own positional metadata. When the soundtrack is played back in an Atmos-equipped movie theatre, adaptive rendering steers the sound to where the sound designer intended it to be heard.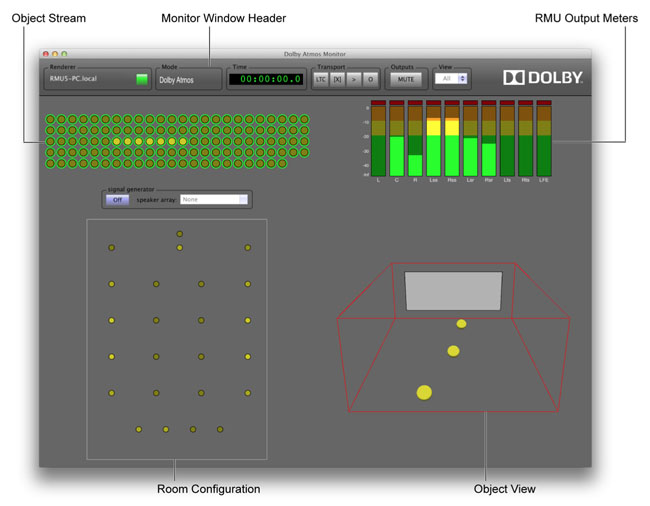 Dolby Atmos monitoring interface reveals object positioning and activity
In larger theatres with scores of speakers, precision is hardwired. In smaller venues with fewer speakers, the renderer in the processor creates a phantom channel to most accurately recreate the spatial position. From a cinematic point of view, this translates to wonderfully detailed soundfields and precise panning of transitory effects.
Immersive is an over-used word, but seems entirely appropriate. When the ragtag band of humans first foray into the apes' forest in Dawn of the Planet of The Apes, the Atmos soundstage seems entirely convincing; when rain falls, all your senses tell you you're in for a soaking.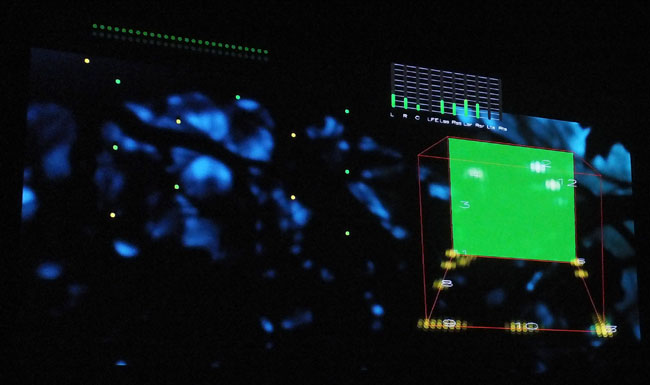 Atmos monitoring overlaid on the movie presentation
Recreating comparable holographic audio in the home comes with an obvious challenge. Most consumers want fewer speakers in their lounge, not more. The solution is a new breed of Dolby Atmos certified speakers which point upwards, reflecting all that extra audio info off your ceiling.
Speaker brands KEF, Onkyo and Definitive Technology are all developing compact reflective solutions, most of which are designed to sit atop conventional forward-facing loudspeakers.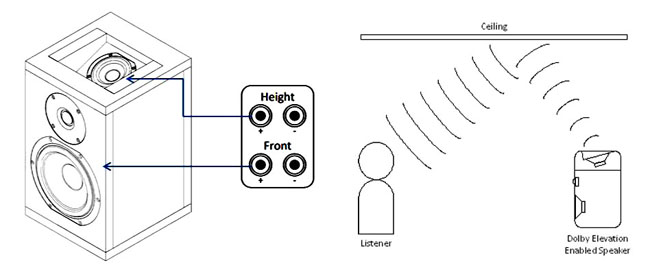 Dolby elevation enabled speaker deflects sound from the listening environment ceiling
Of course, while the creative process may be object-based, Dolby Atmos for the home still boils down to channels. Incoming Atmos receivers will typically be described as 5.1.2 (five main channels, one LFE and two heights) or 7.1.4 (seven main channels, one LFE and four heights).
At an exclusive preview of the technology, Dolby product evangelist Jonathan "JJ" Jowitt explained more about the evolution of Atmos, as well as offering the first live content demos.

Not everyone can fit ceiling speakers for Atmos Home Theatre so Dolby came up with a clever alternative
5.1 system + 2 overheads (left), 5.1 system + 2 Atmos enabled speakers - click for a larger image
Key to Atmos' journey from theatre to front room is the development of a new Spatial Coding technique, which takes into account the location of sound objects in the original theatrical mix and more efficiently encodes them.
This in turn has led to a new iteration of Dolby TrueHD for Blu-ray and Dolby Digital Plus, for OTT broadcast and VoD services. JJ insists that nothing is lost en route. "Spatial Coding enables you to get in the living room, exactly what the film-maker intended," we're promised.

5.1 system + 4 overheads (left), 5.1 system + 4 Atmos enabled speakers - click for a larger image
The spatial coding process takes place after the creation of the cinema DCP (digital cinema package) and before disc mastering or broadcast distribution. The spatially coded bitstream is then delivered to a Dolby Atmos renderer in a compatible AV receiver or processor.