Dolby Atmos is coming home and it sounds amazing
Don't bin your multichannel home cinema system just yet
Render charms
Unlike old school Dolby Digital decoders, which simply route sound channels, an Atmos renderer is intelligent enough to read the metadata and position the audio in the living room the same way, it just needs to know how many speakers you have in your array and it works out the rest.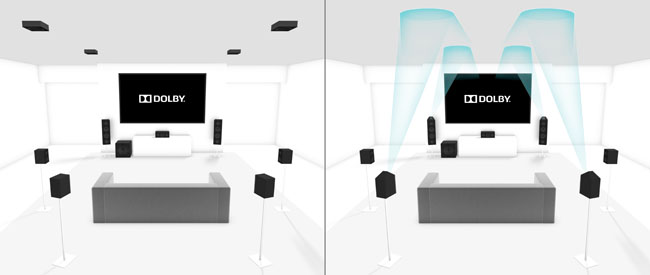 7.1 system + 4 overheads (left), 7.1 system + 4 Atmos enabled speakers - click for a larger image
AV receiver makers have been quick to back the technology. Onkyo, Yamaha, Denon, Marantz and Pioneer have all committed AVR fleets, due to go on sale over the coming months.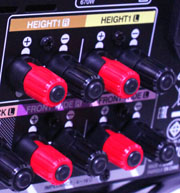 Denon AVR-X4100W height speaker
terminals - click for an uncropped image
As yet though, no Blu-ray releases with the Atmos bitstream have been confirmed, although it's a fair bet that several theatrical Atmos blockbusters lined up for a post-October disc outing will have the requisite audio option.
So what does it sound like? The good news is that the domestic version of Atmos proves to be astonishingly similar to its theatrical sibling. Even more remarkable, the performance of those Dolby Atmos Enabled Speakers is uncannily similar to that of physical in-ceiling speakers.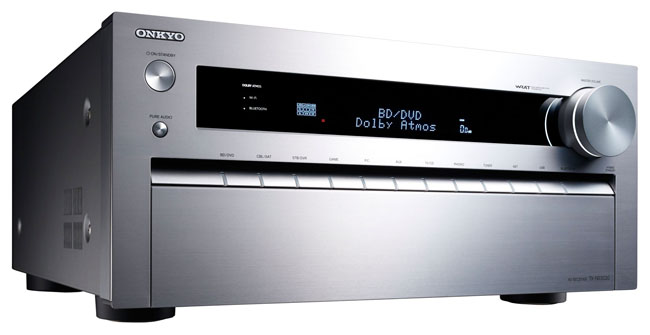 Onkyo TX-NR3030 Atmos receiver
For our demo, Dolby team played its library of pre-movie Atmos stings, as well as the opening sequence from Star Trek: Into Darkness. All exhibited a level of wraparound immersion and precise image placement that traditional 5.1 just doesn't quite achieve. The difference is akin to wearing an ill-fitting baseball cap or a bespoke fedora.
Unsurprisingly, there's more to the illusion than just sound projection. "Atmos speakers project sound upwards at an angle, hitting the ceiling and getting a wider dispersion to create the perception of overhead sound," explains JJ. "But you can't simply project sound and bounce it off the ceiling."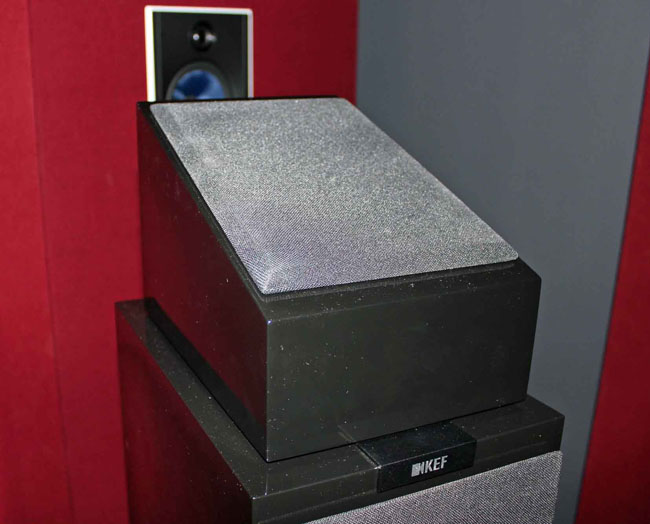 Dolby Atmos elevation driver by Kef sits atop a full range surround speaker
Dolby says research reveals that when sound from above hits the top of your head, it rolls over your ears and reflects off your shoulder. This process creates a small high frequency notch, and it's the presence of this notch – and the fact that the sound hits both ears near simultaneously – that convinces our brains to recognise it as overhead sound. "It's a telltale trait. So what we do is emulate that notch with these speakers."
For home cinema enthusiasts, the prospect of Atmos in the home should be deliriously exciting. However, the irony is that the system has yet to find widespread adoption in cinemas. Indeed there are only nine currently in the UK. Jowitt says this shortfall isn't particularly surprising.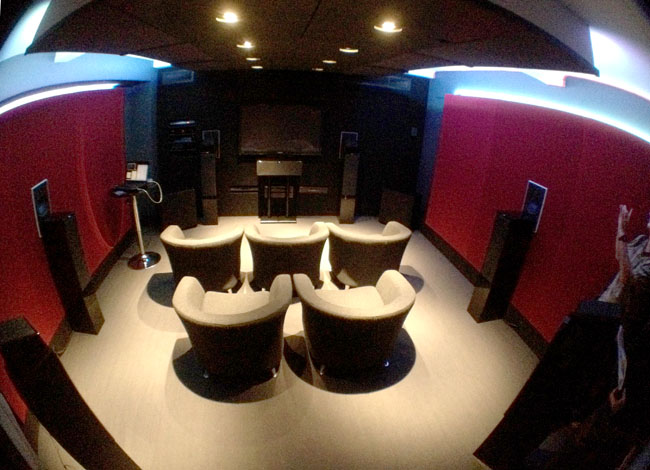 Dolby UK demo listening room with Atmos enabled speakers
"Ironically we've had more Atmos installations in countries where digital cinema hasn't been that established in the first place," he confides. "They went from analogue cinema to Dolby Atmos. They missed out the first digital cinema phase. People who had initially invested big in digital cinema, such as the UK, created an Atmos inertia. But we're prepared to put up with everybody's timelines. What it's allowed us to do is improve the technology and bring the cost of deployment down."
And this is just the start. Dolby is also working on a headphone implementation of Atmos for mobile devices. And while Atmos enabled games are not on the agenda, Dolby says it's fielding interest from a wide variety of content creators, with concerts seemingly prime fodder.
It would seem the reports of the death of home cinema have been greatly exaggerated – and I, for one, couldn't be happier. ®
Steve May is a veteran AV journalist and senior editor at Inside CI.