Flash to the Max: HGST, NEC ink SQL Server appliance deal
Reference architecture for PCIe flash cards
Japanese server maker NEC's Express5800 servers will soon use HGST FlashMax PCIe flash cards via a reference architecture deal.
HGST, a WD company, obtained this product line and technology when Western Digital bought Virident in 2013 for $685m.
The servers, said to be intended for the enterprise scale-out server market, will be fitted with up to 8.8TB of FlashMAX II PCIe flash storage, which will be called a PCIe SSD Appliance for Microsoft SQL Server.
NEC says this gear "delivers more than twice the compute power of the previous generation 4CPU platform in a single 4U server, reducing rack space requirements by 69 per cent and power consumption by 27 per cent." There will be "a near doubling of logical scan rates to 8.2Gbit/s that tackles even the largest SQL workloads."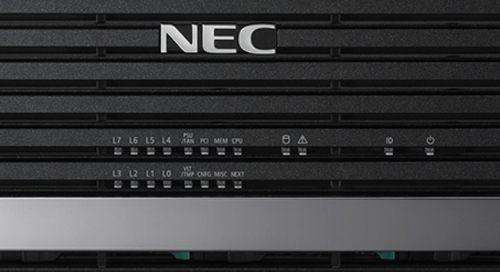 NEC 5800 scalable enterprise server bezel detail
Tomoyasu Nishimura, the general manager of NEC's IT Platform Division, provided a prepared quote: "We have a proven track record with HGST FlashMAX II technology, and we look forward to bringing this appliance as well as others to the market with a superior value proposition."
NEC has a deal with Lenovo involving the sales of its servers, particularly in China.
For HGST, NEC isn't a tier 1 server vendor, but it is a very nice deal nonetheless, especially with the Lenovo connection. ®