This article is more than 1 year old
Vulture 2 spaceplane brain surgery begins with remote incision
Autopilot wrangling from Australia via OpenVPN
The programming of our Vulture 2 spaceplane's autopilot was going pedal to the metal yesterday as we finally resolved a cantankerous Raspberry Pi issue and got down to some proper Pixhawk wrangling.
Linus Penzlien is in Spain to work with APM:Plane lead developer Andrew "Tridge" Tridgell on implementing some custom Low Orbit Helium Assisted Navigator (LOHAN) mission parameters.
Tridge is in Canberra, but that didn't stop him getting inside the Pixhawk via OpenVPN, while chatting to Linus on Skype. Linus in turn relayed instructions to yours truly such as "move the plane around a bit", as the two started to get stuck in.
Here's Linus in the thick of it...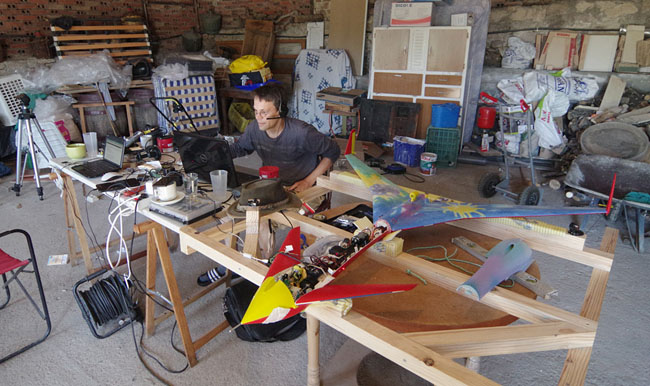 ...and here's Tridge on the other end of the line: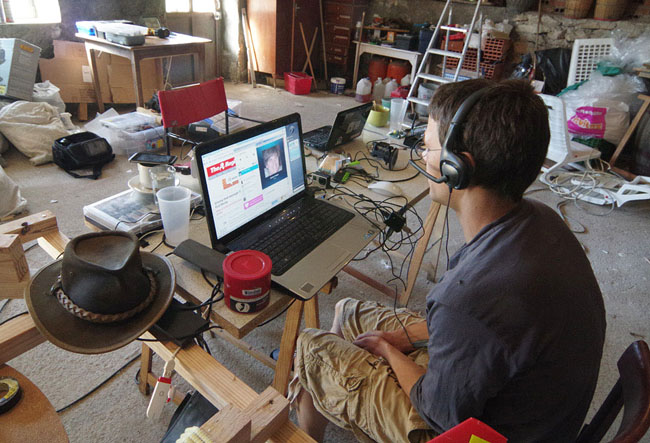 This being LOHAN, things didn't go exactly according to plan. We immediately identified a possible faulty canard servo, with the servo rail voltage jumping around a wild 1V. The issue won't affect progress on the custom parameters, which are in summary an "ascend wait" mode, wherein the Pixhawk twiddles its thumbs while the fantastical flying truss soars majestically to motor ignition altitude, "launch detect" and subsequent autopilot activation into flight mode parameters and, of course, an obligatory magnetic tree detection and emergency avoidance algorithm.
Crafting the parameters requires some detailed predicted aircraft performance figures, and a few rejigged calculations based on the final centre of gravity - a position we now have following the installation of the last few bits of avionics.
Thanks very much to Chris Dodd and Amrith Surendra of our magnificent spaceplane design team for taking the time to provide the necessary info.
So, we're in good shape, and looking forward to taking the Vulture 2 out for a spin later in the week to at least test the ascend wait mode, while checking the GPS, airspeed sensor, etc, and making sure all the bits and pieces hold together.
As we previously reported, we've hewn a van-mount platform from the living wood, and here's a nice snap of the whole thing strapped down and ready to roll: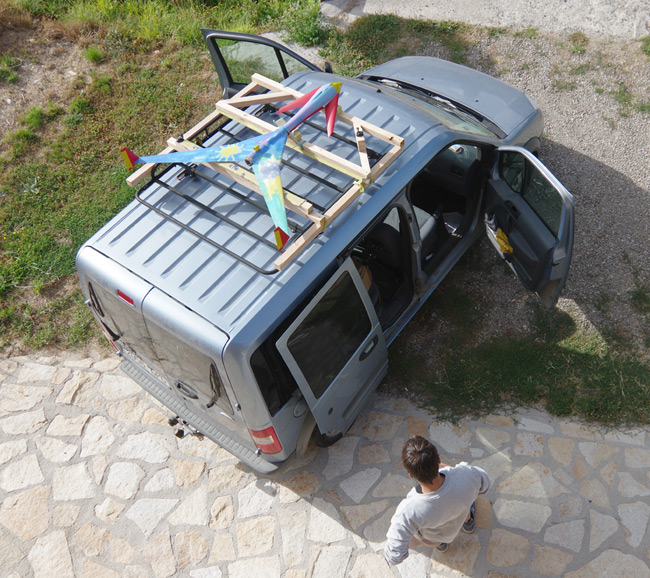 Now, if you'll excuse us, we'll get back to it...®
---
More from the lovely LOHAN:
---