This article is more than 1 year old
UK mobile coverage is BETTER than EVER, networks tell Ofcom
Regulator swallows this line and parrots it back out at us. What are they playing at?
All of Blighty's mobile phone networks are providing great coverage and you can make a successful voice call nearly 100 per cent of the time. And the source of this wonderful news? Why, it's … er, the mobile phone networks themselves. Oh.
The latest report (PDF) from telecoms regulator Ofcom shows that all the mobile phone networks are doing a great job.
Ofcom used to organise teams of testers equipped with network test equipment to drive around the country and test the operators' networks, but for the latest survey Ofcom has gone for a three-tiered approach: it asked the networks what their call completion success rates were; it took data from the survey company RootMetrics; and it asked consumers how they felt about coverage.
The only testing is based in the work which RootMetrics controversially did last year.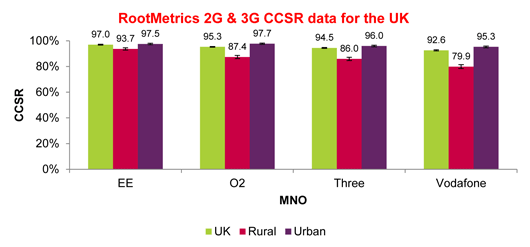 This is a mobile phone network coverage test with no actual testing involved.
To be fair, this is only an appraisal of voice, Ofcom is doing independent testing for data and that information will be released in October.
Because the data for this report comes from such disparate sources – with all of the networks using different metrics – it can't be directly compared, as Ofcom itself notes in the report. What the regulator is sure of, though, is that the operators have all met their obligations for coverage – which as it's Ofcom's job to enforce these obligations, mean it's job done.
The raw figures say that on average the odds of you making it to the end of a mobile phone call you start are 98.87 per cent. The figures from the mobile networks say that there is a call completion rate of between 97.9 per cent and 99 per cent while the data from RootMetrics says between 93 per cent and 97 per cent; the difference being that RootMetrics tries to make calls in areas where there is no coverage and the operators only measure calls which are started.
The RootMetrics methodology is to use shop-bought phones. Tests were performed using the Samsung Galaxy S III for EE, Vodafone and Three, and the Sony Xperia Z for O2. Prior to conducting field testing RootMetrics conducted its own internal testing to select the best phone model commercially available from each operator, testing them across a range of services (voice, text, data), in different use cases (indoor, outdoor and while driving) and in multiple geographic locations.
RootMetrics' shop-bought test phones are not rooted. This means that RootMetrics don't have access to the Level 3 signalling information within the phone, which would give them a lot more data to work with.
So while the Ofcom report gives details of call completion there is no information on sound quality. There is no allowance for EE supporting W-AMR (HD voice) or measuring of the quality using either MOS or the signal-to-noise ratio of Ec/Io. Nor do we know how often the 3G network dropped down to the 2G network. Calls are not made simultaneously.
What it does have is a lot data: testing was conducted on 114 different days. Over 35,000 km of roads and motorways in, around, and between large cites and small villages were driven over and tested. Tests were also performed in more than 1,000 different indoor locations. In all, more than 28,000 calls were placed on each MNO's network.
Ofcom also found that people were generally happy with their mobile phone service, and that "99 per cent of mobile phone owners still use their handset to make mobile phone calls".

Overall network satisfaction – UK, urban, rural and remote rural
One of the interesting metrics is that participants were asked how often they experience particular issues with their mobile service. Thirty per cent of UK consumers experience having no signal or reception at least once per week; this rises to 43 per cent and 47 per cent in rural and remote rural areas respectively. Furthermore, a lack of signal or reception is a part of daily life for 28 per cent of mobile users in remote rural areas. This is more common than in rural (17 per cent experience it daily) or urban areas (11 per cent).
As Ofcom's research goes – it's usually excellent – this report is very lightweight. We can only hope that their forthcoming reports on 3G and 4G mobile broadband, and the much needed research on the joint Department of Transport/Network Rail initiative to improve coverage on the UK's rail network, will involve more primary research. ®