Antique Code Show California Games from Epyx cooked up a successful franchise with its winning combination of sunshine, grazed shins, wetsuits and bikini babes. Indeed, its well-considered play mechanics, delivered with multiplayer action and some slightly twisted humour, soon cemented its cult classic status in history.
Video from 2004 looking into the Mega64 archives. Includes game footage and vox pop interviews.
California Games arrived in the midst of the 1980s video game boom – that time of creative innovation, when hardware improvements allowed games to branch out into unknown territory. Designers explored themes that would appeal to their youthful audience, and aside from the more obvious kung-fu ninja/racing car/machine gunning clichés, sports simulations emerged as an interesting way to tap into game players' naturally competitive streaks.
Konami released the infamous button-basher Track and Field in 1983, swiftly followed by Hyper-Sports, with arcade cabinets punished to destruction by over-zealous teenagers trying to score a higher leaderboard spot with each 10-pence credit. Later, Atari would choose a less mainstream sporting angle, tapping into two burgeoning youth sports of the day with BMX-riding Paperboy and 720° skateboarding.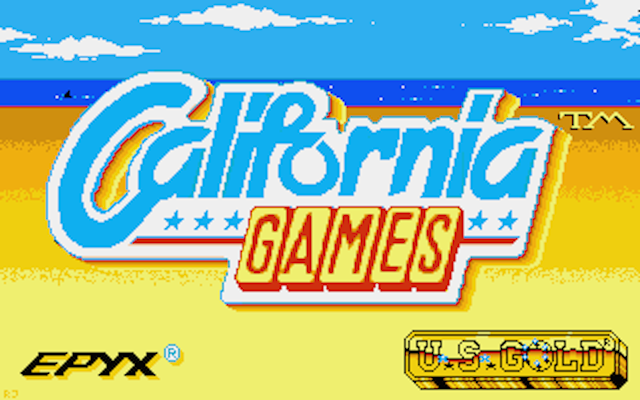 Atari splash screen
In the meantime, Epyx Computer Software – an archetypal '80s development team from San Francisco – scored minor successes with its Summer Games and Winter Games titles, focusing on more traditional Olympic-based disciplines. Yet, with Atari's innovative direction clearly a success, Epyx came up trumps with its own intriguing mix of offbeat sports inspired by its home territory. Versions for the Commodore 64 and Apple II were first to be dispatched, and Epyx didn't look back as it scrambled to produce California Games for every platform it could manage.
Like, totally dude
It also managed to strike a chord with the youth of the day with its six sun-drenched "cool dude" events: skateboarding, surfing, BMX, flying disk, roller-skating, and um, foot bag (otherwise known as hacky-sack). Some versions neglected to include one or two sports, but memory and programming time was limited back in those days, so you just had to get over it.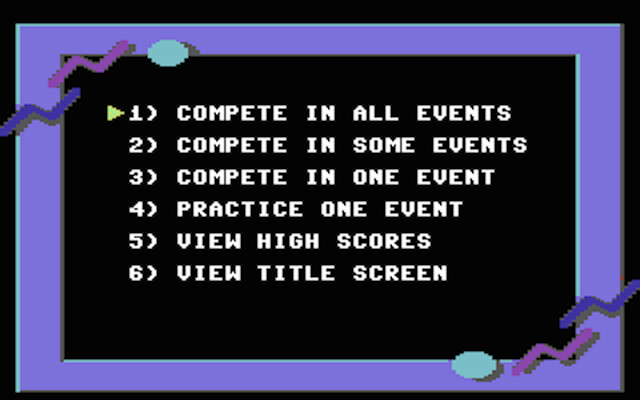 Taking the heat
Epyx worked hard to create game controls that required precise timing and a unique approach for each discipline. Events had their own nuances and an inherent complexity (in 1987 terms, at least) that left players desperate to come back for another try.
Take skateboarding, for example. Your on-screen compatriot would most probably "drop into" the half-pipe only to fall off on the other side and get a board in the knee-caps – again, and again, and again. Thus you played initially in a state of frustrated bewilderment, attempting to figure out how the buggery to control the darn thing. Yes, there probably was an instruction manual somewhere that explained the controls, but that would neglect the spirit of the game, surely?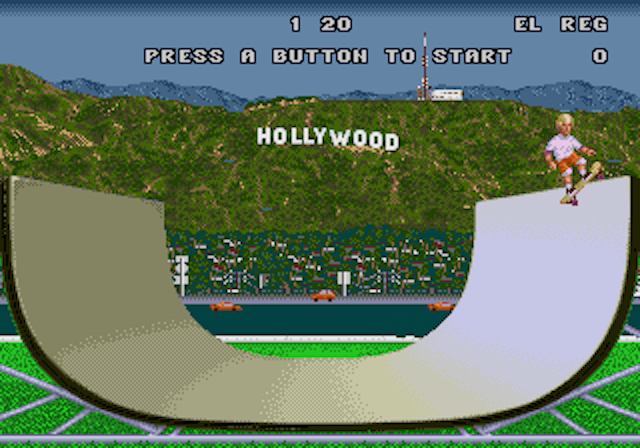 Preparing for the drop
In time, experimentation and tenacity would eventually keep your boarder moving up and down the ramp, with tricks and turns perfectly timed along the way. It was practice makes perfect stuff, yet somehow the relationship between joystick (or joypad or keyboard) slotted into place perfectly.