Freedom of the great outdoors
California Games didn't restrict players to a running order of sports, and allowed you to practise disciplines as required, or set up a competition containing events of your choice. In time you found that your mates all had different preferences and skills, making for great variety in the heated competition.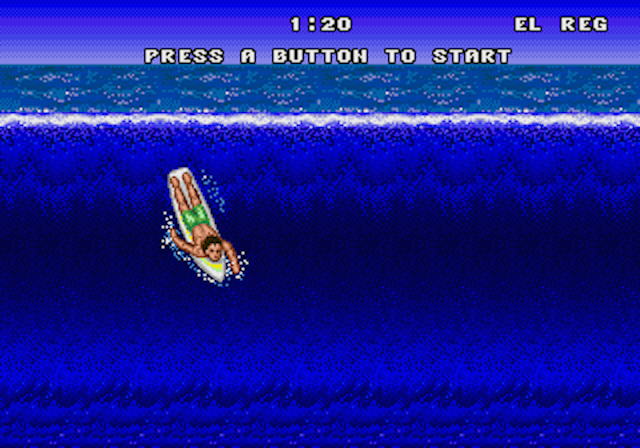 Paddling into a "bomb wave"
Surfing was one of the hardest to score consistently well on, with some delicate manœuvres needed to get "in the tube" or perform an "aerial". Roller-skating required deft timing in order to get past tricky obstacles and perform tricks for extra points – not an easy balance to find, with the over-ambitious often deposited onto their derrières.
The BMX course took the form of a traditional race, yet to do well you needed to perform all sorts of flips and spins to bag the top points. For many, the flying disk event – or frisbee, as normal humans called it – was a bit of fun tagged along the end, though there were some high scores to be found by those in the know.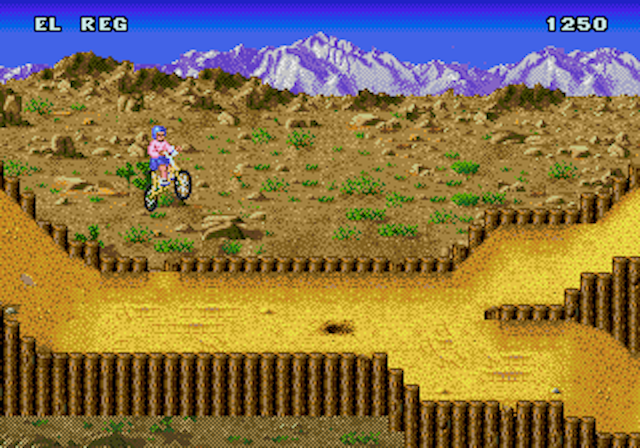 Flying high on the BMX circuit
Hacky-sack
Foot bag deserves its own special mention… being a work of such utter gaming genius. While the event saw your skinny hacky-sacker moving in a more pedestrian fashion compared to his frenzied motions in the other disciplines, only the foolish presumed it to be simple. The sequence, set in front of the Golden Gate bridge, included a full range of moves from "Five-in-a-row" and "Double Jester" to "Axle-Foley" – all of which needed to be pulled off under strict time constraints. If you managed to bop George the Seagull in the face a couple of times as he flew past, then all the better.
That sometimes peculiar, tongue-in-cheek humour running throughout California Games ensured plenty of memorable laughs. Bikini-clad women slipped on banana skins along the beachfront, or crashed to the ground while trying to catch frisbees.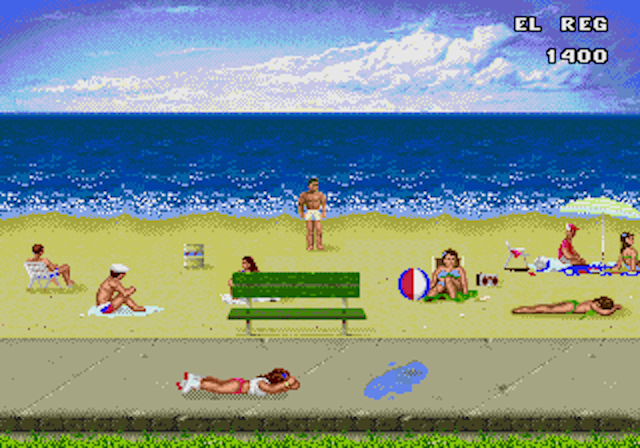 Another day, another beach-ball takedown
There would be over-the-top comments along the way too, like the morbid death statement following a BMX exit: "Crashed on head. End of event". Comic oddities would present themselves too, such as the earthquake shudder – knocking letters from the skateboarder's Hollywood backdrop – or a swift shark attack which was especially unfortunate if you'd just wiped out in the surf event.
Most home computer platforms and consoles of the era have a fondly remembered version of the game, although the Speccy one was a bit of a duffer. My particular exposure point was the 8-bit Sega Master System cartridge – surely one of the standout titles on that console. Indeed, the latterly released Megadrive version was famed for not playing quite as well, despite looking a bit prettier. Find and compare your own favourite release in this YouTube video.
While the multiplayer aspect wasn't simultaneous on most systems, it didn't really matter. The party-like fun you could have, laughing at – or congratulating – your friend's best efforts, gave California Games its long-term playable appeal. There could be a real sense of tension and elation as the competition for points escalated towards the final event. Indeed, this was the type of game that could genuinely be classed as wholesome family entertainment, and could quite happily be picked up on impulse to kill a rainy Sunday hour or two.