This article is more than 1 year old
NetApp: Revenues are down – but own brand kit wasn't to blame
If it weren't for those pesky OEMmers...
Revenues down, profits up and no growth for three years: that's the picture from NetApp's first fiscal 2015 quarter results.
The quarter finished on 25 July, and revenues were $1.49bn. They were $1.52bn a year ago, a 2 per cent fall, and $1.65bn in the previous quarter, 10 per cent less and a seasonal pattern.
Net income for the quarter was $88m, 7 per cent higher than last year's $82m but a lot less than the $197m reported in the previous quarter.
Management's take on this revenue and profits pattern included this statement from CFO Nick Noviello: "NetApp executed well in fiscal Q1. We achieved net revenues above the midpoint of our previous guidance range, evidence that our strong portfolio solutions is well aligned with the evolving priorities of our customers and we delivered another quarter of strong operating results."
Within the revenue number, the earnings call transcript shows:
Branded revenue of $1.36bn was 91 per cent of net revenues, up 1 per cent from a year ago.
OEM revenue of $129m was down 23 per cent versus Q1 last year, an expected decline.
So OEM revenues declined a lot while NetApp-branded product sales were effectively flat. OEM revenues include E-Series products and fast-diminishing FAS array sales through IBM.
Stifel Nicolaus MD Aaron Rakers said: "E-Series unit shipments (inclusive of its EF540 and EF550 all-flash solutions) increased over 2x yr/yr during the April quarter."
It looks like IBM was largely to blame for the revenue decline, that and a failure to grow FAS array sales through NetApp's own channels.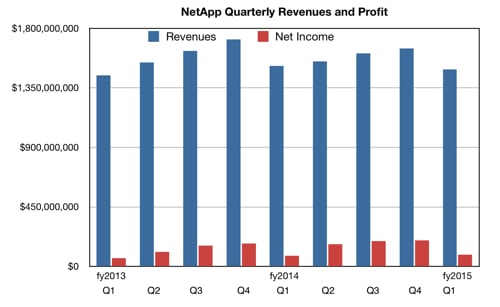 NetApp is forecasting revenues next quarter to be between $1.49bn and $1.59bn. At the $1.54bn mid-point that would be a million dollars down on the year-ago second quarter.
Chris says
Looking at the past four years or so of NetApp results, a case can be made for saying that since the company has not grown its revenues for three years, it's possible it may not break out of this mature company phase into growth in the short term. Here is a chart of its quarterly results over the period – make your own judgment: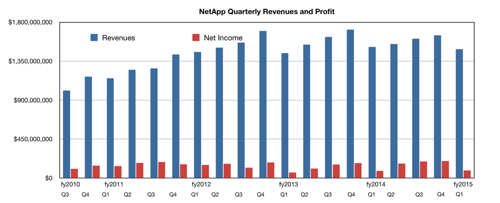 NetApp's quarterly revenue pattern over a longer period shows no effective growth since fiscal 2012.
Investors will be more interested in the profits, of course, with their minds on dividends and share buy-backs. But underlying this Wall Street shine is the stark fact that NetApp isn't selling any more kit now than it did three years ago – overall product sales have been flat for three years.
During this no-growth period, we have seen the rise of five alternatives to buying NetApp disk drive-based arrays:
all-flash arrays from Pure Storage, Solidfire, Violin Memory, Whiptail (now Cisco), and XtremIO (now EMC),
hybrid flash/disk arrays with new software from Nimble Storage, Tegile and Tintri,
scale out converged server/storage systems from Nutanix, Simplivity, and Scale Computing,
server SANs from LeftHand Networks (now HP) and now VMware with VSAN and
storage in the cloud from Amazon, Google and others.
Although NetApp has extended its technology to provide all-flash EF-Series and FAS arrays, hybrid FAS arrays and cloud back-end storage, it has not seemingly affected the double-digit and even triple-digit growth of the competitors mentioned above.
NetApp has also excluded itself from the purpose-built backup appliance market after seeing EMC snatch Data Domain from its hands some years ago. That market has grown steadily since then, with the latest evidence being HDS's acquisition of Sepaton yesterday, yet NetApp has not entered the market – for example, by buying Exagrid.
Why not? Is its management obsessed by a FAS-forever mindset?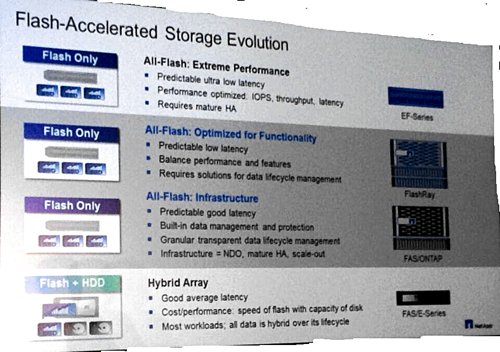 Even its coming FlashRay ground-up designed all-flash array, first shipping to [test) customers next month, is not being evangelised as a radically better piece of kit, with the all-flash EF-Series products being shown in the slide above as a faster performer. ®