This article is more than 1 year old
SynoLocker Trojan crime gang: We QUIT this gig
Hold 'closing down sale' as they hotfoot it to ... island?
A ransomware Trojan gang appears to be moving on, and has offered to sell its remaining decryption keys in bulk for 200 BTC ($103,000, £61,500).
Cybercrooks behind the recent SynoLocker Trojan – which targets the network attached storage devices manufactured by Synology – have apparently decided to cash out on their ill-gotten gains. The ransomware encrypted users' files before demanding a payment for a private key necessary to unscramble them.
The process, akin to a bank selling off bad debt in the world of legitimate business, was discovered by security researchers at F-Secure.
"The website where victims are instructed to go to for payment instructions, has been updated," explains F-Secure research intern Artturi Lehtiö in a blog post.
"The page now includes the notice 'This website is closing soon...' The operator(s) also claim that they are still in possession of over 5,500 private keys but that they are willing to sell the entire collection for 200 Bitcoins."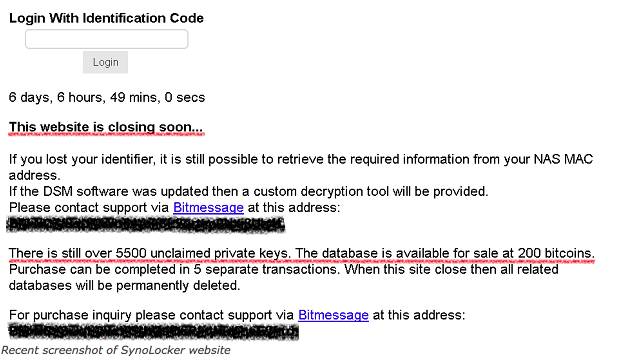 Scam 'closing down' sale
Regular victims are been given around seven days to pay up. Reflecting the professionalism of the operation, victims who have lost their identifiers can still be "helped" providing they contact the racket's support staff via Bitmessage, an encrypted, peer-to-peer communications protocol.
Of course, there's nothing to stop the scammers continuing in business beyond their self-imposed deadline. "Whether the operator(s) follow through with their plans and what that might entail for victims will remain to be seen," F-Secure's Lehtiö concludes.
SynoLocker is comparable to the infamous CryptoLocker ransomware inasmuch as it encrypts files and then demands a ransom to unlock them.
Before a recent FBI-led take-down operation, CryptoLocker mainly spread as a secondary infection to machines compromised by the Gameover ZeuS banking Trojan.
SynoLocker, by contrast, relies on hard-coded passwords and insecure configurations that involve exposing the admin page of NAS boxes that create a means for hackers to plant malware on vulnerable devices. ®