This article is more than 1 year old
Top Gun display for your CAR: Heads-up fighter pilot tech
Sadly Navdy kit doesn't include Sidewinder missile to blast traffic
Car-display manufacturer Navdy has refuted claims that its new device is dangerous, saying there are plenty of precedents for the technology.
Navdy connects a mobile phone to a small projector and provides a "pilot's eye" heads-up display, using a transparent screen. This avoids the issues of multiple images which you get if you try to project onto a laminated windscreen.
Inside the Navdy is a dual core, ARM 9-based processor, compass and flash memory. It connects by cable to the car's systems using OBD-II, which gives data and power and a phone by Bluetooth. If the OBD-II port is out of reach it can use an OBD-II Bluetooth dongle. The whole thing is powered by the 12v power adaptor in the car.
Navdy CEO Doug Simpson told The Register that between 2010 and 2014 more than a million cars were sold with heads-up displays. Yet he concedes that it may be necessary to moderate what you do with a Navdy, and certain features can be disabled while the car is moving.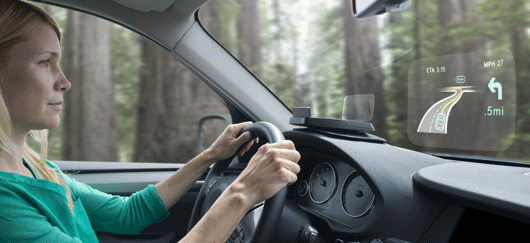 Navdy believes that its system is very much safer than using a phone, because when you use a touch screen your eyes follow your fingers.
"Smartphones were never designed to be used while driving," Simpson told us. It's a recognition that while it might be safer to turn your phone off altogether while driving, that's not going to happen. "I particularly hate it when I'm using a phone for navigation and I get an incoming call," Simpson told El Reg.
Simpson would not be drawn on the projection technology employed but says that it projects a transparent image directly within your field of view that appears to float six feet in front of your screen. The display can show instructions, incoming calls and the car's speed. You communicate with the Navdy using voice and gestures and the Navdy has noise cancellation and wide angle sensors to make this work.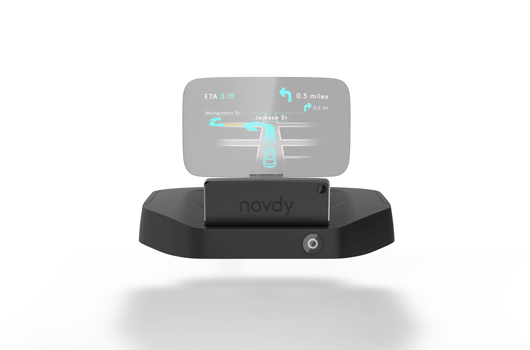 Navdy works with navigation apps such as Google Maps for turn-by-turn directions, and music apps such as Spotify, Pandora, iTunes Music and Google Play Music. The device can read aloud or display notifications from text messages or social media apps, subject to parental control settings.
Initially the HUD will work with iOS and Android (4.3+), but Simpson told us that he's seen a lot of interest in Windows Phone – and part of the reason for announcing the product six months ahead of launch was to gauge demand for different versions.
The information which can be displayed depends on what information the car puts on the OBD-II port. And of course there is the excellent Torque app which provides similar information but generally is able to display information such as your speed, RPM, miles-to-empty, fuel economy stats, tyre-pressure warning or battery-voltage warning from the car's computer.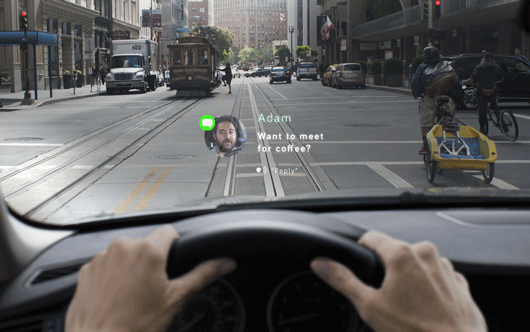 When you get a text message you can wave at it to make it go away
Navdy is still in the prototype stage. It's slated for a Q1 2015 release but Simpson told us that a lot of the hiccoughs in production had been eased by an association with PCH International, which works as an accelerator for tech companies that want an introduction to Chinese manufacturing. Simpson added that Navdy had been through PCH International's Highway 1 programme to reduce the risks inherent in ramping up for production.
When it ships, Navdy will cost $499 (about £300) – but there is a pre-order price of $299 (£180 or so), and a $30 referral scheme.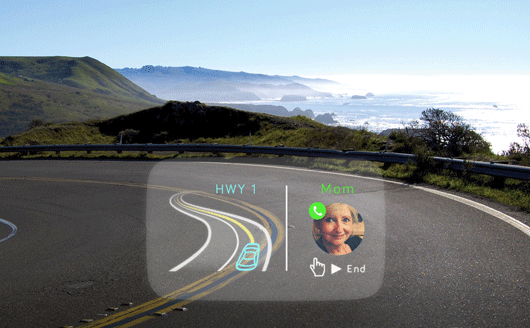 "Not now Mum I'm driving
Quite how drivers will react when they look in their rear view mirror and see a Navdy user gesturing at the windscreen remains to be seen. ®
Promotional video of Navdy in use