Feature Ah, the magic of television. With the press of a button and the twist of a knob, the residents of homes around the country could cosy up for an evening's entertainment as the set warmed up to a steady monochrome glow – with the lucky ones able to tune in to BBC 2.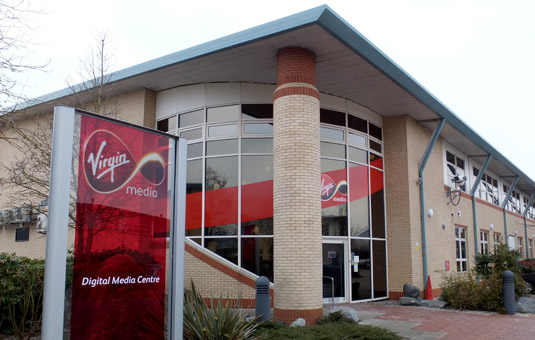 Virgin Media Digital Media Centre
Even in those simpler times, television services were soon taken for granted. Today, with an even a bigger mass of technology supporting the simplest of actions – the touch of a button – this is still the case.
For many, it's no longer a case of tuning in to an aerial mast at Crystal Palace, but involves an invisible hi-tech communications journey from a set top box to a data centre and back again.
It's this journey that this two-part feature explores.
Leading UK cable network operator Virgin Media has allowed The Register exclusive access to its broadcast operation, which delivers TV, movies and other services over its Hybrid Fibre-Coaxial (HFC) network to millions of customers throughout the UK.
We'll be looking at the tech behind it all that performs simple tasks from getting a menu on your screen and a movie playing in seconds to delivery to portable devices: from the sofa to the server, from the server to the sofa.
Virgin Media is now owned by telco behemoth Liberty Global and at the time of our visit, we met with Dan Hennessy, who was in charge of technology strategy and architecture, and is now chief architecture officer at Liberty Global. Also on hand was broadcast architect, Keith Wigmore.
Welcome to the machine
Our meeting in Berkshire was at the operation's Central Headend – a building packed with telly tech including satellite receivers and descramblers alongside racks of servers managing content delivery and handling varying capacity demands. Hennessy outlined its function.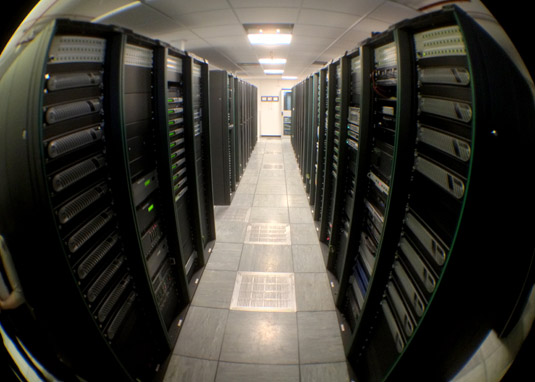 Virgin Media Central Headend
"This is where we basically orchestrate and bring together the bulk of our broadcast video, our video on demand, and the things that put the smarts into what we classify as our Liberate TV platform – which is the older set top box on this side of our world – as well as our more modern TiVo video platform."
Apparently there were three Central Headends, but following the merger with NTL back in 2006, two were replatformed as older tech was retired and one became focused on content acquisition. Hence, there is now just one Central Headend running and one other that functions as a disaster recovery DR site – an exact copy of the Berkshire facility that's ready to kick in if there's a major outage.
As its name implies, the Central Headend is the mothership of Virgin Media's television services (rather than broadband). The mothership then branches out into a distribution network and hierarchy of technical properties, as Hennessy outlined.
"Our network hierarchy is one which starts with two central head ends," he said. "Broadcast content from the central headend is distributed to 54 regional headends – effectively big regional sites. Those regional sites feed their own residential local access area as well as smaller hub sites in that region. In total, those 54 broadcast regional headends will feed north of 220 hub sites."
Although the majority of the content Virgin Media acquires is received by satellite as an ASI (Asynchronous Serial Interface) stream in RF, landline feeds are also used, with HD SDI signals for high definition content coming in from the likes of the BBC, among others, at 1.5Gbit/s. These are uncompressed HD signals and Virgin compresses the content itself for redistribution.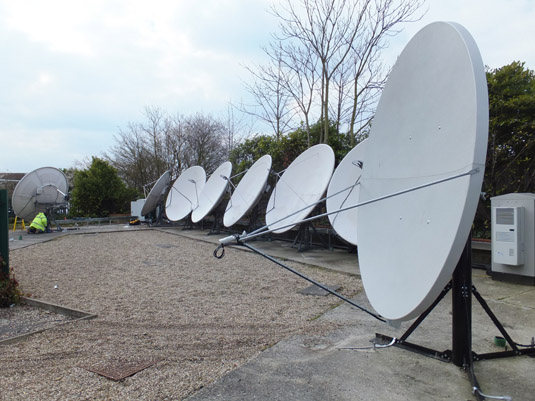 Dish of the day
"If we take the lid off a Central Headend there are a number of keys areas," says Hennessy. "You have satellite acquisition outside – a big bunch of dishes. We have that feed replicated in two other sites to give us resilience. That satellite feed then comes into a range of what we call L-band splitters, which then feed the IRDs (Integrated Receiver/Decoder)."