TV transport tech, part 1: From server to sofa at the touch of a button
You won't believe how much goes into today's telly tech
Feature Ah, the magic of television. With the press of a button and the twist of a knob, the residents of homes around the country could cosy up for an evening's entertainment as the set warmed up to a steady monochrome glow – with the lucky ones able to tune in to BBC 2.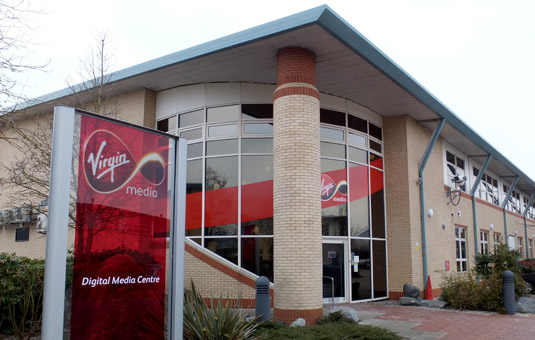 Virgin Media Digital Media Centre
Even in those simpler times, television services were soon taken for granted. Today, with an even a bigger mass of technology supporting the simplest of actions – the touch of a button – this is still the case.
For many, it's no longer a case of tuning in to an aerial mast at Crystal Palace, but involves an invisible hi-tech communications journey from a set top box to a data centre and back again.
It's this journey that this two-part feature explores.
Leading UK cable network operator Virgin Media has allowed The Register exclusive access to its broadcast operation, which delivers TV, movies and other services over its Hybrid Fibre-Coaxial (HFC) network to millions of customers throughout the UK.
We'll be looking at the tech behind it all that performs simple tasks from getting a menu on your screen and a movie playing in seconds to delivery to portable devices: from the sofa to the server, from the server to the sofa.
Virgin Media is now owned by telco behemoth Liberty Global and at the time of our visit, we met with Dan Hennessy, who was in charge of technology strategy and architecture, and is now chief architecture officer at Liberty Global. Also on hand was broadcast architect, Keith Wigmore.
Welcome to the machine
Our meeting in Berkshire was at the operation's Central Headend – a building packed with telly tech including satellite receivers and descramblers alongside racks of servers managing content delivery and handling varying capacity demands. Hennessy outlined its function.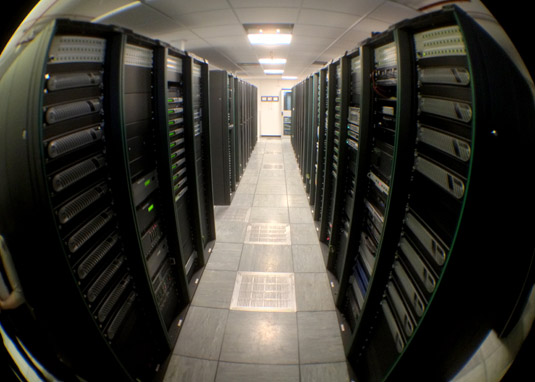 Virgin Media Central Headend
"This is where we basically orchestrate and bring together the bulk of our broadcast video, our video on demand, and the things that put the smarts into what we classify as our Liberate TV platform – which is the older set top box on this side of our world – as well as our more modern TiVo video platform."
Apparently there were three Central Headends, but following the merger with NTL back in 2006, two were replatformed as older tech was retired and one became focused on content acquisition. Hence, there is now just one Central Headend running and one other that functions as a disaster recovery DR site – an exact copy of the Berkshire facility that's ready to kick in if there's a major outage.
As its name implies, the Central Headend is the mothership of Virgin Media's television services (rather than broadband). The mothership then branches out into a distribution network and hierarchy of technical properties, as Hennessy outlined.
"Our network hierarchy is one which starts with two central head ends," he said. "Broadcast content from the central headend is distributed to 54 regional headends – effectively big regional sites. Those regional sites feed their own residential local access area as well as smaller hub sites in that region. In total, those 54 broadcast regional headends will feed north of 220 hub sites."
Although the majority of the content Virgin Media acquires is received by satellite as an ASI (Asynchronous Serial Interface) stream in RF, landline feeds are also used, with HD SDI signals for high definition content coming in from the likes of the BBC, among others, at 1.5Gbit/s. These are uncompressed HD signals and Virgin compresses the content itself for redistribution.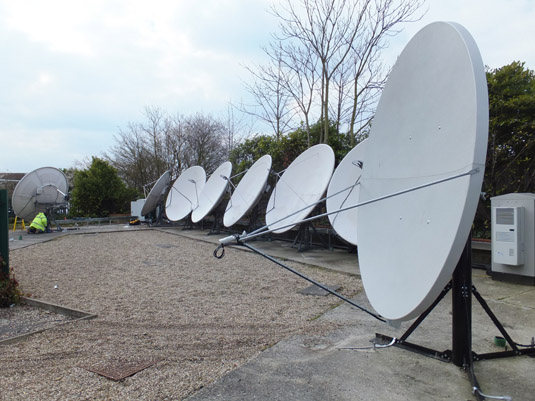 Dish of the day
"If we take the lid off a Central Headend there are a number of keys areas," says Hennessy. "You have satellite acquisition outside – a big bunch of dishes. We have that feed replicated in two other sites to give us resilience. That satellite feed then comes into a range of what we call L-band splitters, which then feed the IRDs (Integrated Receiver/Decoder)."
Doing the splits
The chief architecture officer continued: "IRDs descramble that content and then pass it on to our encoders, where we do a variety of work – whether it's standard definition or high definition. What comes out of the IRD is effectively an IP stream."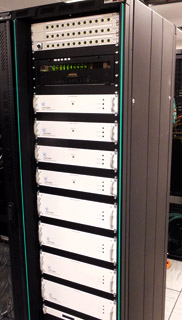 ETI Systems Satellite L-bad splitters
Pointing out a rack of ETI Systems L-Band splitters, broadcast architect Keith Wigmore explains how this side of things works.
"Sky or any broadcast satellite signal has different horizontal and vertical polarisation with high and low states," he explains. "The way these transponders are built, they can't handle the full frequency range, so you have low horizontal, low vertical, high horizontal and high vertical, and each one of these [ETI Systems] L-Band splitters can handle the different polarisations and states.
"With satellite you have different frequency bands – within the polarisations and states – and each one of these L-band splitters might pass a high number of bands, where each band carries a number of channels. They get split, distributed and sent to the IRDs."
The rack-mounted Scientific Atlanta (now Cisco) D9815 IRDs are akin to set top boxes but on an industrial scale – big carrier's equipment. They allow the satellite content – for example from BSkyB – to be descrambled in the Central Headend "home".
Just like domestic set-ups, there are smart cards used too and these are swapped around at regular intervals to authorise access to the NDS Videoguard encrypted content. "We have 100 of these and 100 backup," says Wigmore. "So we have the capability of doing 800 channels."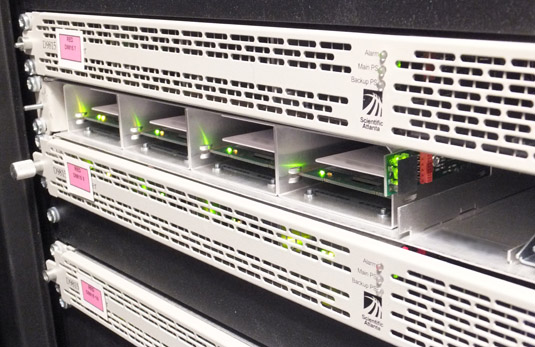 Scientific Atlanta D9815 descramblers: note the bank of smart cards in situ
With the ASI RF satellite content descrambled and now in an IP form – and likewise with SDI landline feeds received from RedBee (BBC), Stephen Street (Channel 5), Chiswick Park (ITV) and others – it's then up to Virgin Media to repurpose the uncompressed video with a range of processors to suit different platforms, from TV to PC and mobile.
There are other aspects to consider such as delivering the metadata for the electronic programme guides as well as capacity management of key service platforms, which is a science in itself that we'll come to shortly.
For high definition content, the Central Headend relies on Harmonic Electra 8244 HD MP2 multichannel encoders that take in studio feeds of uncompressed baseband video at 1.5Gb/s as well as MPEG2 and MPEG4 content from satellite that has already been descrambled.
Mux raking
After this, all the HD signals within the Electra platform are ready for the next stage of encoding to suit subscribers to Virgin's cable network together with the statistical multiplexing or "stat muxing" process that ensures it all fits down the pipe. With the latter, Virgin Media combines four channels of different bit rates to enable a single output that performs within the bandwidth limits of the network.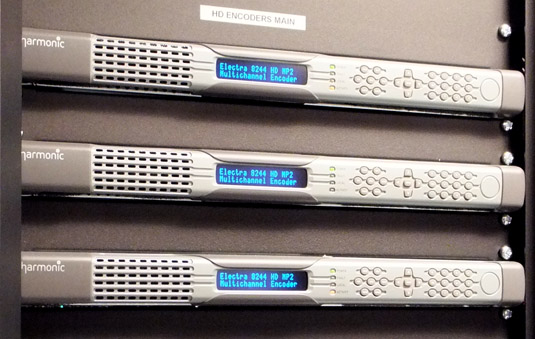 Harmonic Electra 8244 HD encoders also perform stat muxing
As Wigmore explains, "Sky Sports HD can be anywhere between, say, 4Mb/s to 21Mb/s in H.264, and Sky Sport SD can go up to about 8Mb/s. It's quite high. When we have all these different transponders or different receivers bringing these signals into the platform, we have to manipulate them so they fit together.
"When you're stat-muxing, it's best not to have all Sky Sports together. You may want one Sky Sports, one BBC, a cartoon and news channel. Then the bandwidth distribution across the output channel [comprised of all four stations] is more even, as the separate content demands are varied."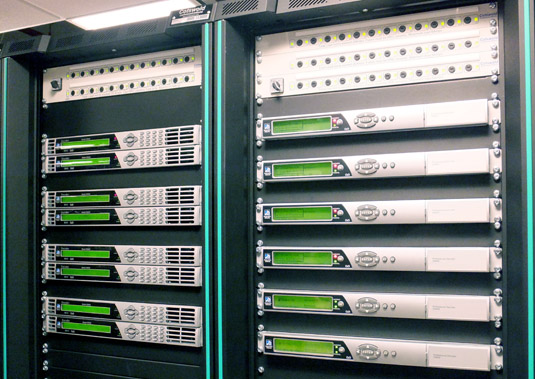 Yesterday's tech: Scientific Atlanta standard definition D9032 encoders and D9846 decoders remain in situ but are no longer used
With numerous sources of broadcast content traffic at the Central Headend, bringing them all together for network distribution over IP utilises a number of Digital Content Managers (DCM). Racks of Scientific Atlanta (now Cisco) D9900 DCM MPEG processors undertake this task, and to distribute this combine broadcast content out to the regional headends via Cisco 7609 routers.
The Regional Headends are another stop on the journey to eventually delivering live content to customer set-top boxes via hub sites and their associated access networks.
Restricted access
The Cisco DCM boxes perform content grooming, effectively bringing services together, and that includes includes Conditional Access Systems (CAS). For all of the assets delivered this way, the company relies on a content protection service from Nagra encryption technologies. Hennessy outlines its utilisation.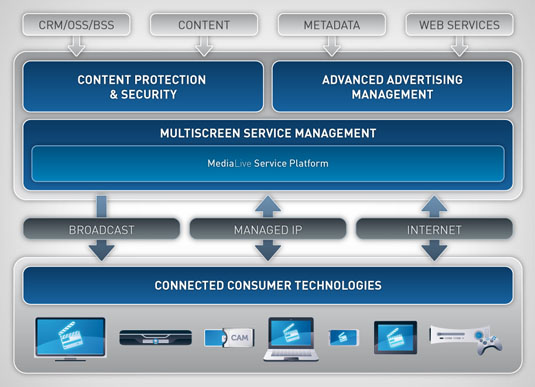 Nagra technology has a number of different implementations, but here's a basic overview
"The DCMs integrate with the Nagra system, so we receive a variety of keys. Those keys are refreshed periodically, and those keys are used in the process of scrambling that content. The smartcard that sits in the [customer's] set top box, according to entitlement has the ability to descramble channels.
"The entitlement is managed by what you bought at a package level. That influences the provisioning system and the entitlement held on central systems and on the smartcard in your set top box."
Top secret
All this number-crunching happens in a maximum security room within the Central Headend: an area equipped with ear-splitting alarms and deafening fans for these grey racks of serious looking hardware. No photographs were permitted and you'll be hard-pressed to find any images of this kit on the Nagra site – even the product brochures require a username and password.
This closely guarded CAS area may well have the security side of things nailed, but what about an outage? It would surely cause havoc to the whole customer experience. Jeff Roberts, the man charged with keeping an eye on all things Nagra, had seen it all.
"There are always going to be problems but the trick is to spot and resolve them before they start hitting customers.. For example, there's nothing worse than when provisioning is down. There are thousands of installers going round the country who can't go on to their next job, as they are waiting with customers for those hits to actually appear on set top boxes."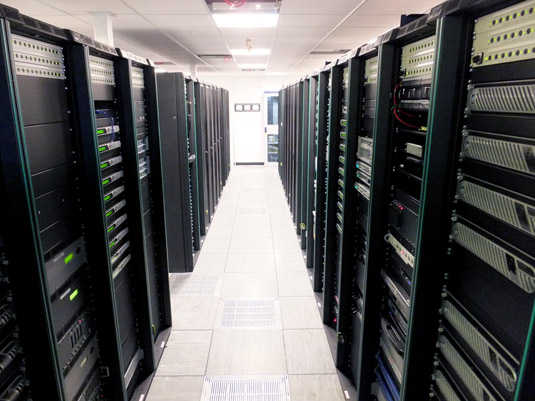 A variety of digital content managers are deployed at the Central Headend that link up with Conditional Access Systems. In the foreground (right), are banks of Scientific Atlanta D9900 DCM MPEG processors
Roberts adds: "Then you've got that knock-on effect of people waiting in for the installers – they're the worst-case scenarios, you're basically stopped in the field. With provisioning, we can see on a live basis provisioning hits going through.
"If that suddenly drops out, you get a big alarm up and we contact our IT group to make sure the network connection is there. We check that all this equipment is working and we can get it up and running within a few minutes or so."
In this one room alone, 6 million smart cards are being managed, with a scaling path to 10 million, with full disaster recovery in a separate undisclosed site.
Security breach
Back in 2007-8, Virgin Media decided to refresh its Conditional Access system. The company installed a completely new system and went through the logistics headache of sending every customer a new smart card. As Roberts remarked, "Touch wood, this system is very robust."
It's an important factor that chief architecture man Hennessy is quick to emphasise: "Maintaining a robust position on security is absolutely key for us – both for our content partners and for our own revenue models."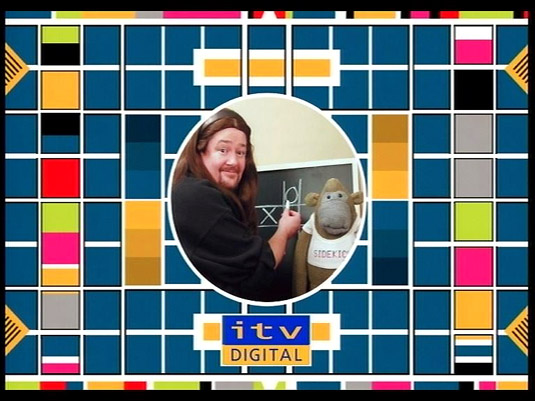 Who was behind the monkey business going on with ITV Digital's CAS? The speculation continues...
Indeed, content providers with inadequate CAS protection have suffered badly in the past. The textbook example is ONDigital (later ITV Digital), a service that had its own smart card system compromised after hacked code was leaked onto the internet, thus enabling counterfeit cards to be produced, leading to the company's demise following loss of revenue and facing the prospect of a huge bill for a CAS replacement.
Although this incident dates back to 1999 with alleged perpetrators reported on at the time, it still makes the news.
In 2012, the BBC's Panorama ran an exposé on the case that pointed the finger at a rival CAS smartcard supplier NDS, which was a News Corporation company at the time and is now owned by Cisco.
Last year, an MP urged the Metropolitan police to investigate, but following an assessment completed in July 2013, no further action was taken due to "insufficient evidence".
Route and branch
While the Nagra technologies have their own secure areas in undisclosed locations, the Cisco 7609 routers and DCMs are in racks along with the various IRDs, decoders/encoders and Video On Demand content servers in the various technical floorspace areas of the building.
From the front, just the size of these Cisco routers are impressive, but when you take a look round the back at all the Ethernet cabling – each card accommodating 48 ports and routed out to thin, yellow fibre-optic cables – that's when their high capacity data transport raison d'être really shows itself.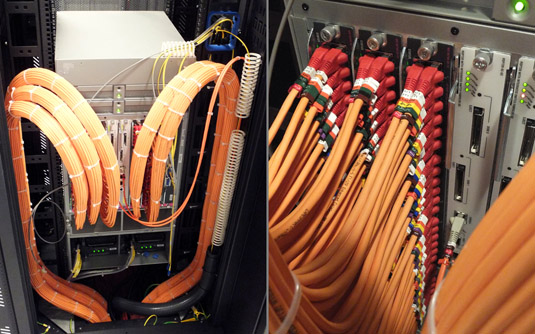 Cisco 7609 router interface cabling brings IP content together over Ethernet and pipes it out optically
Click for a larger image
"We've got bigger routers than this in our business," says Hennessy matter of factly, "but this is a platform dedicated to carrying our broadcast channels. As it happens, in our main IP backbone we have effectively Terabit-per-second routers that are doing big broadband internet, VoD and business data traffic shifting. So those are things like the Juniper T4000, equipment of that nature."
"These Cisco 7609s are just for taking our broadcast content, pushing it out to those 54 regional headends using IP Multicast, which is distributed onwards to the hub sites that are effectively satellites to headends in a given region.
"In the hub sites you get your broadcast feed combined with your video on-demand streams and your DOCSIS broadband – all delivered to homes via our HFC access network. So these IP routers are just for the broadcast channels distribution from the central to regional headends."
Data Over Cable Service Interface Specification (DOCSIS) plays a crucial role in Virgin Media's hybrid fibre-coaxial (HFC) infrastructure. Its main function is in handling the high speed internet access in the home, and is separate from the DVB-C spectrum used for broadcast and Virgin's legacy platform video on-demand assets.
In the cable industry, the overall concept is referred to as a Gateway approach to delivering content with this mix of transmission protocols. The customer PVR will have a number of DVB-C tuners for broadcast and on-demand asset viewing and also has a cable modem in it for over-the-top (OTT) assets, such as the BBC's iPlayer, Netflix and suchlike. At this stage, the optical cabling has reached a distribution cabinet and has been converted to a "last mile" coaxial cable that enters the home.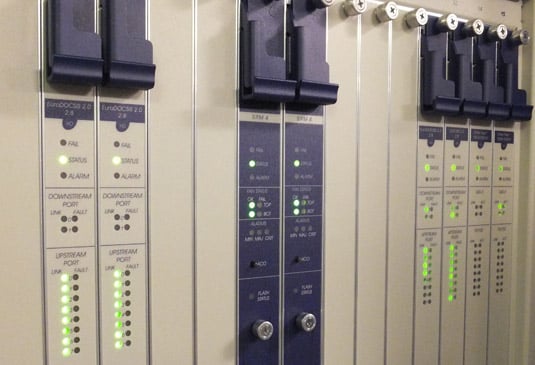 The Central Headend co-locates a Regional Headend to serve the local area. Among DOCSIS modem gear is a Motorola BSR 64000 CMTS/router
In Virgin's case, its Super Hub 2 cable modem made by Netgear will take care of the upstream and downstream DOCSIS 3.0 IP data services. Its Cisco CT8685 TiVo PVR counterpart is equipped with DVB-C tuners for broadcast and Video on Demand, and Virgin also uses a model made by Samsung too. These PVRs also feature an integrated DOCSIS 2.0 modem too, for OTT services such as the BBC's iPlayer, Netflix and others. The main differences between DOCSIS 2.0 and 3.0 are highlighted here.
Mix and match
This segmentation of IP (DOCSIS) and DVB-C broadcast/VoD services might at first appear to complicate matters but in reality, it enables those managing network capacity at Virgin Media to adapt the allocation of spectrum on its Hybrid Fibre-Coax access network as both content consumption (HD, UHD) and customer viewing habits evolve.
For instance, the devices used to access video, communications and connectivity services – from set top boxes to connected screens – will impact on the different protocols used on the network and this can easily be accommodated.
"We have a number of structural advantages around the HFC access network and one of them is the fact that 750MHz plus is a lot of spectrum," says Hennessy. "While with a geo-stationary satellite you get a good array of spectrum in which to push broadcast content, with 750MHz plus you very much get to decide how much you use for Unicast delivery over DOCSIS with modern video delivery techniques for modern devices. How much you choose to deliver in the spectrum for the traditional DVB-C based video on demand (and the video standard, be it MPEG-2 or MPEG-4), and the same with broadcast."

Monitoring all things telly including VOD and interactivity (left), keeping tabs on broadband/internet, fibres and transmission (right) – click for a larger image
"For example, as we look at our broadcast spectrum, it's quite plausible that, over the long term, we might look at taking low viewing channels (what we'd classify as 'long tail') and turn them into Multicast/Unicast delivery so that if they're no longer sat in the DVB-C broadcast spectrum, they might be sat in the DOCSIS part of the spectrum. We have the ability to move content according to where customers are consuming it and how the delivery techniques are evolving."
Channel funnel
Currently, the broadcast use of the 750MHz spectrum infrastructure accommodates 48 slots of 8MHz carriers. Hennessy explains that within that 8MHz carrier you'll either have say 10 SD MPEG2 broadcast channels or if it was High Definition content you would typically see four HD broadcast channels.
"Given how we carve up that spectrum today, you can allocate about 300 SD channels and probably around 60-70 for HD. Broadly speaking our content is MPEG2 and we have the ability in the future to move to MPEG4, and get the efficiencies that come with that."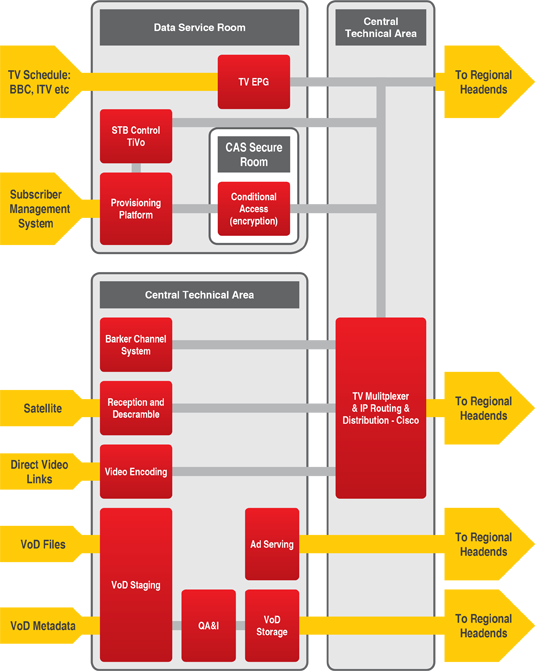 Virgin Media Central Headend - network journey
This slicing and dicing also enables network architects and engineers to plan for emerging technologies such as delivering content in the future to match the inevitable mainstream adoption of Ultra High Definition television panels.
Hennessy doesn't see this as a major challenge: "I tend to look at things like HEVC [high efficiency video coding] as another element of the toolkit (increasing the quality of the video that can be delivered per Hz), just like I would look at modulation changes within our spectrum (increasing the capacity per Hz)."
The toolkit is simply how he refers to the various elements of the content delivery infrastructure which can be tweaked or upgraded to optimise its capacity.
"In our access network we have a finite amount of spectrum and the number of bits I can fit into it – to achieve a certain quality of video, for example – is continuously evolving. So I have to pick moments in time when we will do the upgrade required to leverage that next encoding technique or that next modulation change.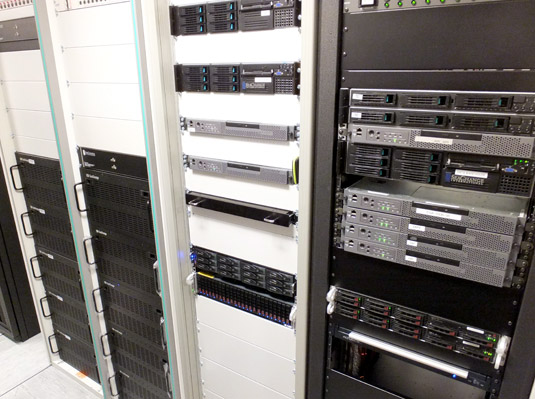 SeaChange equipment old and new: note the hybrid media servers at the bottom of the white rack
There's always a change – the quality standard: hi-def, 4K and there's always some development based upon silicon in a headend that allows you to do something smart around the way you encode, and aggregate content. It's really about how you fit any given standard (or mix of definition standards) into your plant."
The Central Headend is largely about acquisition, descrambling, re-encoding and combining into carriers that are shipped over IP network to the Regional Headend – all with a robust dollop of CAS security.
Yet that's no good to customers if they have no idea of what they're getting so all the electronic programme guide (EPG) metadata is integrated here too.
For broadcast, companies such as RedBee (that supplies the metadata information), and EventIS equipment (now owned by SeaChange) that generates an electronic programme guide, is used together to feed Virgin's Liberate set top boxes.
The metadata provided to the TiVo platforms is rather more sophisticated, flagging up forthcoming programmes in accordance with its knowledge of viewers' preferences and with shifting schedules, publishing the metadata needs to be refreshed regularly.
Asset management
Virgin's own Video on Demand assets need attending to as well, with metadata and file management services to enable customer navigation through various folders. This content is handled quite differently to broadcast content and the Central Headend delivery to set top boxes is managed independently of the TV channel broadcasts.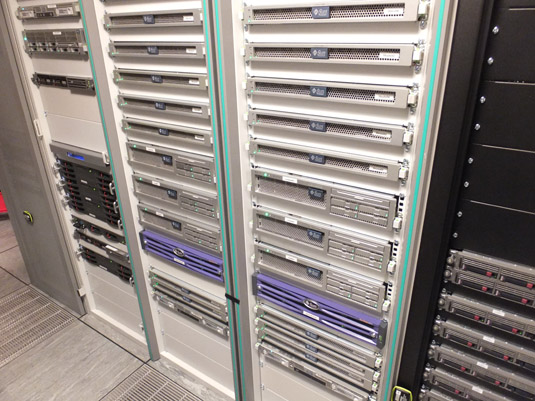 The purple Sun StorEdge 3500 fibre channel array dates back to 2003 and the Sun Fire T2000 servers are from 2005 – this rack handles control and interactive elements for Virgin's legacy VOD Liberate platform
Hennessy outlines the procedure. "We have a rack of servers where effectively what we're doing is ingesting the VOD assets, quality checking them for any corruption, because we receive them via file transfer mechanisms.
"It's received here and it's also received at the DR site. We're then making sure we have the metadata for the asset – which is a description of the content. I think on balance, from memory, we've the equivalent to 16,000 hours of SD – partitioned up as 7,000 hours of SD and 1,500 hours of HD."
He adds: "Yet if we were trying to manage our entire TV base for VOD viewing from this site, we'd never be able to do it. It's millions of live streaming events a year. What we do at the Central Headend is store the main assets and stream them out to the regional head ends. There are 47 VOD clusters around the country, each of which are unique full representations of the entire storage library."
Capacity planning
"VOD asset requests get streamed from streaming servers within those sites, it gets encrypted on the fly within the Edge QAM that takes the IP stream and turns it into an RF feed. It then goes onto our hybrid fibre-coax access network and is unpacked by the smart card in the set top box that's hanging off that coax cable in the customer's home."
And this is all triggered by the touch of a button. And if you're wondering what a QAM is, it refers to Quadrature Amplitude Modulation – a technique that forms part of the toolkit Hennessy mentioned. For cable networks, it does as he says and converts an IP stream into an RF carrier, yet as part of the toolkit, it offers potential for capacity improvements, just as new coding techniques such as HEVC promise.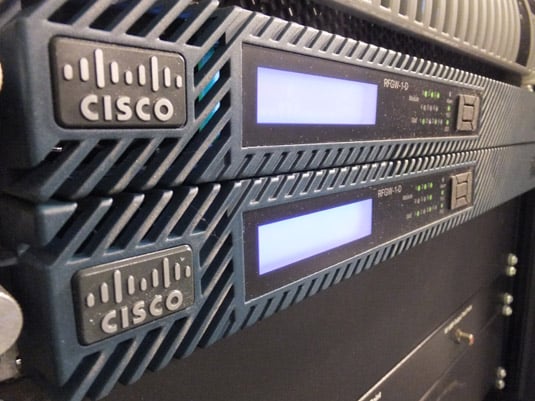 Cisco RFGW-1-D Edge QAM
Virgin Media currently utilises 256-QAM enabling a single one of those 8MHz carriers in the 750Mz spectrum to deliver a bit rate of around 55Mb/s. There are 1024 and 4096 modulation schemes on the horizon too: DOCSIS 3.1 supports 4096-QAM with allowances for up to 16384-QAM but as the specification was only made official last October, it will be some time before both cable customers and providers get to experience the benefits.
Even though the next generation cable platform has yet to materialise, that doesn't mean the current network lacks innovation. Virgin Media has put together its own TV Anywhere platform that enables live television viewing and control of the TiVo set-top box from iOS, Android or a computer.
How this is served, given the need to repackage content with the appropriate bit rates for mobile platforms all with CAS, is examined in part two. The way customer usage patterns inform the strategic planning aspect of the operation including gearing up for 4K is explored too. We'll also look at the other end of the spectrum, namely the tech the cable customer uses and how it interacts with provisioning at business end: from sofa to server. ®