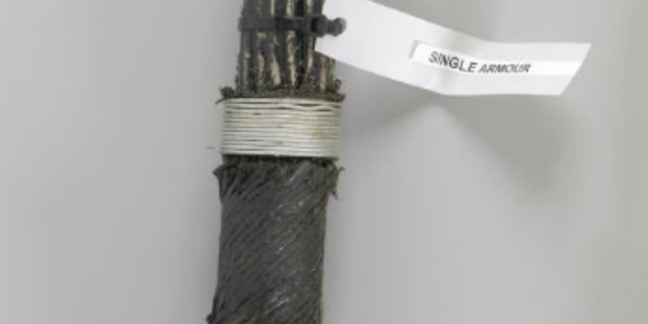 The world's submarine cables are subject to a brand-new threat: sharks.
As detailed in this article in the New York Times, shark bites emerged as an increasing problem in a new cable crossing the Atlantic, causing four segments of the cable to fail.
As AT&T points out, the shark-bite problem is specific to optical fibre cables rather than their retired copper predecessors: "There had not been a single case of a shark biting one of the old cables".
That article, by the way, dates from 1987, which makes the "Google protects its submarine cables against shark bites" story that got news sites excited a little mystifying.
"Shark bite" protection is nothing new. In the 1990s, Alcatel ran a submarine cable manufacturing facility in Port Botany in Australia (Alcatel-TCC), which this journalist toured prior to its opening.

A 1990s-era Alcatel-TCC armoured
submarine cable.
Image: Powerhouse Museum
The cables coming out of that facility were thickest where they were close enough to shore to be within reach of sharks, because of the extra armour (the cables were at their thinnest where they would be in the deepest part of the ocean, out of reach of sharks, anchors and fishing trawlers).
In the case of the Alcatel-TCC facility, the armouring started with the fibres themselves being placed in grooves on a plastic carrier; that carrier was wrapped in conductors and a plastic cover. These make up the "deep sea" package. A double-armoured cable of the day then added two layers of armour made of individual steel cables wrapped around the deep sea cable.
As AT&T put it back in 1987: "the fiber-optic cables would be armoured to depths of 2,500 meters to protect against shark bites, and buried in trenches closer to shore to guard against fishing boat anchors."
Shark-shielding also got an airing in Neal Stephenson's 1996 epic Mother Earth, Mother Board, which explains pretty much the same regime.
This citation from Google in Network World is also mystifying: "Google goes to great lengths to protect its infrastructure, including wrapping its trans-Pacific underwater cables in Kevlar to prevent against shark attacks".
Google doesn't build submarine cables. Submarine cable builders – NEC, for example, which is building the FASTER cable Google bought into last week – do that. The presence of armour is a line item they'd be sued for not including, because it would raise operational costs if an un-armoured cable suffered an avoidable outage.
And that sexy kevlar that's been mentioned so often in recent days? It's lighter than steel, which really matters if you're packing 6,000 km of cable onto a ship. ®
Sponsored: How to simplify data protection on Amazon Web Services