This article is more than 1 year old
Apple takes blade to 13-inch MacBook Pro with Retina display
Shaves price, not screen on mid-2014 model
Review This is getting to be a habit. So far this year we've seen £100 lopped off the price of the updated iMac and MacBook Air, and now it's the MacBook Pro's turn to get the price-cut treatment.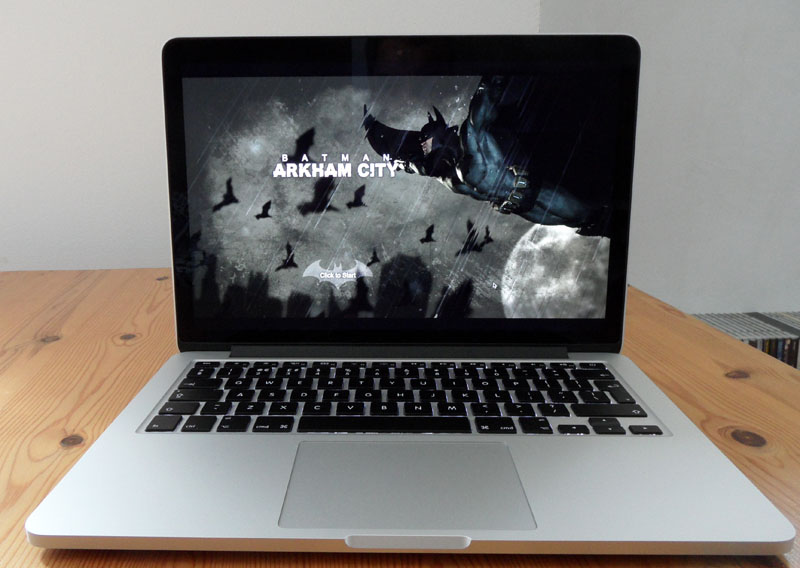 Tsk, tsk: No Retina Display update means it's outdone by new Windows laptops
Like the iMac and MacBook Air, this update to the MacBook Pro With Retina Display gets only a minor speedbump. The i5 processor in the entry-level 13-inch model reviewed here steps up modestly from 2.4GHz to 2.6GHz, with a similar 0.2GHz bump for the two other models in the range.
The entry-level model also gets some extra memory too, stepping up from 4GB to 8GB while still enjoying a £100 price cut that – shock horror! – actually brings it down to £999.
The 128GB solid-state drive hasn't changed, though, so you'll have to pay £1,199 for the 256GB model. There's also a 2.8GHz model with 512GB of storage available for £1,399.00.

Needless to say, further upgrades and build-to-order options are expensive, with another 8GB of memory costing £160, while a dual-core i7 running at 3.0GHz adds another £240. Don't forget, too, that the memory on the MacBook Pro is soldered onto the motherboard so you can't upgrade it yourself – a limitation that seems particularly short-sighted for something that calls itself a "pro" machine.
And that's pretty much it for 2014. There's no change to the basic design of the laptop, although it has always been a smart-looking kit, with its unibody aluminium chassis weighing just 1.57kg, and measuring 18mm thick.
One talking point ahead of this update was the possibility of an upgrade for the Retina Display, as there are now several Windows laptops available that provide even higher resolutions. To be fair, the 2560x1600 resolution on this 13-inch model still works a treat.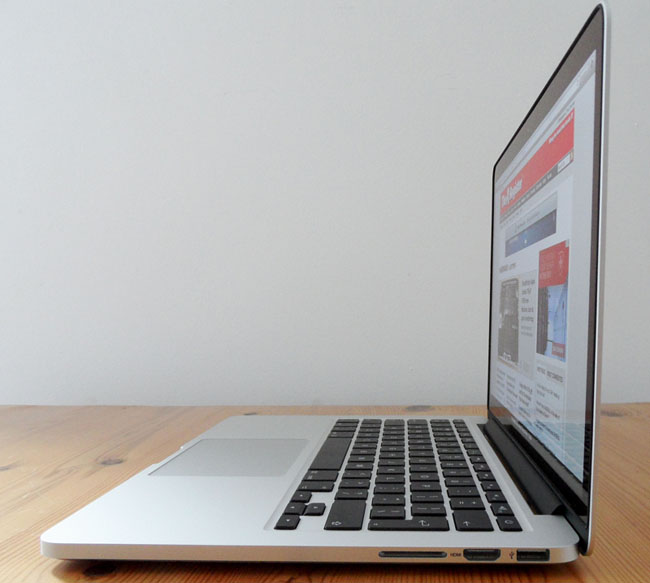 Slim, lightweight unibody aluminium chassis? Check
The IPS panel is bright and colourful, and provides excellent viewing angles. The Mac operating system also handles scaling of text and graphics more effectively than Windows – just try running Photoshop on some of the "quad-HD" Windows laptops that are currently available – so Apple doesn't have to worry too much on that score.
It's also likely that a higher resolution display would reduce battery life, which has always been one of the MacBook Pro's strong points. Apple quotes nine hours of wireless web browsing, but we managed eight hours and 20 minutes of streaming video, and less intensive use can certainly stretch that to a good ten hours.
The Reg Verdict
The price cut this time around may well be due to currency fluctuations rather than any real generosity on Apple's part – there's been no comparable change in the US prices for the MacBook Pro – but a starting price of £999 for the Retina models should certainly bolster sales in time for the new school term. And, with its smart, lightweight design and strong battery life the MacBook Pro With Retina Display can still give its Windows Ultrabook rivals a run for their money. ®

Apple takes blade to 13-inch MacBook Pro with Retina display
A minor update that increases the i5 processor speed to 2.6GHz, and doubles the RAM to 8GB, while leaving the 128GB solid-state storage untouched.