Curiosity, our favourite Mars-cruising nuclear truck, has just dusted off its latest potential drilling target, the "Bonanza King" rock.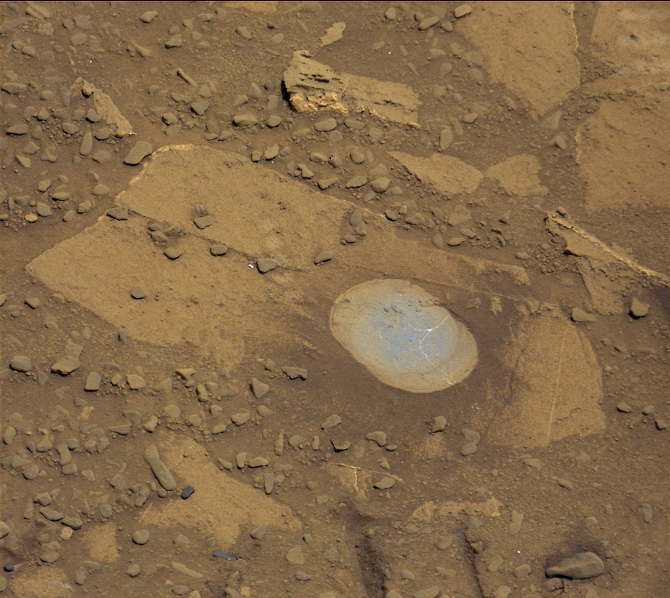 The rover used its aptly named Dust Removal Tool on its robotic arm to sweep off the red, oxidised dust on the surface of the planet and reveal a grey patch of less-oxidised rock below, allowing boffins to peer at the stone and assess its viability as a place to drill.
The picture snapped by Mastcam's right-eye camera, which has a telephoto lens, shows an area round 6cm across, crisscrossed by thin, white veins. These markings could be sulphate salts or another type of mineral that filled up fractures in the rock or they could relate to wider light-toned veins in the surrounding rock bed.
The image also shows a row of five smaller and less obvious spots where the dust has been partially removed after Curiosity's ChemCam (chemistry and camera) instrument zapped them with a laser in earlier tests.
Bonanza King is situated on a ramp rising up from the northeastern end of "Hidden Valley", between the rover's landing site in the Gale Crater and its destination on Mount Sharp, but is not at the Pahrump Hills site the Curiosity team had previously picked. Unexpected challenges while driving through the sands of Mars forced the rover to reverse course last week, after it hit a patch of rippling sand.
However, the new rock is a close match for the rover's original destination.
"Geologically speaking, we can tie the Bonanza King rocks to those at Pahrump Hills. Studying them here will give us a head start in understanding how they fit into the bigger picture of Gale Crater and Mount Sharp," said Ashwin Vasavada of NASA's Jet Propulsion Lab, Curiosity's deputy project scientist.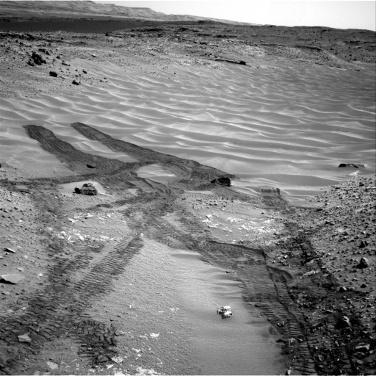 Curiosity looks down the ramp at the northeastern end of Hidden Valley
towards Mount Sharp. Credit: NASA/JPL-Caltech
Curiosity has already drilled down into three different rocks on the Red Planet to collect sample powder for analysis by its onboard instruments. Bonanza King would make the fourth. Boffins are interested in this particular area because it's the first new bit that Curiosity has come across.
"This rock has an appearance quite different from the sandstones we've been driving through for several months," Vasavada said. "The landscape is changing, and that's worth checking out."
The next stage of assessment is for the rover to drill a shallow test hole, which will show NASA researchers if the powder tends to clump or not. Clumpy powder would be harder to deliver to the Martian truck's SAM (Sample Analysis at Mars) and CheMin (Chemistry and Mineralogy) instruments.
The stop-off also gives boffins a chance to figure out where they're going to steer Curiosity to next. The rover's wheels slipped more in Hidden Valley's sand than the team expected after testing the vehicle in Californian sand dunes. But rocky terrain has also proved risky, as sharp rocks have already torn holes in the rover's wheels.
"We need to gain a better understanding of the interaction between the wheels and Martian sand ripples, and Hidden Valley is not a good location for experimenting," said Curiosity project manager Jim Erickson of JPL. ®