The lovechild of bookseller Barnes & Noble and electronics giant Samsung – the new Galaxy Tab 4 Nook tablet – is now on sale.
The, surprise, surprise, Android-powered novelslab is a standard-issue 7in Galaxy Tab 4, running Barnes & Noble's e-reader software. The unit will be Wi-Fi only.
The Sammy Nook, unveiled in June, is today on the shelves in Barnes & Noble stores with a $199 price tag with a $20 rebate – and is bundled with books, magazines and video worth more than $200, we're told.
For B&N, Galaxy Tab 4 Nook is the result of trying, trying, trying and trying again in the face of crippling rivals. Its Nook hardware line, pitched as a competitor to the Amazon Kindle line, struggled for years with poor sales only then to see readers pass on dedicated ebook gadgets in favor of fully functional touchscreen tablets that can display books, comfortably surf the web, play games and more.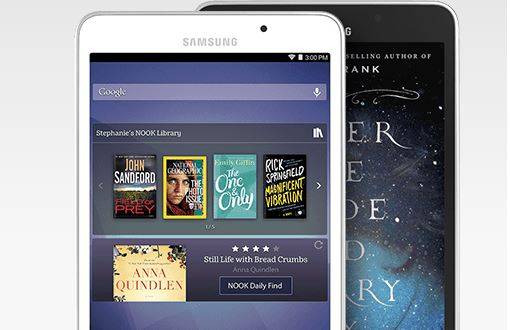 The Galaxy Tab 4 Nook
Earlier this year, Barnes & Noble said it would look to minimize the damage from Nook by splitting the business off from its core retail operation. The most recent study from research firm IDC puts Nook outside of the top five tablet vendors with a market share below two per cent.
This, perhaps, is where a tie-up with Samsung could help. IDC reported that Samsung's Android line is the second most popular after Apple's iPad with a 17.2 per cent share of the market – and gaining. ®