This article is more than 1 year old
Stand clear! Will HTC's One act as a defibrillator for Windows Phone?
Low end success, high end boredom
Analysis HTC gave Microsoft a huge PR coup yesterday during the New York unveiling of the most stylish Windows Phone ever made. Redmond could certainly use some good news right now.
Windows Phone shipments fell 9.4 per cent in Q2, as Microsoft's languid timetable, along with a less-than-clockwork rollout of Windows Phone 8.1, finally caught up with it.
The decline in shipments was no surprise, as ODMs have been waiting – and waiting – for the major release. As the rest of Microsoft moved to a brisker release schedule, Windows Phone moved to a slower one, creating an 18-month lacuna.
Even so, what was expected to be a spring 2014 release for 8.1 turned into a summer release and a very late summer at that. Windows Phone 8.1 also has its share of bugs and glitches – Music is barely usable – and it's still missing features. There's no Wi-Fi sync – in 2014? As a result ODMs were obliged to wait, and wait.
Where Windows Phone has succeeded is in the bargain bin end of the market – and since it scrapped royalties and loosened the hardware requirements, Microsoft has signed a dozen new ODMs. Where there's little sign of traction is at the high end. Can the HTC One for Windows change that?
How will it fare against the Samsung cash machine?
HTC's return to the fold is particularly welcome, since the Taiwanese company upscaled from being a Windows Mobile contract manufacturer to an ODM in its own right, thanks to Microsoft. But it has struggled to compete with Samsung's marketing budget (a mind-boggling $14bn in 2013) over the past couple of years.
HTC produced two models with Windows Phone 8 at the tail end of 2012 - and they were very attractive designs with strong Beats Audio branding. But they were poorly supported, had almost no visibility, and this time HTC was outspent not just by Samsung but by the Nokia bet-the-farm comeback. US giant Verizon gets the One (M8) for Windows for a short period of exclusivity, but not for long.
On paper, the Windows-powered One certainly has the potential to advance Windows Phone into a segment of the market which has largely ignored it. The One M8, launched using Android this spring [review], is a quite striking, beautiful piece of design in a market dominated by black rectangles.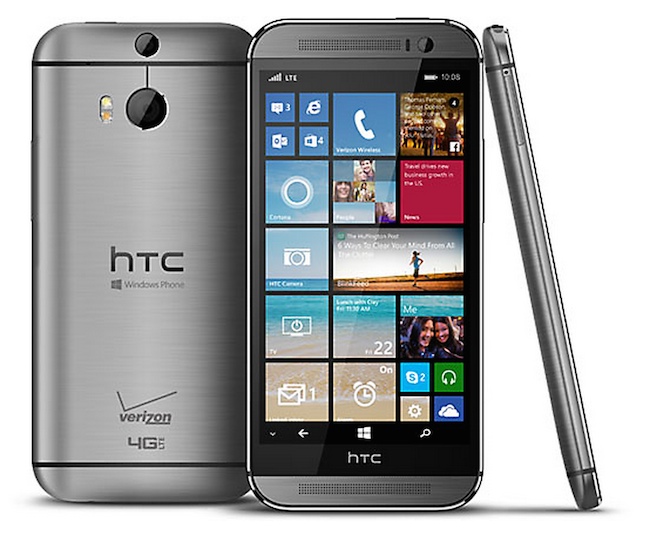 The Windows Phone version uses the same body and engine as the Android M8, so existing accessories and cases should fit and work.
The One isn't entirely perfect. The "ultrapixel" camera produces patchy results: sometimes fine, sometimes frustratingly inadequate – although it consistently holds its own in dim light. The Dot View cover looks terrific, and has the weird trick of appearing to shrink the phone. But it's a usability disaster, the hinge making the One M8 awkward to use.
Overall, though, no smartphone since the iPhone 4 has received such plaudits for the quality of its design. The battle has been translating rave reviews into market share, even with Android blowing its sails.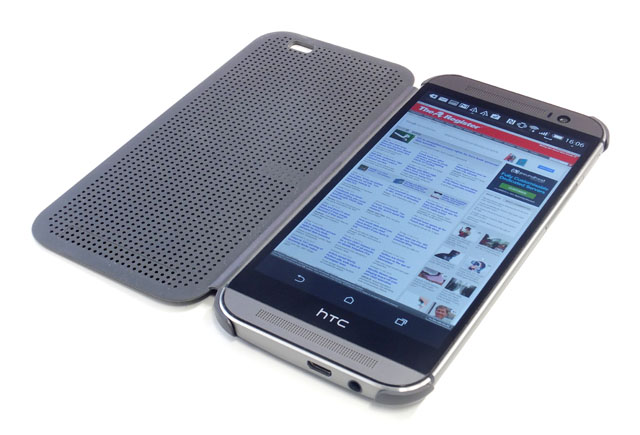 The One M8 - here in its Android version - can be fitted with a clever cover, that doesn't fold back far enough.
And this is the nub of the problem. The value of the app ecosystem is "priced in". At the low end, Windows Phone works well, and not every user demands an extensive Long Tail of apps. So it looks like a bargain. At the high end you expect an extensive app catalogue for your £35/month contract. If essentials aren't there – and Sky and Virgin are missing for UK punters – then it doesn't look like such a deal.
Given its current proposition, Windows Phone could be a roaring success in BRICS (including Brazil, India) and MINT (including Mexico and Indonesia) without anybody in Western Europe or North America even noticing. I wonder whether Microsoft would really consider that a success. Microsoft has little choice but to continue to play the long game - and hope one "miracle" device, perhaps featuring one breakthrough gimmick like a 3D display – captures the imagination of the premium smartphone buyer. ®