A new study by Russian paleontologists has revealed the dominance of a species of huge flying lizards that once flew over Earth's skies.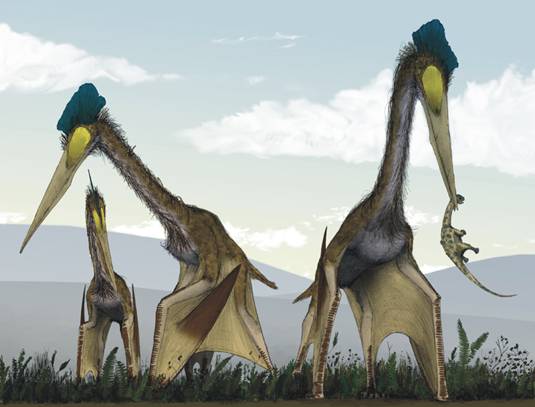 Azhdarchid pterosaurs ... creatures the size of small aircraft encircled the globe
The creatures, named Azhdarchid pterosaurs after the Persian word Aždarha meaning dragon, had wingspans of between 10 and 12 metres wide and fragmentary fossil records have been found worldwide, suggesting a very successful species.
This family of pterosaurs was unusual, since they lacked teeth. Earlier pterosaurs did have a fine set of chompers but were outlived by the Azhdarchids that lacked their dental prowess. The giant toothless dragons survived until the species died out about 60 million years ago.
"This shift in dominance from toothed to toothless pterodactyloids apparently reflects some fundamental changes in Cretaceous ecosystems, which we still poorly understand," said the author of the study Dr. Alexander Averianov from the Zoological Institute of the Russian Academy of Sciences.
Pterosaurs are thought to be the first vertebrates that slipped the surly bonds of Earth and took to the skies, and the species lasted from about 220 million years ago until shortly (in geological terms) after the Chicxulub asteroid impact that devastated the dinosaurs.
These early aviators lacked the feathers of modern birds and had wings of skin that were occasionally covered by fine hairs for warmth. The wings spread behind a very long fourth finger that kept the wings taut and, when on the ground, acted as forelimbs for quadrupedal locomotion.
Like birds, however, the pterosaurs had hollow bones to save on weight and allow for flight. This makes studying their remains problematic, but Averianov collected material found in the past 40 years for the study into the range of the Azhdarchid family.
"Azhdarchidae currently represent a real nightmare for paleontologists: most taxa are known from few fragmentary bones, which often do not overlap between named taxa, the few articulated skeletons are poorly preserved, and some of the best available material has remained undescribed for forty years," he said.
Little is known about their eating habits, but it appears from the fossil record that they would cluster near large lakes and rivers and marine environment, suggesting they enjoyed fish and other marine life over the elephants favored by the mythical rocs described by Marco Polo. ®