This article is more than 1 year old
Linux Foundation says many Linux admins and engineers are certifiable
Floats exam program to help IT employers lock up talent
LinuxCon 2014 The Linux Foundation on Wednesday introduced two new certification programs aimed at connecting employers with qualified Linux administrators and engineers.
"The supply of labor has been far outpaced by the demand for Linux," said Linux Foundation executive director Jim Zemlin, addressing the audience at the annual LinuxCon conference in Chicago. "Linux is growing faster than any platform in the history of computing – has been for many, many years – and the supply of labor just isn't keeping up with it."
Zemlin pointed to a recent study commissioned by the Linux Foundation in which 93 per cent of IT managers said they were looking for Linux talent, yet 90 per cent said it was hard to find qualified hires.
The Linux Foundation already provides Linux training in various forms, including white papers, online classes, and other resources. Zemlin said one introductory online Linux course the Foundation co-created with Harvard University and the Massachusetts Institute of Technology has enrolled 250,000 students.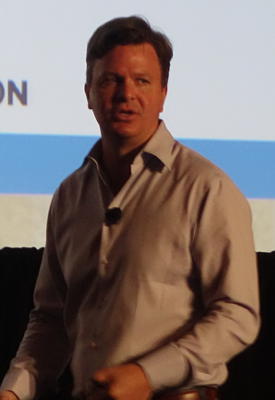 Jim Zemlin speaking at Linuxcon 2014
With the launch of the Linux Foundation Certified System Administrator (LFCS) and Linux Foundation Certified Engineer (LFCE) programs, the group will now offer employers a way to verify that prospective hires have the skills they need.
"These are hard tests. When you take and pass these you can really prove that you know what you're doing," Zemlin said.
While other organizations have offered Linux certification in the past, however, the Linux Foundation's approach is different in that Linux pros can become certified from anywhere in the world, with exams conducted entirely online. Enrollees need never travel to a testing center.
The certification exams require an internet connection, a web browser, a microphone, and a webcam, but they are entirely performance-based. Rather than solving multiple-choice problems or answering "trick questions," as Zemlin put it, test-takers are asked to complete real-world tasks with a time limit.
At launch, enrollees can take the certification exams on their choice of three Linux distributions, including CentOS, OpenSuse, and Ubuntu. Neither Red Hat Enterprise Linux (RHEL) nor derivatives like Fedora are included in the program so far.
Those who pass the exams will be issued a graphical emblem to display on their CVs, websites, LinkedIn pages, or other job-search tools.
As an added bonus for LinuxCon attendees, the Linux Foundation issued everyone at the Chicago event coupons entitling them to one free shot at certification each.
Certification ordinarily costs $300, but for a limited time the Linux Foundation is offering a discounted rate of $50 for the first 500 people to sign up for the exams. The group said it plans to announce additional discounts and promotions via its official training Twitter feed. ®