SanDisk has pushed out an Ultra II SSD for retrofitting to PCs that uses lower cost 3-bits-per-cell NAND technology.
TLC or 3 bits per cell flash stores 50 per cent more information in each cell than MLC (2 bits per cell) and is cheaper to make on a cost/bit basis. But the number of times TLC flash can be rewritten, the P/E cycle count, is lower than MLC, typically being measured in the hundreds of cycles instead of thousands. This has restricted its use in business flash applications.
The Ultra II is an update on SanDisk's Ultra product, which was first announced in July 2011, and radically increases performance and capacity. The original product had 60GB, 120GB and 240GB capacity points, whereas the new one starts at 120GB and passes through 240GB and 480GB models to a 960GB high point.
The original device did sequential reads up to 280MB/sec and sequential writes up to 270MB/sec. Ultra II blows these numbers away with reads up to 550MB/sec and writes to 500MB/sec. Random performance is up to 99,000 read IOPS and 83,000 write IOPS.
It's helped by the so-called nCache 2.0, which sets aside a portion of the flash to run in faster SLC mode and so speed things up even more.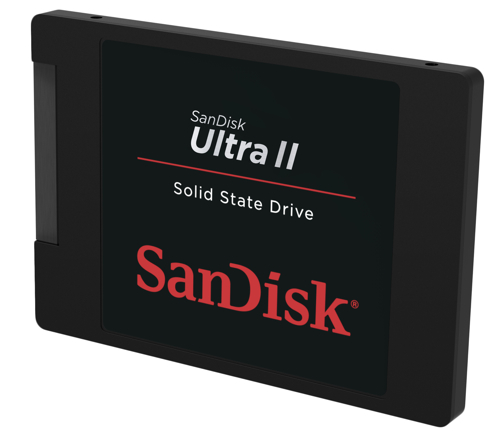 SanDisk Ultra II TLC SSD
The interface has been speeded up too, from 3Gbit/s SATA to 6Gbit/s.
SanDisk appears to have been able to lengthen this TLC product's endurance because it is offering a three-year warranty. There is a 1.75 million hour MTBF rating but no number for total TB written or full drive writes over the life of the drive, and this leads El Reg to think endurance may be inferior to MLC SSDs, although we could not confirm this.
Four extras come with this SSD:
Apricorn's EZ GIG IV drive cloning technology so a PC/notebook's disk drive can be copied
Trend Titanium anti-virus software
Absolute LoJack theft recovery
Dashboard to monitor the drive's performance and status
The drive has shock resistance features, SanDisk says, making it more physically robust.
It's instructive to compare this SSD to AMD's Radeon R7 SSD announced yesterday, which is also aimed at the PC/notebook disk drive replacement market and has Acronis True Image cloning software and encryption. That device tops out at 480GB, has the same sequential read/write numbers but slightly better random IOPS with 100,000/90,000 read/write IOPS. It has a four-year warranty and a 42.7TB written endurance rating from its 19nm Toshiba MLC NAND and OCZ Barefoot controller.
SanDisk and Toshiba are flash foundry partners, so the 19nm flash used in these two SSDs is related.
AMD Radeon R7 pricing is $100 for a 120GB entry-level R7, $164 for 240GB and $299 for 480GB.
Ultra II MSRP pricing is $79.99 for 120GB, $114.99 for 240GB, $219.99 for 480GB and $429.99 for 960GB. That's cheaper, capacity for capacity, than AMD's Radeon but with Radeon you get a 4-year warranty and encryption. Is that worth the extra cash? You be the judge.
SanDisk's new SSD will be available through SanDisk's channel in September. ®
Similar topics