Classic array limitations
In short, classic storage arrays are limited, not being software-defined in the latest use of the term, expensive, complicated to operate, slow to provide data, and with quality of service affected by RAID rebuilds.
Cloud storage avoids the on-premises mess by putting the data elsewhere. Flash and hybrid storage, say, get high-speed access to data without suffering disk array latencies. Converged storage says combine servers and storage with VSAN ideas to simplify the whole complicated mess in your data centres. Object storage says replace your centralised arrays with distributed, self-healing boxes not prone to RAID rebuild slowdowns. VSANs says get rid of your storage arrays.
All of these ideas are "solving the problem" of traditional storage arrays.
If we chart the recent quarterly storage revenue numbers from the mainstream array suppliers, we can see that some mainstream storage suppliers are feeling a revenue pinch. Take, for example, Dell, HP, IBM and NetApp. HDS's revenues are not growing particularly quickly and EMC storage (EMC Information Infrastructure excluding VMware and Pivotal) revenue growth is also not that impressive. If we could extract the VMAX and VNX numbers we'd possibly see even less growth.
Charting decline
Here are the six charts: look at the overall pattern and not the actual values.
Dell: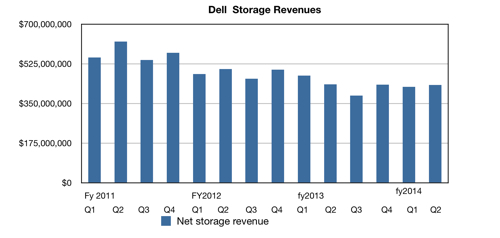 EMC: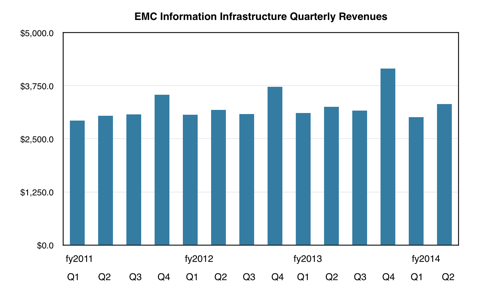 In $1,000s. Source: Aaron Rakers of Stifel Nicolaus.
HDS: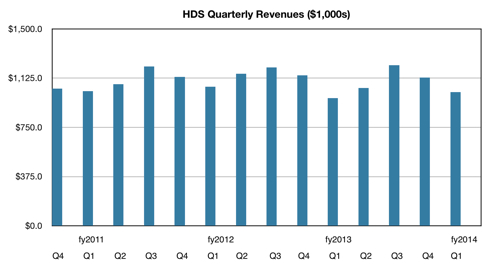 HDS numbers exclude Japan. Source for numbers: Aaron Rakers of Stifel Nicolaus
HP: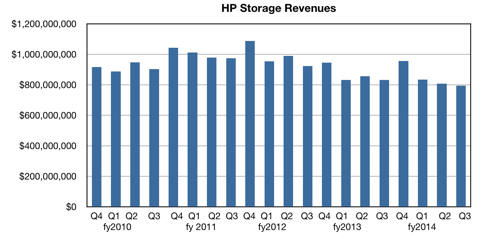 IBM: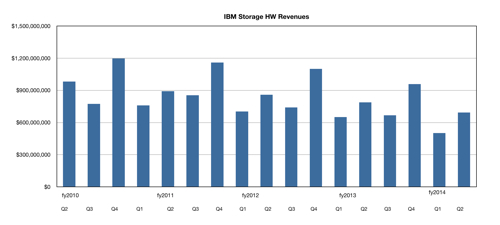 NetApp: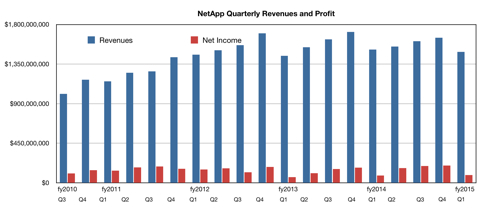 Note that these charts use fiscal quarters, which may coincide with calendar quarters. It's the overall pattern that matters – not the precise quarter dating.
Similar topics