Can I kick it? Yes you can
The pen comes as standard, but most users will also want a keyboard cover (£109.99 inc) which is the Surface's most distinctive feature. The keyboard is a backlit Type Cover, which means it has real keys; there is no Touch Cover on offer in the new size. The cover attaches magnetically and folds up to protect the screen, or back to enable tablet use without detaching it completely.
New in this version is an improved track pad, after the dire effort in Type Cover 2. This one is pretty good, responsive, accurate, and with handy two-finger scroll. One grumble: there is no way to disable tap-to-click, which is a nightmare for anyone suffering from slightly trembling hands.
The new keyboard also folds up against the bottom edge of the screen to form a stronger, more stable bond when you use the Surface on your lap. This also means that the keyboard slopes down towards you when used on the desk. It is a thoughtful feature, but with a couple of drawbacks. When folded up like this, the keyboard flexes slightly as you type, because it is thin and there is empty air below: not so good. It is also hard to use touch on the taskbar with the keyboard hinge in the way. Your choice, except that the magnet is strong enough that it tends to fold up automatically and it takes conscious effort to use the old flat position.
Surface Pro 3.0 introduces a fold-out kickstand that remains firm at almost any angle. This is a significant advantage, letting you get the most comfortable screen angle whether at a desk or on your lap.
The Windows key on Surface Pro 3 has moved to the right hand of the screen, possibly to accommodate the fold-up keyboard. A snag with this arrangement is that you are more likely to hit the home button by accident. If you use the tablet in portrait mode, which makes more sense now that the screen ratio is 3:2 rather than 16:9, the position of the Windows key is just right.
The display itself is 2160 x 1440 with 10-point multi-touch, driven by Intel HD Graphics 4400 (or HD Graphics 5000 in the i7 models). There is a mini DisplayPort which can drive an external 4K display alongside the internal display, or two additional 2K displays (2 additional HD displays if you have an i3 model).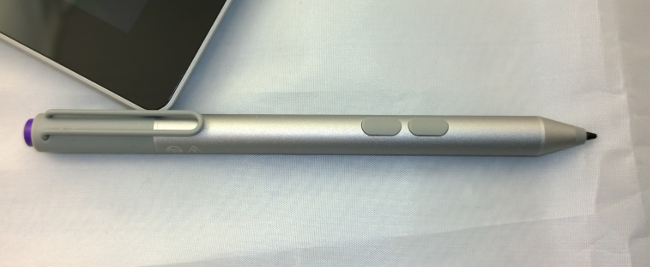 The Surface pen is a thing of beauty, until you lose it
Graphics on the Surface 3 are sharp but with a few caveats. First, it is a glossy screen, which means you get reflections. Second (and related), the display is poor in outside light. Third, scaling is a problem with some applications, if they are not dpi-aware (which means using Microsoft's API for scaling nicely on high density displays). Many are not; for example, the latest Adobe Photoshop requires an "experimental" setting to make it dpi-aware.
Even the original Surface Pro 1 was a Core i5, but Intel's Haswell architecture along with other tweaks has transformed performance and battery life. Microsoft claims a nine-hour battery life, though I achieved a bit less. Battery consumption in standby is much improved, though note that if you install Hyper-V, Microsoft's hypervisor, you lose the benefit of Connected Standby, the Windows 8 fast-resume feature. Hyper-V is installed with Visual Studio, so developers take note.
Similar topics