This article is more than 1 year old
TV transport tech, part 2: From sofa to server at the touch of a button
The high tech journey behind your telly remote control
Feature These days telly addicts are spoilt for choice with a wealth of services on offer, but what's behind it all? To find out, The Register was given exclusive access to Virgin Media's Central Headend – the mothership of its TV services across the UK.
Part one covered receiving and redistributing content from disparate sources to deliver live TV and VoD services – "from server to sofa").
In this second part, we pick up the story on how the customer tech interacts with what's on offer, and what's in store for the future – from the sofa to the server.
Our love affair with the television has been transformed in recent years and you could say it's going through a restless phase as we decide who we want to cuddle up with on the couch. Apart from sports devotees, who needs to see a major event live on TV these days? There's always catch-up TV that keeps broadcast content alive for a few weeks.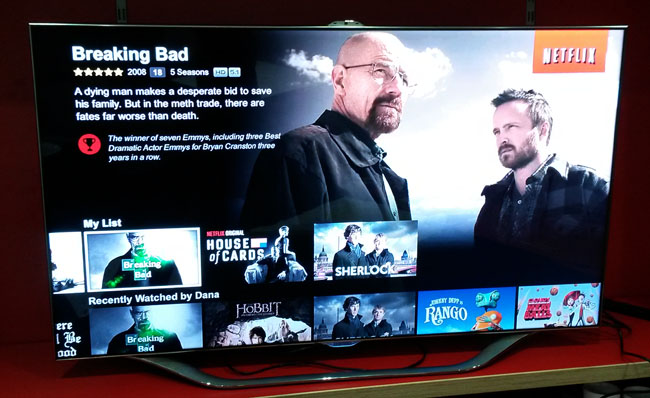 Core shaving: Netflix on Virgin Media's TiVo Set Top Box
Lest we forget, we've had decades of run-of-the-mill video recording too, from tape to disk. Then TiVo arrived, a PVR that learns your content preferences and records programmes it thinks you'll like. Talk about passive viewing habits: who even needs to know the TV schedule these days?
Beyond our blasé attitude towards scheduling – and all the industrial scale tech that pumps out SD, HD and, once in a blue moon, 3D and 4K content to our living rooms – there's yet another viewing platform to be indulged in the form of PCs, tablets and mobiles.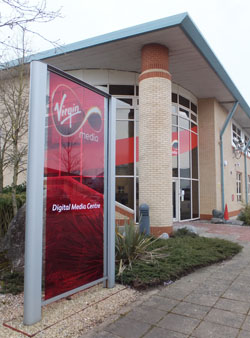 Telly tech HQ: Virgin's Digital Media Centre
Accommodating consumer technology changes and delivering them en masse to meet customers' demands for HD and multi-platform content availability are challenges that are all part of the job for Dan Hennessy, former Virgin Media head of technology strategy and architecture (now chief architecture officer at Liberty Global) and Virgin Media's broadcast architect, Keith Wigmore.
The increasing use of Over The Top (OTT) services such as Netflix and Amazon Instant Video hasn't escaped their notice. Apparently, it is causing disquiet at industry conferences with its "core shaving" impact on earnings from operator offerings. Having to accommodate it is akin to sleeping with the enemy, but it's what customers want. As broadcasters and operators grapple with the changes, delivering to new platforms to retain and attract customers is yet another challenge.
Swallowing the tablets
A case in point is Virgin's TV Anywhere, which was launched in late 2012 to deliver programme viewing to computers together with iOS and, more recently, Android devices. It's a very different set-up to manage compared to cable TV, as it requires content to be transcoded to suit the target devices.
Then add to that the different content packages that customers have. The system has to be aware of the content that customers are entitled to view. Obviously, this needs to be established before streams are relayed securely to a customer's personal device – tablet, smartphone or PC. A key element for managing content access and protection is the Digital Rights Management (DRM), a set-up that Hennessy explains.
"I think of video content security in two worlds. Firstly, card or cardless based conditional access systems. These facilitate both protection and entitlement-based access to traditional broadcast and Video on Demand (VoD) content, delivered to equipment we provide, namely DVB-C Set Top Boxes and PVRs.
"Secondly, there's the DRM side of the equation, which provides protection and entitlement-based access to video being delivered to an IP endpoint. For example, a modern IP-capable set-top box like the TiVo PVR or a customer-owned device such as a tablet, smartphone or games console. Today, we use Adobe Access DRM for our PCs and Apple devices for Virgin TV Anywhere. Microsoft Play Ready is the DRM solution we use to support Android devices."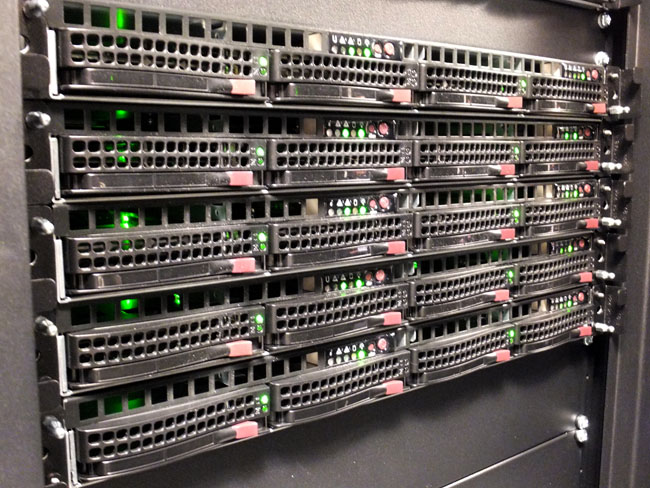 Harmonic ProMedia transcoders create the multiple bit rates for the Adaptive Streaming
The heavy lifting of bringing in the assets from satellite and other sources for redistribution to set-top boxes using devices such as Cisco's Integrated Receiver Decoders (IRD) and Digital Content Managers (DCM) was covered in part one. What happens for customer-owned devices is all about IP content delivery and those assets originally destined for cable viewing need to be repurposed first.
At Virgin Media's Central headend facility, Harmonic Promedia equipment handles the transcoding and trans-sizing – necessary for versions with lower bit rate and alternative screen resolutions respectively.
"If we take Disney as an example, we will take in that feed from a DCM, and we'll create four different versions of that stream in four different bit rates," says Hennessy. "So that's four different resolutions and different broadband connectivity capabilities for that Disney channel, all available as live streams. Those are then fed into our Adobe Media servers.
"These servers basically provide two content types: HDS (HTTP Dynamic Streaming) and HLS (HTTP Live Streaming). Effectively, HLS is for iOS devices. Think of it as HDS for PC access to content and HLS for Apple devices that have our Virgin TV Anywhere app on them."